For performance cars, few motor shows are as significant as the Geneva motor show held each year in early March.
While recent years have also seen the show become a hub for green technology, with electric cars, hydrogen vehicles and hybrids proliferating, the neutral ground of the Swiss show means no single manufacturer dominates, and instead must compete with their most important vehicles.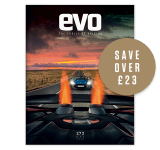 Subscribe to evo magazine
Subscribe today to have every issue of evo delivered straight to you. You'll SAVE 39% on the shop price, and get evo for its original cover price for a whole year!
This year was no different, with a major launch from Maserati in the shape of the Levante SUV, an anniversary special from Lamborghini, the European debut of Porsche's new 718 Boxster, and an intriguing sports car concept from Opel and Vauxhall.
Read a little more about these in our full preview below – and click on the relevant links for more details.
Abarth 124 Spider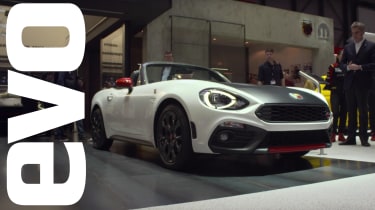 If the Abarth 500 was a return to form for Fiat's tuning arm after decades of supplying bodykits for superminis, the Abarth 124 Spider shown at Geneva is proof the manufacturer is back with a vengence.
While we weren't convinced by the standard Fiat 124's styling, Abarth has pretty much nailed it, with the 124's curves enhanced by retro detailing and its engine bay improved with a 168bhp 1.4-litre turbo. This could be one of 2016's most exciting sports cars.
Alpina B7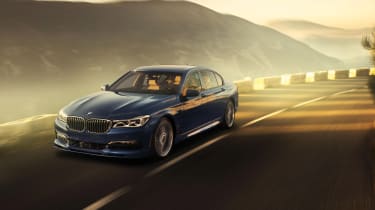 Alpina continues its trend of refining making slightly more appealing BMWs than BMW itself with a new B7. Based – as the name suggests – on the new 7-series, the car uses a breathed-upon version of the 7-series's 4.4-litre twin-turbocharged V8, just as Alpina's B5 and B6 do.
In this application it develops 600bhp and reaches 60mph in a remarkable 3.6sec from rest. Alpina has also made adjustments to the car's air suspension, refined its styling with a set of 20in alloy wheels and a subtle bodykit, and boosted luxury with a hand-finished interior.
Apollo Automobil ApolloN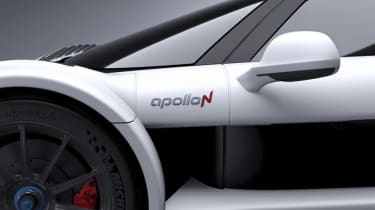 Ranking somewhere up there with the Ferrari LaFerrari, the manufacturer-formerly-known-as-Gumpert has been rebranded at Geneva following its buyout by Ideal TeamVentures.
You can find out more about Apollo's latest supercar, the Arrow, in Henry Catchpole's video above. With 986bhp it should certainly continue the company's tradition for performance.
Aston Martin DB11
A 5.2-litre twin-turbo V12 of Aston's own design sits under the long nose of the new DB11 - a pleasant surprise when many were expecting the brand's future powertrains to be rebadged AMG units.
At 600bhp, it's also the most powerful DB model ever. The chassis is bonded aluminium, the dampers adaptive and the new bodywork aerodynamically honed. Click on the link to go to our in-depth video preview of the car.
Audi Q2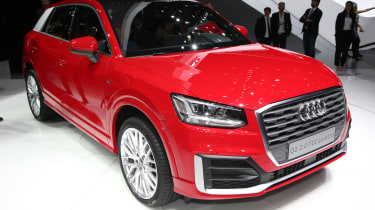 The new Audi Q2 crossover probably isn't at its best in Sport trim as illustrated above, with designer Matthias Fink suggesting that Design Line trim - to be known as SE in the UK - better suits the car, with contrasting arches and a more rugged look.
In such specification, it's also easier to appreciate the Q2's differences to existing Audi models, such as the A3 with which it shares a platform. But how will it drive?
Audi SQ7 TDI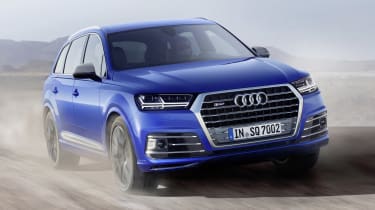 The other Audi crossover launched this month, the SQ7 TDI is a more serious proposition. It's diesel, as the TDI badge suggests, but on pace it's a rival for cars like the BMW X5 M, Porsche Cayenne Turbo and Range Rover Sport SVR.
Technology is the major draw here, with an electric compressor assisting the twin turbochargers, variable valve lift and active anti-roll bars. If nothing else, it'll be more frugal than its petrol-powered counterparts, to the tune of around 10mpg.
BMW M760Li xDrive V12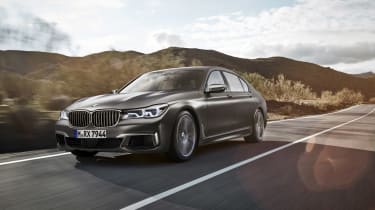 If you want a 600-horsepower 7-series but don't want an Alpina badge for some reason, BMW also gave you the option at Geneva with the M760Li. While not quite as powerful as the Alpina - 592bhp, to be precise - it does boast four extra cylinders.
That will give it extra kudos for some, for whom nothing less than twelve cylinders will suffice in a luxury car. Whether they'll appreciate the slightly heavy-handed bodykit and proliferation of M badges is another matter.
Brabus 650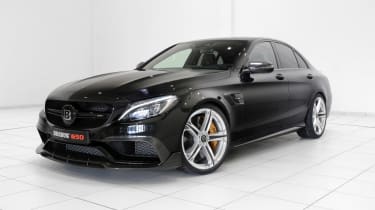 Need a 200mph saloon? Brabus has always been happy to oblige, and its AMG C63-based 650 is the latest model to tout a double-ton maximum.
A host of engine modifications and higher boost pressure release 641bhp from the 'hot vee' V8 engine, and there's the usual host of Brabus styling tweaks - with various interior and alloy wheel options to differentiate your 200mph saloon from that of your neighbour's.
Bugatti Chiron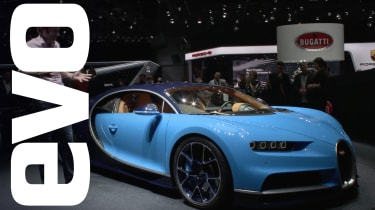 The new Bugatti Chiron is equally as crazy as you'd expect it to be - it's not an easy job to top the old Veyron Super Sport, after all. While the styling might be too subtle for some, it looks great in the metal (well, the carbonfibre) and has some truly astonishing power and performance figures.
1479bhp and 1180lb ft of torque are the main ones, the latter developed from 2000rpm - just 1300rpm after idle. Keep your right foot pinned and, if you can find the space, a limited 261mph is on offer. Our suspicion? It'd do a great deal more.
DS 3 Performance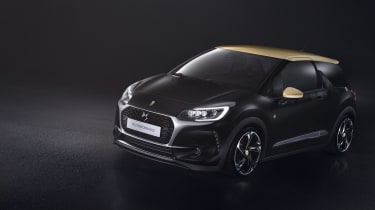 Geneva saw the public debut of the latest hot hatchback from the DS Automobiles brand. Called the DS 3 Performance, it's a spiritual successor to the Citroen DS3 Racing – though the luxury brand's new image means subtlety is key.
As such, it isn't so much a racer for the road as a compact GT, in the truest spirit of the gran turismo moniker. Engine, gearbox and diff come from the Peugeot 208 GTi by Peugeot Sport, but styling is tasteful and interior fittings plush.
DS E-Tense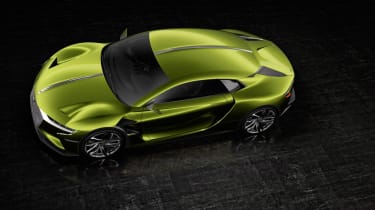 DS - not Citroen, remember - might not yet have a road car range to really excite us, but between the Divine DS concept and the E-Tense revealed at Geneva, there's clearly some design talent at the French manufacturer.
E-Tense is electric, develops 397bhp and features swept-back styling in the best GT and supercar tradition. Of course, there are no plans to build it, but as a statement of intent it gives us some faith that DS can impress us in the future.
> Click here for the rest of our Geneva motor show preview on page 2