You'd not know it at a glance, but Herman Tilke designed the Bilster Berg circuit in northern Germany. He must have had a lot of fun. It's more like something from a Ridge Racer game than any traditional circuit, packing nineteen turns, a full 44 crests and dips, descents of up to 26 per cent (Laguna Seca's Corkscrew dips 18 per cent at its steepest) and inclines of up to 21 per cent into just 4.2km. Pop the Nürburgring Nordschleife on too hot a wash and you'd probably end up with something very similar.
As a venue to test the effectiveness of suspension, you'd struggle to come up with somewhere better. The track's curves, compressions and crests put huge loads through a car's chassis and betray any weaknesses. A suitable place then to demonstrate advances in aftermarket suspension such as Koni's latest range, comprising FSD, Sport and Trackday kits.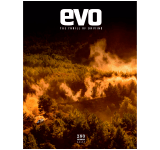 Subscribe to evo magazine
Subscribe today to have every issue of evo delivered straight to you. You'll SAVE 39% on the shop price, and get evo for its original cover price for a whole year!
If you're keen to improve the behaviour of your own car, these systems may well come up on your radar - so with the aid of a BMW 3-series, Ford Mustang and Golf GTI Clubsport, we can now bring you a little more information on each.
Koni FSD kit - BMW 320i
Koni's FSD kit is possibly the most intriguing of the trio we tested, even if it's the least performance-orientated. That's because it has the greatest potential benefits for regular road cars - and indeed, OEMs including Mercedes-Benz and Fiat already use the technology on certain models.
The mission here is to replicate the characteristics of adaptive suspension, providing comfort in normal driving but firmer damping when driving in a sporty manner. FSD stands for Frequency Selective Damping, and the units use a valve inside the piston within the damper to regulate the oil flow that determines the damper's characteristics. It's entirely mechanical, so no wiring is required.
> Read our full review of the BMW 3-series
The valve remains open in normal use, allowing oil to flow more freely and letting the damper absorb the low-amplitude, high-frequency bumps that test a car's secondary ride quality. For higher-amplitude, lower-frequency bumps, such as crests and undulations (the response to which defines a car's primary ride), the valve closes in response to movements of the piston, for a firmer response.
Thus a pliant ride and good body control - normally the preserve of electrically or magnetically adaptive systems - should be possible in the same conventional damper. An electric adaptive setup achieves the same result by continually adjusting valves using a servo to replicate the same effect, while magnetorheological systems change the apparent viscosity of the fluid itself with an electric current. A purely mechanical system can't quite boast the wide remit of such systems, but it's potentially as effective in certain scenarios.
Without FSD, the BMW 320i (on modest 205/55 R16 tyres) is all at sea at Bilster Berg. Unpleasantly light steering (even in Sport mode) that fails to feed back much turn-in information doesn't help, but there's plenty of body roll too and over some of the circuit's more challenging crests and compressions the car loses its composure, losing hold of your chosen line and floating around with very little precision. "Freude am Fahren" has rarely seemed so far away in a BMW.
The FSDs' influence isn't transformational - this is still not a car best suited to circuit work - but it is beneficial. The 320i feels more composed with the FSDs, handles tough compressions with greater aplomb, and is more eager to change direction as the dampers firm up under load and resist the saloon's body movements.
It does all this on the road too, which is really where the FSDs' benefits are aimed. The ride quality isn't dramatically improved (the secondary ride on this particular car already benefits from the tall-sidewall tyres) but the damping does feel more "expensive", taking the sharpness off bumps while improving body control. We suspect the benefits would be more pronounced on a car wearing larger wheels with narrower sidewalls - if it isn't already wearing adaptive suspension.
Koni Sport kit - Ford Mustang
The Sport kit is typical of basic suspension upgrades, using conventional, albeit uprated damper units and aftermarket springs, in this case supplied by Koni's partner, H&R. Koni claims handling improvements - the result of less body movement and a lower centre of gravity - but few compromises in ride quality, with similar bump characteristics to the standard dampers with firmer (and adjustable) rebound. The aim is to have a damper and spring combination that improves both road handling and makes for a car that's more suitable for track use.
The Mustang is a good car on which to determine the benefits of the Sport kit. As standard it's bursting with character, demonstrates good grip and traction and feels nicely balanced, but still has a floatiness that betrays its American roots.
> Click here to read our full review of the Ford Mustang
Around Bilster Berg, this float manifests itself as a slight imprecision on turn-in (exacerbated by the 'Stang's already slightly light, remote-feeling steering) and an uneasy feeling through quicker corners. There's always plenty of grip and the good front-to-rear balance is still present and correct, but the transition from understeer through neutrality to oversteer lacks distinction, almost as if the car flops from one to the other once the rear tyres break traction.
The Sport kit removes this floppiness. Around the long, fast and predominantly downhill left-hander that follows the circuit's undulating back straight, the Mustang feels absolutely planted, goading you into carrying higher speeds. In tighter corners there's more grip, snappier turn-in, and when you test the rear tyres, a fluid and easily-controlled transition into oversteer. Even when you're not simply playing about, the extra control lets you better exploit the car's balance and its grip limits.
While the Sport kit doesn't instantly turn the 'Stang into a hardcore track weapon, it's both far more capable and even more fun than the standard car. It's probably the most effective of the three kits we tested - and we'd love to feel the effect on a car like the 320i, which arguably needs more help to turn into a driver's car.
On the road, the Sport kit continues to impress. You lose nothing at all over high-frequency bumps compared to the standard car, though UK tarmac might still challenge the kit with really sharp ridges and pot holes, since the extra firmness over bigger intrusions is palpable. The trade off is better body control, even with the adjustable rebound wound down to its softest setting. Either way, you could live with it quite easily - though the test car's low stance might prove troublesome over speed bumps.
Koni Trackday kit - VW Golf GTI Clubsport
This is the most extreme of the kits tested, and with a 50mm drop front and 45mm rear compared to the already low standard car, the Trackday-equipped Clubsport almost had the look of VW's Golf GTI TCR racer.
The Trackday kit is a big step up over the Sport kit. It's a full upside-down coilover setup incorporating, in this case, springs that are three times as stiff as standard at the front and 80 per cent stiffer at the rear, with soft auxiliary springs to take the sting out of small intrusions. There are also as eight stages of adjustment for both bump and rebound damping. The damping effect is adjusted with small collars that sit at the base of the damper unit and operate with a satisfying click.
> Volkswagen Golf GTI review - Still the benchmark hot hatch?
The range of adjustment in bump damping sits either side of the response curve of the standard dampers depending on how many clicks you've applied - actually giving you a more cushioned secondary ride at its softest settings, in theory. The rebound range is much firmer, particularly at higher piston velocities, for much better wheel control when you're really loading up the suspension.
On track, the standard Clubsport is hardly out of its depth, generating hearty grip from its Michelin Pilot Super Sport tyres, turning in with authority and changing direction with alacrity. Yet the difference with the Trackday kit - set here with five clicks of both bump and rebound - is still remarkable.
The Clubsport now feels almost like a race car in its composure, attacking corners with next to zero roll and no unwanted body movements and generating even greater lateral forces than the standard car. The flatter body and greater wheel control also helps the Clubsport's limited-slip differential claw even more grip from the front tyres, allowing you to jump on the power hilariously early out of corners.
Unlike the FSD and Sport kits though, the Trackday kit is probably overkill on the road, at least on the Clubsport. Wound down to zero clicks for both bump and rebound, it's still unyieldingly firm. Its high-frequency secondary ride is admirably pliant, but anything bigger than a ripple tests your spine - one transverse ridge in particular came as quite a shock.
Some could probably live with it (including some at evo - our own long-term Mini JCW Challenge is nearly as firm on its Nitron dampers), but given how capable even the standard Clubsport is at fast road speeds, we'd suggest you fit this particular kit only if you actually spend much of your time on the ultra-smooth surfaces of a race track.