It's the siren that does it for me. A harsh, piercing wail that warns of a car entering the pitlane, it still has a Pavlovian response on my adrenal gland several years after I decided to stop racing at the Nordschleife. Part pleasure, part trauma, the tumult of emotions and mash-up of memories remain deeply imprinted on my psyche. It's that kind of place.
Many of you will have driven the Nürburgring's North Loop. But whether you've lapped it virtually on a gaming console, for real in tourist sessions or gone one better and done a proper trackday, I can guarantee nothing you've experienced comes remotely close to racing at the Ring.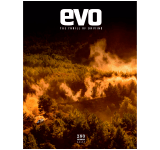 Subscribe to evo magazine
Subscribe today to have every issue of evo delivered straight to you. You'll SAVE 39% on the shop price, and get evo for its original cover price for a whole year!
I first raced there in 2006 – sharing a Maserati with F1 legend Jacques Laffite and American journalist Patrick Hong in the N24 – but the first time I visited the place was in the late '80s, on a touring holiday with my best mate and a couple of older friends. I can still recall the sense of naive wonder as we arrived in Nürburg and spotted the castle perched up on the hill. It was as though I'd transported myself back into the pages of motorsport history.
Back in those pre-internet, pre-YouTube, pre-GoPro days you read books and maybe watched scratchy VHS videos such as The Speed Merchants or Lap of the Gods to learn about the Ring. The Silver Arrows. The Marathon de la Route. That shot of Hans Stuck airborne in a BMW Batmobile. Stefan Bellof. It had a mystery about it, not to mention a malevolent, grisly reputation. Don't forget this was barely a decade after Niki Lauda's fiery crash in 1976, and just a few years since Group C raced there for the last time. It existed in my mind as a kind of mythical beast. One I'd finally got to see.
What I saw from the back of our E34 5-series blew my mind. This was the place where all those heroes I'd read about had raced and triumphed, and where some had died. Back then it wasn't quite the hedge-lined country road of yore, but it wasn't like any racetrack I'd ever seen. Narrow. Bumpy. Tree-lined. Almost endless and almost certainly unfathomable. At that time I never for one minute dreamed I would race there, but having experienced it at least I could begin to imagine what it must have been like to race there. And that was good enough for me.
Once I began working as a motoring journalist I went back to the Ring numerous times and drove laps myself, but it's one thing to drive it in a road car, quite another to strap yourself into a slick-shod race car and push as hard as you dare along with nearly 200 other cars.
> Click here to see the quickest lap times at the Nürburgring
That 2006 race was a perfect introduction: ignorant of the scale of the challenge I faced and bolstered by the comfort of being part of a big factory team. The weather was perfect, the car never missed a beat and the only pressure was that which I put on myself. Of course it was still madness, but it was brilliant madness. At first completely daunting, then quickly all-consuming. I loved it.
Strapped into your racing car you're very aware of the party going on over the Armco – the feral crowds, the crazy home-built grandstands, the campfires and general drunkenness: part Glastonbury, part Lord of the Flies – but only in brief moments of distraction. For the most part you're in a sweaty, solitary world of absolute concentration and hyper-stimulation. Time seems to shift. Each lap is an adventure that unfolds before you, often seemingly in slow-motion, yet also passing in a flash. You can be in the car for a two-hour stint, but you'd swear it was twenty minutes.
When you lose yourself in that trance-like rhythm, nowhere else comes close to racing at the Nordschleife. It relies on total, unflinching confidence like no other circuit I've ever driven, but when you feel at one with the car, the track and yourself, it's magical and energising. You simply don't want it to end.
> We debate the merits of road-car development at the Nürburgring
The flipside is if that confidence deserts you it's the scariest place in the world. Risk is present at any racetrack, but at the Ring it's palpable. I'll admit that was always part of the appeal, but when that danger suddenly reaches out and grabs you or someone you know, it is quick and brutal. 
I've had the best of times at the Ring, but I've also had the worst. The day fellow Aston Martin driver Leo Löwenstein was killed being the blackest of all. Seeing the clothes he had left neatly folded on his bag in our changing room, ready for when he returned, haunts me to this day. Still I raced on for another four years, but a monster 120mph crash at Schwedenkreuz during qualifying for a pre-N24 VLN race in 2014 left me in no doubt what happens when one of the hundreds of overtakes you make during an N24 race goes sour.
I still did the N24 that year, which seems ridiculous given the lead up to it, but that's an illustration of how strong the addiction becomes. I still love racing, but I'm three years clean from my Nordschleife habit and have no regrets.
I'm proud to have raced at the Nürburgring and to have enjoyed success with a team as special as Aston Martin. I'll happily return there with some mates to do a trackday, sink a few beers and devour a steak at the Pistenklause, but once it has you spooked it's no place for half-measures. Like I said, it's that kind of place.