New v used – which car should you choose?
The ultimate car-buying conundrum: go for something new and shiny, or spend the same on a used machine that was previously out of reach?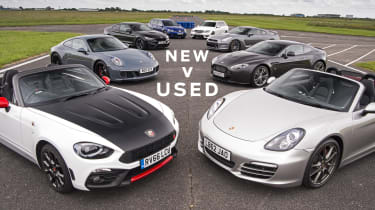 Not that long ago, making the choice between a new and a used car was simplicity itself. You want peace of mind, the latest kit and that box-fresh smell? Easy. Simply head to a dealer, tick some option boxes and wait for your freshly minted motor. Want a bargain? Okay, take the same cash and sink it into something second-hand that's likely to be higher up the pecking order when it comes to performance and premium appeal. 
However, these days the lines are a little more blurred. The proliferation of personal-contract-plan (PCP) finance deals has made it easier and far more affordable to get the keys to some very desirable metal. At the same time, manufacturer-approved used-car buying schemes and vastly improved mechanical reliability mean purchasing pre-owned isn't so much of a leap into the unknown as it once was.
However you look at it, this is great news for people like us, because it means greater choice with fewer compromises. And to demonstrate, we've gathered together four disparate pairs of contenders to discover which makes the best buy – new or used. We've also dusted off the calculator and worked out what some of the essential real-life costs of running these cars will be.
There is one drawback to these encounters, though: you're guaranteed to lose hours constantly tweaking new-car configurator choices and trawling through the classifieds as you search for your perfect new or used partner. Read on for four new vs used battles.