The trick, of course, is finding a relatively pure Nissan GT-R for sale – one that hasn't had a rolling power upgrade every time Dwayne Johnson arches an eyebrow in the tediously interminable Fast & Furious film franchise. Unless you buy a new one, it won't be easy.
Less a model line than a global phenomenon, Nissan's R35 has become, over its ten gradually evolved years of production, the internet's greatest automotive fascination. It's an already preternaturally gifted and rapid performance coupe that can be tuned to countlessly filmed Veyron-slaying heights on the drag strip. Thus, by proxy, it lives a poster-child existence as the people's champion, a sort of über-hypercar, capable of rinsing a LaFerrari or McLaren P1 any old day of the week. So if you think you can handle a blood-vessel-bursting 1500bhp GT-R, they're out there, and for considerably less than a million bucks.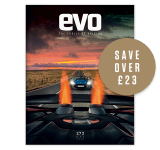 Subscribe to evo magazine
Subscribe today to have every issue of evo delivered straight to you. You'll SAVE 39% on the shop price, and get evo for its original cover price for a whole year!
Simon Fisher, on the other hand, wanted a more practical car to replace his Audi R8 V10 Plus, which he liked very much but which had a tendency to warm up the groceries in its front boot on the drive back from the supermarket. A GT-R seemed to fit the bill and, after filtering out a number of dubiously molested Fast & Furious wannabes, Simon bought a pristine 2015MY example with just 3000 miles on the clock. Not quite standard, it came with a Litchfield Stage 2 kit, around 590bhp (up from 542), adjustable Öhlins dampers and a 10mm drop in ride height. Seems a very reasonable way to spend £60,000 and I'm glad he's brought it along.
Or, for the same money, and arguably more practical still, Simon could have bought a just-facelifted BMW M4 Competition Package. He admits he's never really been into BMWs but, just as I am, he's curious to see how a new M-division product fares against the car some call 'Godzilla'. Outmatched? On paper, completely. Even with the extra 19bhp the Competition Package brings, 444bhp is nearly 100bhp adrift of the Nissan's standard-spec peak, which equates to a good number of seconds in a sprint to 100mph.
That was always a given. What should divert this comparison away from being a straight slug-fest, however, is the rest of the honing and new kit that comes with the Competition Package. It's aimed at making the on-limit handling of the rear-drive chassis less spiky and a more effective executor of the twin-turbo motor's bounteous mid-range torque. To this end, the M4's Active M Differential, along with the Dynamic Stability Control system, has been retuned to improve traction. Further dynamic support comes from new springs, dampers and anti-roll bars. Additionally, BMW says the drive modes have been reconfigured and adaptive dampers are now standard fit.
Remarkably, when you factor in the modest £3000 price hike over a regular M4, the package also includes rakishly redesigned door mirrors and achingly pretty 20-inch wheels that mimic the design of those fitted to the M4 GTS. (However, our test car sports the 19-inch alloys from the standard M4 – a no-cost option that quite likely benefits ride and handling.) Cabin fettling includes lightweight sports seats with meaty bolsters and seatbelts with the BMW M colours woven into them. Nice touch.
Black paintwork does our BMW a big favour, adding a much-needed whack of subtlety by de-emphasising all the carbon bits, of which there are many – roof panel, boot lip spoiler, front ducts and aero and faux rear diffuser, to be exact. The upshot, for this car anyway, is that it looks stealthier and more integrated than the gaudily hued first batch of M4 press cars. Those machines accentuated what appeared to be a rather clunking disconnect between the essentially prim and delicate 4-series coupe's form and the bolt-on, battle-grade butchware.
The GT-R's oh-so-distinctive shape is now a decade old, but it still looks mean from any angle. A tad dated, maybe, but the Chris Hoy distribution of mass (most of it seems to be concentrated in the haunches) lends the profile a muscular forward impetus, especially with that 10mm drop. It's a large, heavy car that makes the pumped M4 look almost dainty, but the way one broad swathe of bodywork cuts into another works a little aesthetic magic that still turns heads.
Inside, both cars have a lot of configurability. For an owner, this means plenty of laborious fiddling around until optimisation is achieved, with alternative settings on standby for special conditions. With its iconic row of 'Race' buttons, the GT-R is a bit friendlier in this respect but painfully old-hat in others, and the gloomy cabin ambience is borderline depressing. Great seat and driving position, of course, but the M4's lightweight bucket locates torso slightly more firmly.
On the road, neither car makes a great noise. Their soundtracks are a melange of road-rush and atonal six-cylinder hash, the BMW's with additional exhaust-blare seasoning, the Nissan's a thinner, stinging mechanical edge. All right, we know that Japan's streetfighter is significantly the quicker of the two cars in a straight line, but it's the way the GT-R delivers its performance that remains, frankly, astonishing. Fine, it doesn't do the 'charisma thing' aurally, but the way the sublimely fast, silky double-clutch transmission makes accelerating one tumultuous, fairground-ride surge is pretty devastating next to the (optionally) DCT M4's abruptly punctuated lunges.
Although the Competition Package liberates a little more power and top-end lung-capacity, the M4's straight-six is still a bit of a curiosity, possessing massive mid-range wallop but tempered by a reluctance to rev out with commensurate force – a combination not helped by gearing that leaves an awkward gap between second and third. Making a point of kissing the red line with every upshift is slightly less pointless than in the regular M4, but knowing when to optimally change up is still something of an acquired art. Get it right, though, and the M4 feels satisfyingly ballistic.
As a car to jump into and drive fast straightaway, however, Simon's 590bhp GT-R verges on the miraculous. The thing about the GT-R is that it doesn't matter whether you're an ice-cold pro going for a Nordschleife lap time or a revved-up mortal feeding purely off synaptic reactions and pumping adrenaline, the Nissan's all-drive chassis simply processes the inputs as speed across the ground – minimising mistakes, rewarding aggression and commitment, flattering in extremis. It makes you feel a better, braver driver than you are. Simply set everything to Race and go for it. It's impossible not to be staggered by the sustained speed, the instant, lag-free urge, the way the chassis, despite the resolute firmness of Simon's adjustable Öhlins setup, rides the road's humps, dips, kinks and cranky cambers. It carries absurd pace through the trickiest of bends with iron-fisted stability, even with half a turn of opposite lock wound on.
Stepping from the GT-R to the M4 is almost surreal. The BMW feels oddly ponderous, slow-witted and heavy by comparison. Its steering weight is meatier but you seem to need 50 per cent more lock to get the nose to turn in. What you don't do is get in and give it the beans immediately. This isn't to say the M4 is ponderous, slow-witted and heavy. It's just the initial shock of having to make the adjustment from the Nissan. Once acclimatised, everything seems much rosier. No, the M4 won't remind you of a small Lotus, but the faster you go, the friskier and more agile it becomes. Once you start to push really hard it's a car transformed, its real dynamic talent residing much closer to the limit of adhesion, where it seems to acquire almost balletic balance, agility and adjustability. In the regular M4, this can seem too much, requiring concentration to be focused on limiting oversteer to manageable proportions, but it gives the M4 Comp Pack an extra dimension to its dynamic personality that the mighty GT-R doesn't have.
Viewed with heartless objectivity, this could all have been over so quickly it would hardly have seemed a fight at all. A glint and blur of the GT-R's Samurai skills and the M4 is taken apart. Punishingly quick as the Beemer is, this GT-R's performance is in a different place, where McLarens and Ferraris roam. However hard you think you can corner in the German coupe before it begins to smear its sticky Michelin Pilot Super Sport rubber in gentle arcs on the surface of the road, the tweaked Japanese coupe corners harder, the optimum angle of attack merely requiring a suitable level of commitment and trust from the driver. This bleak overshadowing is no disgrace for the M4. If getting between two places on a challenging road as swiftly as possible is the objective, few cars on earth can live with a GT-R.
But where does that leave us? Not, as it transpires, with the BMW eating the Nissan's dust. Pull the focus back from ultimate abilities and the BMW not only starts to ask questions of the Nissan but also cunningly flips the argument, making you evaluate afresh what it is you really want and expect from this kind of car when that initial adrenaline- rush subsides. If the GT-R is a more immediately seductive proposition that can make stunning speed across the ground seem as easy as swallowing a pill, the M4 Comp Pack is much more of a slow-burner that you need to learn to extract the best from, and the layers run deep. Simply choose your weapon.
Specifications & running costs
| | | |
| --- | --- | --- |
| | BMW M4 Competition Package | Nissan GT-R (2012-2016) |
| Engine | Straight-six, 2979cc, twin-turbo | V6, 3799cc, twin-turbo  |
| Power | 444bhp @ 7000rpm | 542bhp @ 6400rpm  |
| Torque | 406lb ft @ 1850-5000rpm | 466lb ft @ 3200-5800rpm |
| Weight | 1515kg | 1740kg  |
| Power-to-Weight | 298bhp/ton | 316bhp/ton  |
| 0-62mph | 4.2sec (claimed) | 2.7sec (claimed) |
| Top speed | 155mph (limited) | 196mph (claimed) |
| Basic price new | £61,365 | £75,000 (2012) |
| Used price now | n/a | £45,000-70,000 |
| Servicing | £999 for 3 years  | £300 minor, £830 major |
| Tyres | £191 front, £172 rear (Michelin Pilot Super Sport) | £208 front, £264 rear (Michelin Pilot Super Sport) |
| Warranty | Included (3 years) | c£1200 per annum |
| Road tax | £1200 first year, then £140 pa | £535 per annum |
| evo rating | 4.5 | 5.0 |