Ferrari to split with parent company Fiat Chrysler
The Ferrari shake-up continues as it announces a split from parent company FCA and sale of its shares on the stock market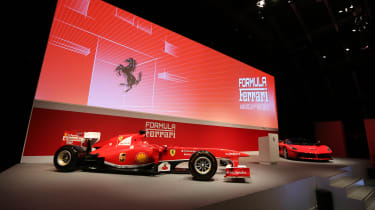 Fiat Chrysler Automobiles is to sell its ownership of Ferrari, releasing up to 90 per cent of the Italian brand to current FCA shareholders and 10 per cent to the public. The Ferrari brand is to be sold on the US stock market in 2015, with a strong possibility of a European listing too.
The news comes as the latest in a long list of developments experienced by the Italian supercar maker, following directly on from the departure of its former chairman Luca Di Montezemolo and technical director Roberto Fedeli. 
FCA chief executive Sergio Marchionne is said to be eager for the sale in order to achieve goals to grow FCA between now and 2018. Both FCA and Ferrari are expected to heavily benefit from the split, which could enable greater tailoring of development direction for each brand.
Revenue for the FCA has reached £18.65 billion in the third quarter of 2014, worth an impressive 14 per cent of growth, but the sale of Ferrari is part of a wider plan to raise £38 billion for a long-term investment plan.
So what does this mean for the world's most famous supercar maker? Rumours suggesting the departures of Montezemolo and Fedeli are linked to Fiat's recent plan changes for Ferrari will no doubt continue to circulate. Plans to grow the Ferrari brand and produce more cars (including a once rumoured but now rejected SUV) are also apparent key reasons for potential disagreements between head figures.
Whilst this might represent one of the bumpiest periods in Ferrari's business history, word that the 458's turbocharged replacement is undergoing development confirms we won't have to worry about the Maranello firm losing touch with its supercar heritage for some time. 
What are your thoughts? Could the split help to ensure Ferraris of the future remain focused supercars or will we just see a vast expansion of Ferrari fragrances?...