Shelby Mustang GT500 racing stripes - Art of Speed
The racing stripe is considered unsavoury for some, but there's more depth to its origins than you might think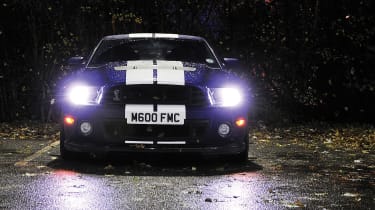 Racing stripes: Ferrari charges a small fortune for them, Shelby Mustangs and Cobras don't look quite right without them and some people stick them on with a hair dryer. They've fallen in and out of fashion and, today, are desired and derided with competing conviction. But perhaps the least contentious thing about them is this: whatever may be going on in the minds of drivers who've ticked the appropriate option box (or self-appended them), racing stripes don't make your car go faster – at least not in any sense that relates to modern motoring on public roads.
Sixty or so years ago when they first started appearing on closed-wheel racers, however, they could in theory mean the difference between a podium finish and mid-field anonymity. In fact, they served two purely practical but disparate functions, the first being that they provided a means to make it easier for spectators to identify a particular team's car in the heat of battle. More intriguingly, two broad stripes running longitudinally up the bonnet on the driver's side also claimed the benefit of being the first thing seen as the fog of rubber smoke and dust began to clear after a spin or shunt, enabling the driver to reorientate more quickly and get the car pointing in the right direction again. That said, finding a quote from a racing driver attributing a storming-through-the-field win to the presence of racing stripes proved fruitless.
> 749bhp Shelby GT500 confirmed as most powerful street-legal Ford
US race legend Carroll Shelby is often cited as the inventor of racing stripes. He certainly helped popularise them, but as a fan rather than a founder. Back in the early '50s, Shelby was driving for Aston Martin at Le Mans and couldn't have failed to notice that the rival Cunningham team's cars, the first with bodywork that enclosed the frame rails, sported blue stripes where the exposed rails would otherwise have been visible, thus enhancing the distinctive blue-on-white international livery used by American teams. Later, as boss of his own concern, Shelby adopted the idea and the colours, but flipped them (white stripes on blue bodywork) for his race entries. The stripes have since become a signature of all Shelby road cars up to and including the Mustang GT500 pictured.
Stripes have become image accessories that seek to denote an affiliation to motorsport: in some cases aspirational, in some cases deserving, in some cases comically inappropriate. Having said that, one notably square-cut early adopter, the Renault 8 Gordini, did look unfeasibly cool. Blue with white stripes. Perfect.