1st – McLaren 600LT (Supercar of the Year and evo Car of the Year 2018)
The McLaren 600LT is our 2018 Car of the Year. It's the second eCoty victory in a row for the British manufacturer from Woking, and provides yet more evidence that the firm has rightfully earned its place among the true supercar-making greats. The ingredients it uses often look familiar, but with every iteration the execution improves yet further.
As one of the three powerhouses in our test group, the 600LT differed from the Ferrari and Porsche by recognising the value of true engagement, even with close to 600bhp on tap. In fact, that power output was strangely immaterial, having little to do with the car's final placing. Instead it was the McLaren's deep-seated connection to the person behind the wheel that proved to be the ultimate clincher. Agile, connected, dramatic, but exploitable and always on-side, the 600LT is McLaren coming of age – and this is only just the beginning. The establishment are no longer on notice. They're being left behind.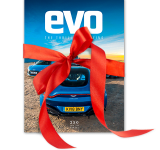 Subscribe to evo magazine
If you're passionate about the world's greatest performance cars, experience the thrill of driving with evo magazine. Try your first 5 issues for £5.