Hyundai RM19 sports car prototype spotted testing at the 'Ring
Mid-engined prototype is hiding under a temporary bodyshell borrowed from the Veloster TCR racer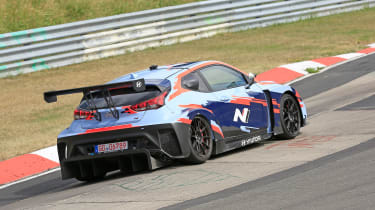 1/17
Hyundai's mid-engined sports car is inching ever closer to its official reveal – and the reappearance of the brand's Veloster-based prototype is evidence that development is well underway.
Set to be sold under Hyundai's N division – alongside cars like the i30N hot hatchback - the car will be a halo model for the company and in a wider sense should continue to build Hyundai's reputation as a maker not just of worthy family-wagons, but also a brand for the enthusiast.
> Click here for our review of the Hyundai i30 N
Hyundai has made little effort to disguise its latest prototype, the car wearing a full livery not unlike that of the i20 WRC cars. Seen on both the road and tearing around the Nurburgring Nordschleife, the prototype is wearing a body borrowed from the Veloster TCR racing car, complete with its wide arches, massive rear diffuser and rear wing. Unlike the racer, this prototype sits on OZ Racing wheels not unlike those of the 20-inch items seen on the 'N Option' i30N at last year's Paris motor show, shrouding huge Brembo brakes.
And with scoops replacing the rear quarter windows and significant vents in the rear bumper, there's no doubting where the engine sits. What's less clear is what might power the car, though as a prototype rather than a preview of a dedicated production model, you can expect several details to change.
Hyundai's vice president of high-performance and motorsport, Thomas Schemera, confirmed to us last year that a bespoke Hyundai N sports car is on the agenda, a model which unlike the Veloster N, the brand's 3rd offering to date sold in the United States, will be sold in the UK.
According to Schemera, we've seen the "completion of the first phase of N vehicles," and the next step will be a new N car that is exclusive to the brand. "The whole idea is to strengthen the Hyundai brand, to bring more emotion," he said.
"I can tell you Albert Biermann [Hyundai engineering boss] and myself are interested in hot things and have some ideas in the pipeline for a halo model – rest assured we are coming up with something."
Biermann is also understood to have requested that the N division's engineers be involved in Hyundai new car projects from the very beginning. This would enable a streamlining of the development of the eventual N versions and presumably, add a sharper driver focus to the company's everyday products. The new process is likely to begin with the next i20 supermini.
It looks as if the decision as to what form a 'Halo' Hyundai N model will take has been made, with this mid-engined, rear wheel drive model muted to appear sooner than we may think. What powertrain will go on to power this new performance model is the real question when it finally reaches the road.