There are hot hatchbacks with more grip, some with more adjustability, and others that will out-sprint the i30 N point to point, but in the current market it's difficult to think of many that are quite as entertaining or fluid to punt down a twisty country road. With such a broad spread of talents, it's also difficult to think of any aspect that could be significantly improved.
The i30 N's steering is the first statement of intent. It's weighty even in its lightest setting, not unlike that of a BMW Motorsport product. Delve into the menus and it's possible to make it even heavier, but whichever setting you choose, it's always responsive, with the slightest movement off the straight ahead resulting in a positive and proportional reaction at the front axle.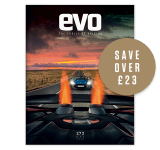 Subscribe to evo magazine
Subscribe today to have every issue of evo delivered straight to you. You'll SAVE 39% on the shop price, and get evo for its original cover price for a whole year!
There's grip to back it up, too, whether you've chosen the Performance with its sticky P Zeros or the regular model on Michelin Super Sports. Even better, there's some semblance of feedback through the chunky steering wheel rim, which makes apex-hunting a real joy. It's not a chassis likely to catch you out, either, unless you take liberties – while the rear end will rotate if you throw the car at a corner, it's otherwise benign and grippy, without ever feeling inert. Three stages of stability control (off, sport and normal) give you options depending on how much you appreciate electronic intervention.
Performance versions feature an electronically controlled limited-slip differential. It's not something you're likely to notice most of the time, but it does aid traction through tighter corners and when the roads are damp, without being too much of a handful. Models without still have great traction and do tug at the wheel less, but ultimately don't hook up quite as well out of tight corners.
It even rides well. Granted, flick the dampers to their sportier settings and it's arguably too firm for the road, pogoing over bumps and pitching around with the camber, but left in Comfort it's firm but well-damped, with as much body control as you'd realistically need on the road but enough pliancy to deal with unexpected lumps. Incidentally, the 19-inch wheels of Performance models don't seem to compromise the ride to any great degree compared to the 18-inch design on the regular N – well-judged damping takes care of that. Hyundai engineers tell us that they even use the normal damper setting during Nürburgring testing...
The stiffened chassis – most visible in the boot, where there's a large cross-brace between the suspension turrets – helps, too, giving the i30 a real feeling of solidity even when the road gets rough. It's a superbly well-judged chassis.