With its new i30 N, Hyundai has entered the deeply competitive hot hatch market with full commitment. It has all the ingredients to help establish the N badge as a bona fide performance brand and convince any cynics that Hyundai are a real player in this market.
Nothing quite represents Hyundai's intent quite like its acquisition of Albert Biermann to lead the N-division. Biermann masterminded most of BMW's best M cars for 20 years until Hyundai poached him in 2014.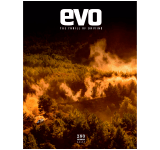 Subscribe to evo magazine
Subscribe today to have every issue of evo delivered straight to you. You'll SAVE 39% on the shop price, and get evo for its original cover price for a whole year!
Even so, and despite the undeniable credibility of its chief engineer and Hyundai's very obvious desire to persuade us all that it really has crafted a proper driver's car out of the i30, you do wonder if it really is as good as it sounds on paper. You can't help but wonder. Especially since Mr Biermann himself admits to not knowing a great deal about front-wheel drive cars before making his move to Hyundai.
> Click here for our group test between the i30 N, the Golf GTI and Peugeot 308 GTi by Peugeot Sport
All it takes, though, is one good drive across one great road in the Hyundai i30 N to banish such doubts. Scepticism is replaced by a mixture of mild disbelief, major respect and, most of all, a refreshing wave of pure pleasure about what Hyundai has created in the i30 N. Which is to say, a thumping good hot hatchback, one that can absolutely stand comparison with the best.
Engine, transmission, 0-60mph time
The i30 N is not a rule breaker in any specific area. Much like its rivals it has a turbocharged 2-litre four-cylinder engine, a six-speed manual gearbox and front-wheel drive.
The engine is available in two states of tune, either 247bhp and 260lb ft or, the car we've tested here, the Performance model with 271bhp and 260lb ft of torque. The more powerful model also has 279lb ft available on over-boost for 18sec. As such it can hit 62mph in 6.1sec and has a top speed of 155mph, all decent enough stats but nothing outrageous compared with the likes of the Civic Type R.
Technical highlights
Thankfully, there are plenty of highlights. For a starter, the i30 N Performance has a proper e-diff – not one that just uses the brakes to nibble away at the inside front wheel – that works out all sorts of clever things to keep the front tyres keyed in to the road at all times.
Its chassis has also been endlessly developed by Biermann and his team to deliver maximum precision in its most aggressive settings – which you'd expect given his background – but also a degree of comfort and refinement when you dial it all back down via the various electronic drive modes.
> Click here for our review of the new Honda Civic Type R
Furthermore it rides on a set of bespoke Pirelli P-Zero tyres that were developed specifically for the i30 N, and this always makes a big difference to the end result, even if it is an expensive route to take for the manufacturer (the i30N isn't quite a money-no-object car for Hyundai, but it hasn't exactly been constrained by budgetary concerns either).
Additionally, it has some very trick electronic dampers at each corner that enable it to do things that many other rivals can't even contemplate.
And finally, it sounds the absolute nuts if you press the N button on the steering wheel, give it full beans in third gear and then back away from the throttle momentarily.
What's it like to drive?
In N-mode, which stiffens up the dampers to max and alters the exhaust noise, the ESP map, the throttle map and even the e-diff map, the i30 N is so sharp. However, on our bumpy English roads it's best if you back the dampers off to their softest setting, where they still offer substantial control but allow the body to remain composed over sharp bumps and undualtions.
With everything wound up to max, except the suspension, the i30N is capable of taking on just about any road you'd care to throw at it. Genuinely, it is that well sorted, that crisp and clear and precise in its responses, and in pretty much everything it does.
Especially the way it steers and slows down for corners, and then just sits so sweetly in them for a second or so before taking full power once again at the exit. There's a useful degree of adjustability, too; off throttle, the rear end points the nose towards an apex. Yet, there's ample grip at the back axle; the rear tyres really dig in as any oversteer increases keeping the car stable even under significant load.
To get the best out of the car you need to learn how to get the best out of the e-diff. And to do that it's all about having the confidence to get on the throttle as early as possible in a corner – because when you do the e-diff really comes to life and, so long as you haven't got your entry speed cataclysmically wrong, the front tyres bite and your exit speeds become increasingly ridiculous.
> Click here for our drive of the Focus RS
In a way, the engine plays second fiddle to the chassis in the i30 N but it's still an essential ingredient to the cocktail. In short, it does the job, and does it pretty well, without ever making the hairs on your neck head north. There's very little lag, the throttle response is strong and clean, the noise is crisp and pure, and it delivers enough performance to enable the star of the show – the chassis – to sing. And if it had more boost in order to give it, say, 320bhp rather than 271 then it would be even better still. But that's another state of engine tune, for another car, for another day… maybe.
The i30 N has an automatic rev match function so that you don't need to heel and toe on down changes. There are numerous states of aggression for the system, depending on what driving mode the car is in, and all work remarkably well. However, the best thing about the auto-blip function is just how easy it is to turn off thanks to a button on the steering wheel near your right thumb. The pedal placement, throttle response and short, defined throw of the gear lever all contribute to make it easy and satisfying to heel-and-toe and match the revs yourself.
The i30 N Performance, as its stands, isn't just a pretty stunning first effort from Hyundai's N division it's a pretty stunning effort full stop. Inside you get all the usual stuff you'd expect from a Hyundai – increasingly high quality switchgear and controls, lots of room front, rear, and in the boot plus a great level of spec. As standard the Performance model gets pair of electric sports seats, however the lighter cloth seats from the less powerful model are still very supportive, are 20kg lighter and are a no cost option.
In total there are five different drive modes to choose from; Eco, Normal, Sport, N and N custom, in which you can tailor all of the car's individual components to your own personal desires, which is nice.
And so when you've had enough of all the exhaust pops and bangs (which are entirely natural, says Hyundai, so not at all computer generated), you can dial the engine back to normal and the exhaust system climbs back into its box and goes to sleep for a while.
On track
During the first few exploratory laps of Cadwell Park, just getting the know the i30 N at a reasonable pace, you wonder what all the fuss is about. It's certainly good and competent, but not in an exceptional or memorable way. That's even with everything dialed up and the car in N mode.
But in a rare manner, for a road car at least, the harder you push, the more committed you are and the fast you go, the better the hot Hyundai feels. It relishes a fast corner entry, braking right to the apex – the front tyres gripping as they are being forced into the tarmac as the nose dives.
It feels agile and alert, yet both axles want to stay stuck to the tarmac. That means you don't really have to worry about keeping the back-end in check on entry to a corner. However, the throttle does close abruptly and that can, in extreme situations, unsettle the car.
On the exit of a corner you can get on the power as soon as you like. When its dry, the e-diff and front tyres pull you round a bend and you almost have to fight to get the wheel straight as the N just wants to keep showing you how eager it is to corner.
The diff also helps you out should you enter a corner too fast. After the front end pushes wide and you've desperately tried to scrub off as much speed as possible, when you do eventually get on the power the diff allows you to carve a trajectory away from the grass or gravel trap.
The brakes are also very effective. Even after repeated laps through the many downhill braking zones at Cadwell Park, they remained fade free and the pedal solid. If fact, the only element to show any fatigue was the front tyres; the ABS became more eager to activate under braking and you have to be a little more tentative with the throttle in the tighter corners to retain full traction.
Even so, it doesn't stop the i30 N Performance from feeling very competent on track. And, more importantly, a lot of fun too. – Will Beaumont, staff writer
Price and rivals
At £27,995 the i30 N represents a lot of car for the money, especially as it's fundamentally so sharp to drive. In terms of price, as it is in power, it sits a cog beneath the likes of the Focus RS and Civic Type R but, to drive, it's closer than Ford or Honda would be comfortable with.
Next to other hot hatches that are similarly priced, like the a Golf GTI and Ford Focus RS, it's a much more committed effort. The car closest in power and price is the Peugeot 308 GTI 270, as it was developed by Peugeot Sport it has a similar ethos too. We'll need to drive the two together to see just how they compare, we'll bring you that test soon.