Alpine CEO to take over JLR Special Operations
Michael van der Sande will replace John Edwards as MD of Jaguar's Special Operations division.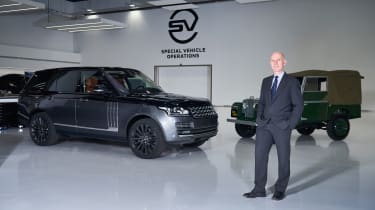 JLR has announced that John Edwards, managing director of Special Operations, will leave his position in June. His role will subsequently be assumed by Michael van der Sande, who currently heads up Alpine. There are also further appointments to the Special Operations team that have yet to be announced.
Jaguar  Land Rover Special Operations launched in 2014 under Edwards and has since delivered high-performance SVR models for both brands. More recently it has also undertaken production of continuation models such as the E-type Lightweight and Defender Works.
Upon Edward's decision to leave JLR after 27 years of service he had this to say: 'These crucial new appointments put Jaguar Land Rover Special Operations in excellent shape for the future. Our Special Vehicle Operations, Bespoke and Classic businesses are strategically important for the entire business and I am confident the new recruits will bring fresh thinking and new direction'.
Following the announcement, Dr Ralf Speth, Jaguar Land Rover CEO, spoke in glowing terms about Edwards: 'He has been a remarkable leader, serving Jaguar Land Rover with distinction for 27 years. John has been instrumental in the formation and success of Jaguar Land Rover Classic and has led the team behind our world-beating SVR and SV Autobiography models – cars that our most discerning customers love.'
Edward's replacement, Michael van der Sande, will arrive with an impressive resume, having held senior roles at Harley Davidson, Aston Martin and most recently Alpine as managing director. The French marque's recent resurrection has been kick-started by the brilliant A110 sports car, which has spawned Cup and GT4 derivatives.
Speaking about his forthcoming move Michael van der Sande said, 'In just four years Special Operations has established itself as a force in the automotive world with outstanding cars such as the Jaguar F-type SVR and Range Rover SV Coupe, coupled with the revitalisation of the Classic business and continuation models such as the Jaguar XKSS. These are exceptional achievements and I relish the opportunity to lead the team behind these achievements to even greater success.'