Jaguar XK
It's Brett Fraser's turn to enjoy the Jaguar XK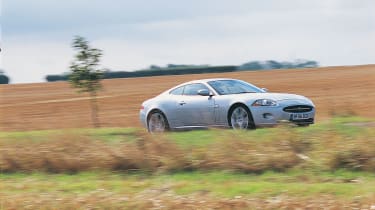 Oh, the honesty of friends. 'I don't mean this in a negative way, but it doesn't half look like the Hyundai Coupe,' commented the mate I'd hoped to impress when I took the Jag around to show off to him. Still, that didn't stop him asking for a ride, something he normally passes on if I pop round in something like, say, a Porsche.
There's an enormous amount of goodwill afforded this big coupe by the public at large, seemingly as much as when the original XK8 was new and little old ladies would come wandering up to you to pass on a compliment about your choice of transport. Some fast, expensive cars just incense others, but there's something about the Jag, maybe a sense of Britain done good, that generates positive vibes.
Other than the odd six-mile round trip to Tesco, I'd not spent any time in Mr T's long-term steed before and it's been an enjoyable experience. I do wonder if it needs to be quite so big, though, as it's not as though its size translates into a spacious cabin or boot. On the other hand it's an imposing thing to be in control of and its high scuttle and long bonnet lend it a distinctive character from behind the wheel.
Another facet of its character is its power to soothe and relax. The pace-with-grace combo was Jaguar's signature dish in years gone by and the XK revives the recipe. For a car with such wide, low-profile boots, the ride quality is excellent; even sleeping policemen do little to upset the decorum. The auto 'box oozes creamily between ratios when you're not tanking on, the seat fits you snugly without endless adjustment, the steering's weighted just-so and noise levels are pitched to keep you engaged with the car's progress but not distracted by it. Annoyingly, though, this particular XK is haunted by excessive wind noise from the A-pillar area at high motorway speeds.
When I first jumped in the Jag late one night I didn't notice the 'S' slot for the gearlever, or if I did I assumed it was simply the way to activate the paddleshift function. Consequently the XK felt tamer than I was expecting. But with brain and Sport mode engaged it performs much more ferociously, yet never with what you might call rash anger. This car is very measured in all its responses, flowing down the road like a ripple-less fluid rather than a raging torrent. But none of this is to suggest that the XK isn't quick, just that it's devoid of superfluous drama.
Another friend of mine had considered buying a new XK to replace her constantly malfunctioning last-generation XKR, but she wasn't convinced that quality had improved enough and opted for a used Merc SL55 AMG instead. Looking at the upholstery that's come adrift in Tomalin's XK she may have a point, because when you're spending sixty grand on a car, the pleasure of owning it needs to match the pleasure of driving it. Jaguar seems to be moving towards that state of equilibrium, but perhaps hasn't quite arrived there yet.
Running Costs
| | |
| --- | --- |
| Date acquired | April 2006 |
| Total mileage | 18,968 |
| Costs this month | £0 |
| Mileage this month | 1,671 |
| MPG this month | 24.7mpg |