Lamborghini Winter Accademia 2015: video
Lamborghini's Winter Accademia mixes supercars with rallying as drivers get the chance to drive Lambos on ice
'Bulls outside their natural environment' is the tagline for Lamborghini's latest driver training programme, which offers members of the public a chance to hone their skills on snow and ice.
The company's V12-engined Aventador and the Ferrari 458-rivalling Huracán will be the stars of Winter Accademia courses for which dates have been announced in Aspen in the US, Nagano in Japan, and Livigno in the Italian Alps.
Closest to home for British drivers is the high-altitude resort of Livigno, where three intensive two-day courses are scheduled during the last fortnight in February. Based at the Hotel Lac Salin, guests will enjoy one-to-one tuition on an ice circuit (from instructors with brass balls, presumably) before setting hot laps once imbued with the spirit of Alén, Vatanen et al.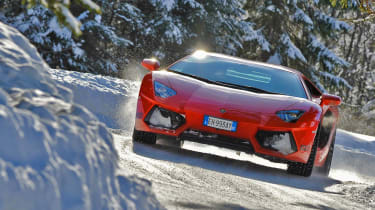 The combination of supercars and ice is an enticing juxtaposition for any event, and the track has various low friction surfaces on which guests can practise different manoeuvres. Lamborghini's official literature mentions 'pure four-wheel-drifting pleasure', which is encouraging.
We're sure you're familiar with the cars by now but – for the purposes of memory jogging – the Huracán boasts a mid-mounted V10 engine with 602bhp and 413lb ft. Four-wheel drive and a paddle-operated dual-clutch transmission will certainly be helpful in the snow, and a power-to-weight ratio of 399bhp/ton makes it a exciting/frightening/excellent proposition.
The Aventador is similar in its mechanical architecture but is even more powerful and, crucially, heavier too, with 690bhp and a 1575kg weight. With plenty of carbonfibre in their construction, both cars are unspeakably expensive to un-bend.
Participating guests will pay 3500 euros (£2771) before VAT, or you can pay 600 euros (£475) to enjoy the hospitality and watch the action from the pit lane. Naturally, Lamborghini will provide photographic evidence of anyone brave enough to hit the lock stops in an Aventador.