Basements are not common in coastal California. The nearby Pacific ocean makes for a high water table, and there's the ever-present risk of earthquakes given the state's position on a major subduction zone fault line. Basements are impractical.
No tremors occur as I walk around Mazda North America's basement with the company's director of public relations, Jeremy Barnes, but the intermittent grumbling of an industrial water pump is a constant reminder of the coastal location. And its work behind concrete walls is more vital than it might be were this basement merely a company car park.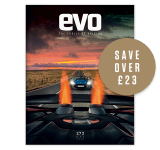 Subscribe to evo magazine
Subscribe today to have every issue of evo delivered straight to you. You'll SAVE 39% on the shop price, and get evo for its original cover price for a whole year!
Mazda North America started collecting historical vehicles around a decade ago, when the company was celebrating 40 years of the rotary engine. It now has dozens of important models in its care, among which are vehicles instrumental in the company's history - from one of two Cosmo Sports ever officially imported to the US, to the innocuous form of a previous-gen Mazda 3, the ten-millionth Mazda ever sold on US shores.
What it is not is a museum, at least not in the traditional sense. It's rather more rough and ready for a start, with little ceremony to how each car is positioned. But it's also because almost every vehicle is in working order. Those that don't are merely waiting for the right time, and contrary to expectation it's the race cars that often see more use than their road-going counterparts.
They're also positioned closest to the entrance; a Mazda RX-2 that debuted at Lime Rock in 1972, a prototype RX-7 for Mazda's 1979 Daytona 24 Hour cars, and a series of purpose-built racers starting with an IMSA Mazda MX-6 GTU and culminating with some of the firm's most spectacular sports prototypes.
It's the familiar orange and green Renown livery that stands out furthest. This is not Mazda's Le Mans-winning 787B, but its 767 prececessor which finished 9th at Le Mans in 1989 (but also a car that won the GTP class several years in a row). There is a 787B there, in a more anonymous white and blue livery.
The two cars parked alongside are less well known but more spectacular to look at. Missing its front clip is an RX-792P, built for IMSA's GTP class and developing around 750bhp from its four-rotor 26B engine - like that of the 767 and 787B.
> Also read: Le Mans 24 Hours: Five race cars that rocked the boat
The other is the spectacular MXR-01, built to meet 3.5-litre engine regulations in World Sportscar racing after the Le Mans-winning rotary was banned. With no engine of its own Mazda turned to Judd for an F1-derived V10, and with no chassis either (the 787B was purpose-built for its four-rotor engine) TWR stepped up with an XJR-14 chassis. Sadly, this is one car Mazda can't run - its hugely advanced F1 engine is beyond the expertise of lone Mazda collection mechanic Randy (who is, to his credit, rebuilding two four-rotor race engines right now - a 13J and a 26B).
Rotary road cars are present and correct too. The most special, one Jeremy calls "the crown jewel of our street car collection" is a 1967 Cosmo Sport.
Also known as a 110S, Cosmo chassis 220 was one of only two that came into the country that year. It has a fascinating history. Back in the 1960s, Mazda bought the rights to build rotary engines for the Asia-Pacific region - just as GM did for North America, Mercedes did for mainland Europe and Rolls-Royce did in the UK. But for aero applications, the license was bought by Curtiss-Wright Corporation.
Mazda's car was originally bought by Curtiss-Wright, which spent the 1960s buying up virtually any rotary-powered objects it could get its hands on to better understand the technology. Jeremy hands me a small piece of paper - a photocopy of the original registration document from New Jersey, dated November 14th, 1967. Six months after Mazda bought the car, the company was contacted by a former employee at Curtiss-Wright - offering a massive stash of parts for the car and revealing that he'd worked alongside Kenichi Yamamoto, the man who helped develop the rotary engine for Mazda.
> More: Six key rotary-engined cars
With little time to see the collection in depth it's the one car whose cockpit I choose to explore. Jeremy describes the Cosmo as a "pussycat" to drive, having taken several trips to Monterey in the car and praising its refinement and comfort. In size the cabin feels similar to that of my evo Fast Fleet Eunos Roadster - albeit graced by an even thinner rim to its steering wheel and notably, a lower, more purposeful driving position.
There are a few more historical gems hidden away in the collection, from a first-gen RX-7 owned from new by a Mazda dealership in Anchorage, to an immaculate REPU - Mazda's Rotary-Engined Pick-Up - taken as a dealership trade-in.
As well as rotaries, there are MX-5s galore. Mazda still owns the three 1989 Chicago auto show cars (white, red and blue, the former of which became a race car shortly after its debut), as well as a host of SEMA cars, including this year's white SEMA Speedster. More special still is one of very few first-generation fixed-roof MX-5s, the mid-90s Miata M Coupe. Styled by Tom Matano - who'd worked on the original MX-5 - the concept was presented without the blessing of the Mazda factory, and isn't quite as sophisticated as it looks - the roof is moulded fibreglass, rather than sheet metal. But it is rather beautiful, far more elegant than the accessory hard-top available for the cars, and doubtless does its part for chassis rigidity too.
With time drawing to a close and the water pump still working overtime, I peer over the last few cars - the only left-hand drive RX-7 Spirit R, a rough-looking RX-4 Jeremy describes as "possibly not the best purchase we've ever made" a Trigger's Broom-style MX-5 Cup Car with more than 22,000 race miles on the clock (including six Thunderhill 25-hour races) and a modifed RX-8. The latter, while looking like a Fast and the Furious prop, was actually the development mule for a stillborn Mazdaspeed RX-8 project. "We couldn't get it to the point where it was fast, or reliable enough" muses Jeremy.
There's clearly more here to explore (including a couple of cars whose covers I was asked not to peer underneath…) and several whose stories can only be expanded upon by driving. This probably won't be the last time we explore Mazda's basement.