Mild updates in store for 2022 Mazda MX-5
Everyone's favourite roadster has picked up a clever new suspension trick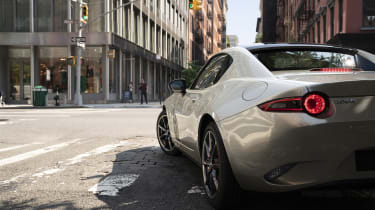 Mazda has given its ND MX-5 a subtle refresh in preparation for the 2022 model year, introducing a new colour option and some clever suspension technology across the range.
This new suspension technology called Kinetic Posture Control (KPC) subtly applies the brakes to the inside wheels when cornering, effectively pulling the body down on the inside and reducing body roll. This is said to increase cornering stability without the need to raise spring rates or change the damper setup – thus keeping the MX-5's pillowy ride quality unaffected when driving in a straight line. 
Proactively braking the inside wheel is not an unusual technique – stability control and 'virtual' limited slip differentials are the most common applications – but this is the first time it's been used to augment a car's suspension, another example of Mazda's out-of-the-box thinking. 
Unfortunately that's about all that's new with the 2022 MX-5, with both the soft-top and RF models retaining their current model range and both 1.5 or 2-litre powertrain options. There is a new Platinum Quartz paint option, which when combined with the top-spec GT Sport Stone interior trim gives the 2022 model a fetching beige on beige aesthetic. 
Orders are being taken now for the MY22 model starting from £24,755 for the base 1.5 SE-L Roadster and rising to £32,970 for the GT Sport RF. Where's the MX-5 heading next? Mazda is rumoured to be working on a next-generation NE model, but when it appears, or whether Europe's emissions and safety regulations will get in the way (as they have with the new Subaru WRX and Nissan Z) remain to be seen.