Just a few years ago there was no such thing as the 'SUV coupe', but since BMW invented the genre with its X6 in 2009 – delighting great swathes of image conscious motorists in the process – rival manufacturers have started to follow suit.
Coupe is, of course, a bit of a stretch, but 'SUV with a slightly more rakish roofline' isn't particularly snappy. The GLC Coupe follows in the tyre tracks of the bigger GLE Coupe, Mercedes' first foray into this niche within a niche. Our first experience of the GLC was with the GLC 350d on its international launch, but we've since driven the AMG GLC 43 in the UK.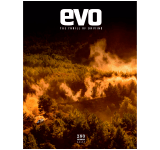 Subscribe to evo magazine
Subscribe today to have every issue of evo delivered straight to you. You'll SAVE 39% on the shop price, and get evo for its original cover price for a whole year!
Engine, transmission and 0-60 time
The 3-litre V6 turbodiesel does what all big turbodiesels do these days – it makes vast amounts of torque. The peak figure of 457lb ft is available between 1600 and 2400rpm, with 254bhp arriving at 3400rpm. Power is sent to all four wheels via Mercedes' new nine-speed automatic transmission. 0-62mph takes 6.2 seconds and the top speed is 148mph.
The GLC 43 uses the same twin-turbocharged 3-litre V6 as every other 43 model in Mercedes' range - a lineup that currently includes saloon, coupe, convertible and estate versions of the C-class, saloon and estate variants of the E-class, and both regular and coupe GLE SUVs - as well as the non-coupe variant of the car we're driving here.
In GLC 43 form it develops 362bhp at 5500rpm and 384lb ft of torque from 2500rpm, which is enough - despite the 43's not inconsiderable 1845kg kerb weight - to hit 62mph in a tenth under five seconds flat and hit a limited 155mph.
Technical highlights
The Coupe isn't just distinguished from the regular GLC by its roofline; the chassis has also been revised to give sharper driving dynamics. Specifically, spring and damper rates have been retuned, the steering system is more direct and certain suspension bushes are stiffer, too.
As standard the car runs on what Mercedes refers to as sports suspension, but air suspension is available for £1495. Mercedes' chassis engineers reckon the car is at its best on air suspension because it narrows the fundamental ride/handling compromise. The car also drops by 15mm in Sport mode, which lowers the centre of gravity.
> Mercedes-AMG C43 Estate v BMW 340i Touring
Other markets will also get the option of Dynamic Body Control with conventional steel springs, which sits between the standard and air suspension options, but Mercedes UK has left it off the options list for simplicity's sake. 
Aluminium has been used in the bodyshell and for various suspension components to save weight, although the GLC Coupe 350d is no lightweight at 1845kg. The GLC 43, as previously mentioned, comes in at exactly the same figure.
What's it like to drive?
The cabin borrows much, including its modern and attractive design and high standard of fit and finish, from the C-class saloon. In fact, the interior is a very luxurious place in which to spend time, and that's mirrored in the car's fluid, pliant ride quality.
Our test car is fitted with the optional air suspension and over smaller bumps and imperfections in the road surface the car is very settled indeed, although bigger potholes and expansion joints did crash through the (very solid-feeling) structure. Road and wind noise, meanwhile, are very well suppressed, which makes the 350d a refined and relaxing machine over longer distances. The AMG variant is no worse on either count, using surprisingly tall tyres to absorb road ripples and its V6 note dying down at cruising speeds.
> Read our full review of the Mercedes-Benz C-class
We can only expect so much dynamic ability from a tall and heavy car, and if we can't have sharp, immediate and responsive handling we do at least want decent grip and reasonable body control. In those latter respects the GLC Coupe does deliver – its steering is also slack-free and quite precise, though never feelsome – but Porsche's Macan is more enjoyable to drive quickly.
On a twisting road the Mercedes is at its best in Sport+, which brings just enough support at each corner that you can carry decent speed through bends and lean on the grip. Over rough and rutted sections of road the ride does become rather crashy, though.
The V6 is usefully refined for a diesel engine and only really announces itself when you stand hard on the throttle. With so much torque the 350d does fling itself along at a good rate, but the nine-speed gearbox is evidently built to swap ratios smoothly and quietly in automatic mode – it's certainly not at its best in manual mode, driver tapping away on the steering-wheel mounted paddles.
The same applies to the GLC 43, though it's slightly more engaging if you want to change gear yourself, not least because its soundtrack is a little more rousing than the six-cylinder diesel. Muted at most speeds, it wakes up when you use larger throttle openings and develops a rasping note as the revs climb - accompanied by useful performance, albeit blunted by weight and rendered less dramatic by the GLC Coupe's refinement.
> Alfa Romeo Stelvio review - Is Alfa's SUV as good as we hoped?
AMG's tweaks also improve the GLC's cornering abilities, though it still doesn't entertain like a Macan and it feels heavier and more leaden than Alfa Romeo's new Stelvio. Grip is mightily impressive though, and the GLC's taller stance than C-class and E-class 43s makes it feel a little less tied-down.
The GLC Coupe will mostly be used in town and on motorways, and in those particular habitats it is a well-adjusted, capable machine.
Price and rivals
The GLC range begins at £41,220 - that gets you a 220d in Sport trim - but the GLC 350d and GLC 43 driven here cost £47,325 and £51,150 respectively.
Closest rivals for the former include the similarly-sized BMW X4 xDrive30d xLine at £45,550 (which also uses a three-litre, six-cylinder turbodiesel, albeit inline rather than a vee) and the £45,942 Porsche Macan S Diesel. Of the three, the Macan is comfortably most entertaining to drive while delivering similar performance to the other pair.
The X4 comes up a little short for a rival to the GLC 43 Coupe, but the £55,188 Porsche Macan GTS provides similar firepower (with 355bhp from its turbocharged V6) and once again, more satisfying handling and a nimbler feel. Porsche's option remains the pick in this class.