evo Magazine Car of the Year issue 2014
It's Car of the Year time again, and we pit Ferrari Enzo versus Ferrari LaFerrari in the latest issue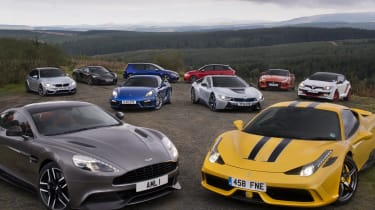 evo Car of the Year 2014 - in association with Michelin
Ten of the best cars we've driven in 2014 gather on some of the best roads the border counties have to offer. There are hot hatchbacks, sports cars, GTs, supercars and even a hybrid. It might be the most talented eCoty group we've ever assembled, but as ever (except 2012...), only one car can win. This is what evo is all about.
Enzo v LaFerrari
The Ferrari named after the company's founder goes up against the Ferrari named after the company itself. Richard Meaden decides which of Maranello's two most recent flagship supercars is better.
Super-estates group test
The hills are alive with the sound of… erm, humongous burnouts. Dan Prosser takes the Jaguar XFR-S Sportbrake, Audi RS6 Avant and Mercedes-Benz E63 AMG S Estate to Wales.
Di Montezemolo's final press call
He's been behind much of Ferrari's success over the past few decades, and now he's gone: Luca di Montezemolo's final press conference for Ferrari reveals all.
Kris Meeke – and his DS3 WRC
Henry Catchpole sits down with Britain's current WRC hope ahead of Wales Rally GB to see what makes him tick. Then he gets a go in Meeke's WRC Citroen. The jammy git…
New cars driven
Bentley Continental GT3-R
Porsche Boxster GTS
Frontline Developments MGB Roadster
Vauxhall Adam Rocks Air
BMW 435i Gran Coupe
Audi TT 2.0 Quattro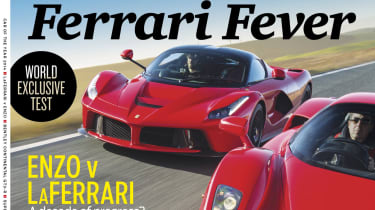 News
All the details on the next Civic Type R and Audi RS3, lightweight eco cars go under the spotlight, Bulgaria's first supercar debuts and we examine JLR's new tech.
Columns
Meaden muses the pros and overwhelming cons of magazine project cars, Porter falls for an awful American SUV's V8 and Dario talks racing in the rain.
Letters
How many exhaust pipes is too many? One reader berates the Audi S1's excess pipeage. Plus, the new Ford Mustang is this month's Talking Point.
Long-Term tests
Dean Smith says hello to his new Skoda Octavia vRS long-termer, but asks where the rest of it is. The Secret Supercar Owner buys another McLaren, and Nick Trott gets his 911 back – but might have to remortgage.
evo Knowledge
We show you how to buy the thundering Lexus IS F, watch the prices of Alfa 4Cs rise, tempt you with the latest gifts and try out some hot products.
Art of Speed
Only Renault could turn a mild-mannered shopping car into a lewd, mid-engined V6 monster. Its body kit is this month's star design.