Olympic star Sir Chris Hoy to make Le Mans debut in 2016
Hoy will face possibly his toughest challenge yet in 2016: the Le Mans 24 Hours
Nissan has announced that six-time Olympic gold medallist Sir Chris Hoy will race in this year's Le Mans 24 Hours, competing in the LMP2 class.
Hoy, who has competed in several motorsport series since retiring from professional cycling – including the British GT championship and the 2015 European Le Mans Series – will race a Nissan-powered Ligier JS P2 for Algarve Pro Racing.
It marks a new high for Britain's most successful Olympian, who told evo at last year's event he was using Le Mans as a 'fact-finding trip', taking notes on the drivers' preparations, and learning how the competitors cope during the race.
With another year's racing under his belt – not to mention several victories in the ELMS and a resulting LMP3 driver's title along with Charlie Robertson – his graduation to Le Mans is now complete.
'To get the news that I have the seat for Le Mans is amazing. I still can't quite believe it' says Hoy. 'But there are a lot of steps to take between now and then so I'm trying to focus on the short-term'.
Part of Hoy's preparation has involved going through Nissan's driver development program – the same program that has seen drivers like Jann Mardenborough and Lucas Ordonez make the jump from Gran Turismo gamers to some of the fastest drivers in their class.
'It's incredible what can be achieved with the right support and the right people around you,' Hoy continues. 'I've had some great driver coaching, some great advice from the drivers themselves and I've had access to the simulator.
'The biggest thing in my motorsports career is Nissan has continued to provide new challenges for me.'
Those challenges include moving from the GT-R Nismo GT3 car to LMP3 and now into LMP2 – though Hoy describes the latest car as 'the easiest and most intuitive car I've ever driven'.
evo Comment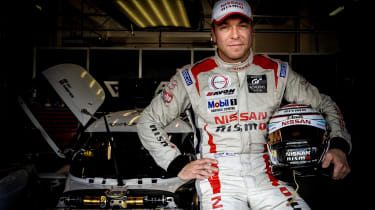 evo spoke to Sir Chris Hoy twice last year, first at the opening WEC round at Silverstone, and then again during Nissan's ill-fated LMP1 attempt in Le Mans.
It should come as no great shock, given his career as a champion athlete, that Hoy's approach to motorsport is thoughtful, professional and focused.
He's been very careful not to over-stretch his abilities, only hopping from one class to the next when he'd fully got to grips with each formula. Given the LMP3 success in 2015 with teammate Charlie Robertson, making that final step to Le Mans was only a matter of time.
There's no doubt that the Le Mans 24 Hours is among motorsport's greatest challenges, but Hoy's level of preparation means little should come as a surprise.
What does the evo team think?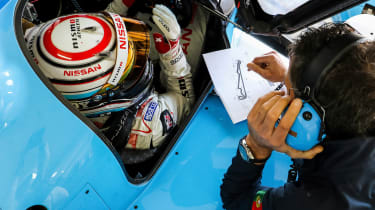 Sir Chris Hoy adores driving and this opportunity will mean a lot to him. There's also no doubt that there are few people as professional as Sir Chris and you can be sure that he won't go into this lightly (I actually saw him in the pit lane of Le Mans a few years ago, so he's well aware of the scale of the event he's entering). When he started racing in Radicals he invested a huge amount of time learning the craft of driving a car fast and he has seemingly grabbed every opportunity to build up his experience since then. He even had some instruction from a certain Andy Wallace in the early days – a man with a certain amount of Le Mans pedigree! - Henry Catchpole, features editor
Everything I've seen so far suggests he's ideally cut out for Le Mans. He's dedicated in a way few of us can ever understand - that mindset of a professional athlete - and he's calmed down a lot too from his early racing exploits. He'll be better prepared for Le Mans than 99.9 per cent of other guys coming into it for the first time as amateur drivers - Jethro Bovingdon, contributing editor
I love this - for the enduring story of Le Mans I think it's great that it attracts people from other disciplines. Of course, I want him to do well and he's certainly had the best preparation possible. I wish him luck - Nick Trott, editor