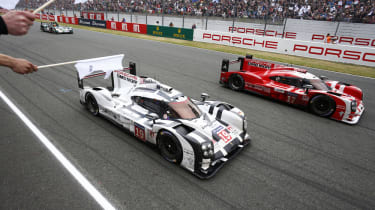 evo will bring you live, to the minute coverage of the Le Mans 24 hours in its entirety. Kicking off today with qualifying analysis, driver interviews and more, make sure to check back here until race end to get the low down on the goings-on at the Circuit de la Sarthe.
Qualifying
Porsche dominated qualifying to grab the top three spots for Saturday's starting grid at the Le Mans 24 Hours. Neel Jani set the fastest time in the No.18 Porsche 919 Hybrid, with his 3min 16.887sec comfortably surpassing the No.17 car of Timo Bernhard, which clocked a 3min 17.767sec. The No.19 Porsche will start third after setting a time of 3min 18.862sec.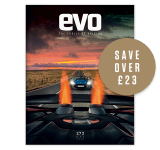 Subscribe to evo magazine
Subscribe today to have every issue of evo delivered straight to you. You'll SAVE 39% on the shop price, and get evo for its original cover price for a whole year!
The usually dominant Audis will be starting from fourth, fifth and sixth positions, with the No.8 R18 e-tron's 3min 19.866sec lap time almost three seconds slower than pole. Though one-lap pace is clearly the strength of the Porsches, race-pace has always been an Audi strong point, so this battle is far from over.
The reigning WEC champions, Toyota, will start from seventh and eighth positions, with Rebellion Racing's R-One racers rounding out the top ten. The former Lotus LMP1 team, now called ByKolles, and its CLM P1/01 managed to out-qualify Nissan in 11th, leaving the adventurous Japanese outfit and its front-driven GT-R LM in 12th, 13th and 15th positions on the grid. The car's fastest time of 3min 36.995 was more than 20 seconds off the pace.
KCMG and its Oreca 05-Nissan took pole in the LMP2 class, not only beating its class rival G-Drive Racing, but also the slowest Nissan LMP1 car. Further back, Aston Martin took pole for both the LM GTE Pro and Am classes, with fastest times of 3min 54.928 and 3min 55.102 respectively.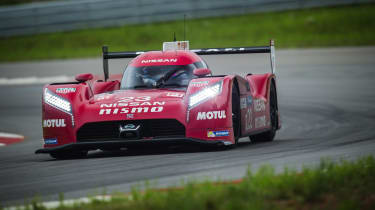 Nissan's hopes
Despite trailing the top runners by a significant margin, Nissan Motorsports seems unfazed. Global Motorsports Director Darren Cox is all jokes and smiles, Ben Bowlby seems quietly confident but realistic about the team's chances in the race, and the drivers are just eager to get started.
Jann Mardenborough more than most. evo caught up with Jann on Friday lunchtime, and discovered a man hugely looking forward to his first Le Mans as part of the LMP1 class. Despite having raced a different vehicle every single year he's been to the circuit, the lack of continuity isn't a problem. 'I've more familiar with this track than any other - in LMP2 you complete maybe 300 laps during the race, hopefully even more this year.'
Having caught up with Jann shortly after the GT-R LM Nismo was announced, and found out that the team was hoping for a wet race. Little appears to have changed. While Nissan is struggling with low-speed traction, Jann tells us that the car's stability at speed still gives it a chance in the wet. Ben Bowlby backs this up - with much of the weight towards the front, the car simply has no inclination to spin when running over standing water.
'You don't want to lock the front wheels, though' explains Jann. 'Because the engine stalls. And once it does, you aren't going to get it started again...'
Saturday
Quick chat with Shiro Nakamura, Nissan's Chief Creative officer. Mr Nakamura's role is road-car based, but we do learn he had some input on the Ben Bowlby-designed Nismo GT-R LM. That GT-R road car style grille and the round tail-lights? Those were his. And the colour scheme - Mr Nakamura is equally influential when it comes to Nissan design beyond the shapes of the cars.
This morning we've seen the Le Mans Legends pass by - and spin, as was the case for some - and a parade to celebrate the 20th anniversary of McLaren's win at La Sarthe. Anticipation for the race itself is building...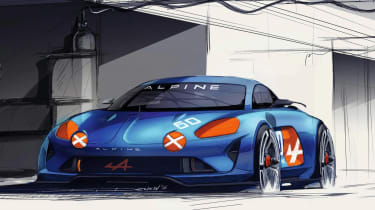 13:35 - Alpine announced
Alpine's Celebration concept has just been around the track, following an original A110 coupe. You can read all about it here. Now, we're waiting for the Le Mans racers to take their place on the grid - the race starts soon.
15:00 - RACE START
Already Le Mans is living up to the '24 hour sprint race' reputation. Just eight seconds separate the top six, and the gap between the first two cars of LMP2 is only half a second. Nissan is even making progress in their front-drive racer - cars 21 and 22 have already cleared half the LMP2 field after starting behind most of them. Unfortunately, Jann Mardenborough in the 23 car is already losing laps, as the team fixes clutch issues in the pits.
15:46 - Number 21 Nissan GT-R LM NISMO in trouble
Driver Lucas Ordonez is faced with doing a lap of the track with his door open.
15:59 - Safety car, Number 92 Porsche 911 RSR on fire
Long trail of oil into Mulsanne corner and a very sorry-looking Porsche out of it. Lots of gravel at the first Mulsanne chicane too, following an incident with the number 13 Rebellion.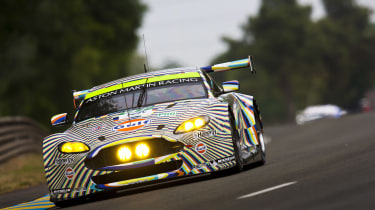 16:00 - Aston Martin driver Rob Bell talks about the unique challenges Le Mans represents
Le Mans is a unique race with its own set of challenges. Aston Martin driver Rob Bell tells us his approach: "You've got to be on your money here every lap - there's no one lap when you're taking it easy. Having said that, we keep off the kerbs in the race that we might hit in qualifying, or during a one hour race.
You have to be intelligent about how you run your race - if you're following another competitor closely  you can both lose 20 seconds if you try and overtake and race each other, so you manage the situation and sometimes wait. In a sprint race you'd be straight in there for the overtake".
17:00 - Two hours down, 22 to go
An Audi leads the Le Mans 24 Hours. Lotterer in the number 7 took the position following the safety car period. Three Porsches now follow - though it's still close at the top.
Ordonez is slowly dragging the Nissan back through the field after his door issues, and Tincknell is also making steady progress. The third Nissan of Mardenborough has finally clawed itself out of last place, but there's little chance for any real result beyond a finish.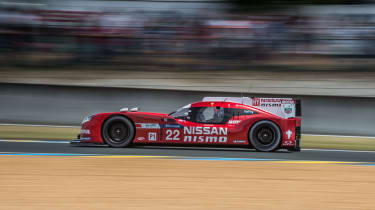 Tracy Krohn is having a calamitous time in the bright green Krohn Racing Ligier-Judd, spinning once of his own accord at the first Mulsanne chicane, before doing similar a few laps later to take out a fellow competitor.
17:14 - Flat Ferrari
Things aren't going so well for Duncan Cameron in the number 55 AF Corse Ferrari - he's crawling back to the pits with a flat left-rear tyre. Lotterer still leads, but the gap to Bernhard in the Porsche is still under five seconds.
17:51 - Number 8 Audi R8 e-tron quattro Lucas Di Grassi crashes
Big crash sees the Number 8 Audi lose its entire front end and limp its way back into the pits.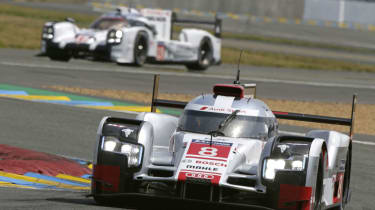 18:00 - Audi driver Oliver Jarvis on dealing with the heat at Le Mans
It's hot in the car, that's for sure. The first thing you notice is how compact it is in the cockpit. When we make a seat we have to be very careful that we're not restricting arm movement. You want as much support as you can, but it's easy to add too much and you actually can't turn the steering wheel. There's a lot of fine tuning that goes on.
The other thing in the car is visibility. In your road car you've got these lovely big screens, but we're looking out of horse blinkers. With the humidity we've got the screen is getting plastered with bugs so at certain times visibility will be quite [bad]. We have a screen wash, but the shape of the screen doesn't help because it's so rounded. It's difficult for the wiper to get good contact. The other thing is that the bugs hit us at 200mph so they're really imprinted in the screen.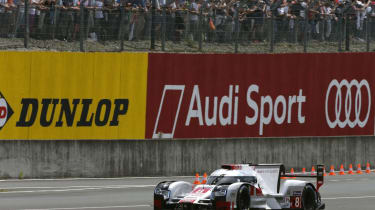 If you get oil on the screen [at night] and you try to wash it you're at risk of smearing the oil. Then your visibility in zero. And I really mean zero. You're literally just a passenger trying to get your car back to the pits. We run 12 tear-offs throughout the race. There's a bit of strategy in when you take them off – as a driver you want one off every pitstop. But you'll quickly run out. There are periods in the race where you have to make do with less than ideal visibility. The reason we don't add more tear-offs is that with every one there's a risk of distortion. For every layer you add, if they're not perfectly put on it gets to a point where you start to distort the view of the driver.
But the biggest challenge in the car is the heat. We're going to be in there for anything from three to four hours based on our current strategy. There's a lot of G-force and you heart rate is high. We've worked very hard to improve the cooling but unfortunately we haven't gone as far as to add an air conditioning unit. We keep asking for it but apparently 2-3 kilos is crucial. We simply have two vents that let air in to the driver.
It does get very hot in there. The driver can lose 2-3 kilos in fluids during a stint and that's with taking fluid on through the race – we do have a drink system in the car. We've looked into cool suits, but there's also added weight because you have to have the fluid running through it.
19:12 - In the cockpit
Want a taste of that uncomfortable environment Jarvis talks about? We squeezed ourself into the cockpit of Nissan's GT-R LM Nismo show car, on display in the paddock.
There's little grace to the process of getting in and out. The recommended method is to sit on the wide side pod, gather both legs together and hoik them through the narrow opening. Once they're inside, you can slide into the seat - with your feet at the same level as your knees. There's no fitted seat in the show car though which reduces the claustrophobia, and you're not in a race suit or helmet either which makes the process of getting in and out a little easier. If not quite as cool.
20:43 - Finding a rhythm
Audi still leads, now by a 30-second margin. Not that the race isn't still close - the top five cars are all still on the same lap. Notably absent from that leading lap is Toyota, whose leading car is currently seventh with Sarrazin at the wheel.
Nissan is still lagging on pace but, against the odds, all three of its cars are still running. Furthest up the field is the 22 car of Alex Buncombe, ten laps down in 22nd place. Position doesn't tell the whole story though - on pure pace, the Nissan is as quick as the fastest LMP2 cars. If the team can maintain its reliability, it could still gain positions later in the race.
LMP2 is led by the number 47 KCMG Oreca Nissan. Aston Martin currently leads both LM GTE Pro and LM GTE Am.
22:49 - Porsche's Nick Tandy on the 919 Hybrid and how weather can change everything
"On a normal lap we don't actually do much more than in a traditional car, but if you want to adjust the settings, if the weather changes or there's an incident, then it's much busier inside the cockpit. We have hundreds of thousands of different settings: of course we don't use all of those as they are mostly pre-programmed into the car, but we can change things. When everything is going well, we just turn the 'wheel, change the gears and accelerate and brake".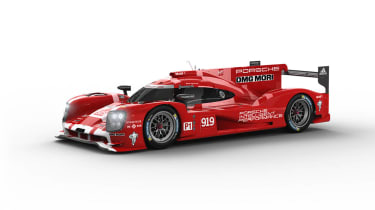 "The speed seems kinda normal. The biggest eye opener is the acceleration, braking and cornering. The forces involved...it's difficult to put into words". Nick contemplates the sheer power of the 919 Hybrid for a moment: "I'd compare it to take off on a jet plane". And then there's the braking: "We're going from 210mph to 45mph in 80 metres, the stopping power is incredible.
23:09 - Number 9 Audi R18 e-tron quattro driven by Rene Rast leads
Following a pitstop Audi has retaken the lead. 20 minutes behind the safety car sees the Number 9 Audi sit ahead of the rest of the LMP1 competition. Porsche's Number 17 car driven by Mark Webber follows.
Drivers are now starting to settle in for the long run through the night. The current LMP1 standings are by no means fixed, history dictates that a lot can happen overnight at Le Mans.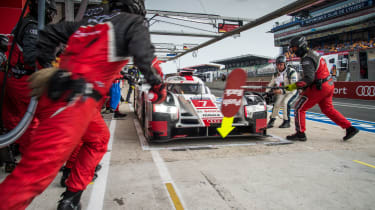 Make sure to check back as we update throughout the night with news straight from the track.
Sunday
03:19 - Nick Tandy brings the Number 19 Porsche into the pits with a healthy lead after a scintillating quadruple stint. Earl Bamber takes over, with Audi Number 7 second and the sister number 9 car third.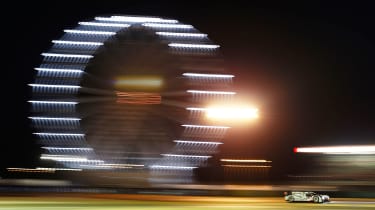 6:54 - Making it through the night
Remarkably, few cars have fallen by the wayside overnight. The first big casualty was the number 36 Alpine, the second the number 21 Nissan. At the wheel was Tsugio Matsuda, but a missing front right wheel was the cause of his retirement, the car unable to make it back to the pits.
At the top, Nico Hulkenberg's Porsche leads by a clear lap from the Audis of Rast and Fassler. It's clichéd to say that anything can happen at Le Mans - with eight hours still to run, it'd be foolish to write off any of the top runners yet - but Porsche is certainly in a strong position.
07:12 - Sir Chris Hoy on the learning experience of racing
Not competing at Le Mans this year but hoping to in the future, Olympic gold medallist Sir Chris Hoy describes the learning curve of the road to Le Mans – following the highs and lows of a European Le Mans Series victory at Silverstone and unfortunate luck at Imola.
'You have to learn that if something goes wrong, you can't do anything about it. There are things you have no control over – compared to cycling, where it was more down to me if I made a mistake.'
We ask Chris whether it's frustrating not taking part at Le Mans this year, now he's got the racing bug.
'Not at all – I think I've done it the right way. I don't want to feel underprepared and not enjoy it. It's not about fun, and I don't want to feel like a fish out of water. If I'd been thrown into an LMP2 car or worse, an LMP1 car at this stage, I wouldn't have been ready for it.
'Le Mans this year is a bit of a fact-finding trip – I've been in the garage with headphones on listening to the drivers communicating with the engineers, looking at how the drivers prepare – how they rest, what they eat, what they drink… I've spoken to some drivers, McNish, Blundell, Gene – I'm just trying to soak up all that information.'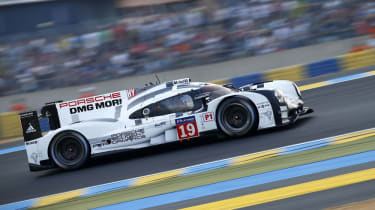 8:49 - Porsche still on track
Nick Tandy still leads in the number 19 Porsche, followed by the number 9 Audi. Things are looking even better for the Weissach squad than they were earlier, with Webber's Porsche now on the same lap as the second-place Audi. The KCMG Oreca still leads LMP2. LM GTE Pro is led by the number 51 AF Corse Ferrari, with the 98 Aston leading LM GTE Am.
9:11 - Mishaps
Tracy Krohn is once again on the move following a spin at Mulsanne. Just a few laps before, he'd been beached at the second Mulsanne chicane. In the meantime, we've also lost the 55 Ferrari - it appears to have run out of fuel at Arnage.
LM GTE Pro has had a change of lead though, with the 64 Corvette (Tommy Milner currently onboard) now leading the 51 Ferrari. The two are running just three tenths apart...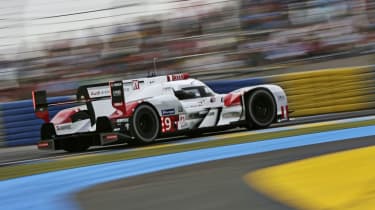 9:25 - Krohn prone
The green Krohn Racing car has had a spin, again. This time at Ford. There are probably a few corners left to spin at but not many.
It's once again on the way, but there are now yellow flags on the start-finish straight as the 42 Strakka has pulled to a halt and is leaking fluid. Strakka Racing tweets, "Trying a ctrl alt del".
9:34 - Nissan issues
Looks like problems for the 22 Nissan - it's sitting on the outside of Arnage with smoking front brakes. No visible damage, but the car is said to be hard on its brakes - there's not much assistance from the rear. Jann Mardenborough told us on Friday that they'd need a change at some point. KCMG car is reporting water on the track at Arnage, but it doesn't appear to be the fault of the Nissan. Number 22 comes into the pits for fuel, and is pushed into the garage.
11:11 - Anything can happen at night
As is almost always the way with Le Mans, you can go to sleep for one minute and wake up and the entire running order can have changed.
Last night we were lucky enough to spend some time with the AF Corse team and get a good feel for how they work during an endurance race. More will be coming later.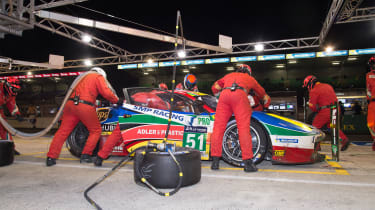 We witnessed Fisichella's car going through a pit stop and the immense amount of preparation that takes place before it in such a short period of time.
Currently leading in GTE Pro class, the number 51 car was in a different position when we shut down for the night yesterday.
15:00 - Porsche Wins Le Mans
After 24 hours of racing Porsche is once again a Le Mans winner. It brings the firm's victory tally to 17, eclipsing rivals Audi who remain on 14 - their mighty hold over the race broken.
In the end it was the Porsche team's third entry, the 919 Hybrid driven by Brit Nick Tandy, Nico Hulkenberg and Earl Bamber that took the flag, ahead of the number 17 Porsche of Timo Bernhard, Mark Webber and Brendon Hartley and two Audi R18 e-trons. The number 18 Porsche recovered from its problems to finish fifth, with the two Toyotas finishing in sixth and eighth positions after a disappointingly quiet race in which they never challenged the leaders.
For Tandy the win places him amongst the elite of British sports car racing. His name now sits proudly alongside greats such as Porsche's first winner Richard Attwood, multiple winner Derek Bell and Porsche's last British winner, Allan McNish.
The LMP2 victory went to the KCMG Oreca Nissan, while in GTE the Corvette vs Ferrari battle finally resolved in the favour of the former, with the Vette of the Oliver Gavin, Tommy Milner and Jordan Taylor after a very close fight. Ferrari clinched the GTE Am win.
That's it from us at Le Mans this year. Thank you for tuning in to our coverage of this extraordinary race - like the hundreds of thousands of fans present this year, we've had a blast. For the teams, the preparation for next year's race begins now: for us, it's time to catch up on some sleep.