2011 Nurburgring 24-hour live video blog
evo's live 2011 Nurburgring 24 hour race report, with short video updates from around the circuit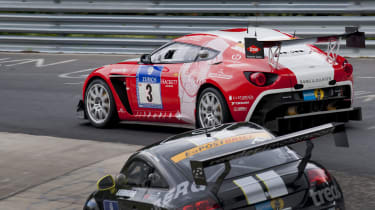 evo staff writer Stephen Dobie updates you on the latest standings of the the magazine's resident racers - John Barker, Chris Harris and Richard Meaden - as well as any other interesting happenings at the Nurburgring 24-hour race.
The race has finished! Find out how the evo drivers got on from the post-race, booze-filled pit lane.
Two hours to go and Dobie updates us on the progress of evo's star racing drivers. It's a mixed bag.
The best place of the circuit? Karussel. At 4am. With glowing brake discs and sparking front splitters. See what it's like to experience the Ring's most famous corner in the early hours here.
3am is the time to really enjoy a 24-hour race, and at the N24, this can mean a trek through some slightly crazy woods filled with drunken locals with chainsaws. Which might explain the shouting and lack of actual race results in the latest vid.
Here we find Dobie in Aston Martin's pit garage at 11pm, just before Meaden heads out for his second stint in the firm's V12 Zagato. He has since took the the car to the top of its class. With over 15 hours still to go, fingers crossed it stays there!
The first update is from around 6pm, when the cars of our three drivers were incredibly close together. Keep coming back for more video updates from different times and parts of the circuit.
Click here for our 2011 Nurburgring 24-hour preview
Follow evo Magazine and Stephen Dobie on Twitter for race coverage
Follow evo racers Chris Harris, John Barker and Richard Meaden