Allan McNish: Le Mans interview part 1
We interview Audi racer Allan McNish ahead of the 2013 Le Mans 24 hours. In part 1, how much of a challenge will Toyota present this year?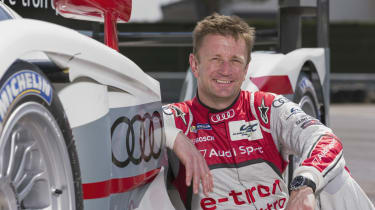 Allan McNish is the Scottish two-time Le Mans winner, racing again for Audi in 2013. Can the German team maintain its recent 24-hour dominance in the face of fresh rivalry from Toyota? And how competitive does it get between Allan and his co-drivers? Interview below...
You're becoming a veteran of Le Mans. How does that affect your preparation?
You go back each year and our cabin - where we spend our time when we're not in the car - is all the same, it's got our names on the doors like the year before, and the year before that… it's your living room for two weeks every year and that breeds a familiarity. You've got to be careful that doesn't breed complacency, but Le Mans is a place where experience does help you. Audi has used that well in the past.
Is there much inter-team rivalry?
There's obviously a rivalry with the other two Audis as we're all fighting for points in the World Endurance Championship, and the 24-hour race is double points. There's also the total knowledge – we work with each other to make sure we reach the common goal. But when the race starts we play our strategy games. It's not as cutthroat as it is against other teams, but enough to make sure our car wins. In comparison with Toyota where we race wheel-to-wheel we would give an inch more to our own cars. But I wouldn't say it's a hell of a lot more than that!
And what about in your own car?
The most important thing – and this is where I had to learn when I came from single seaters – is if the car's quick. It's not an ego boost of 'you were quicker than me so I have to knuckle down', in this type of race that is an absolute killer. But it's amazing how many times up and down the pit lane you see that happen.
How is Toyota as a rival compared to Peugeot?
Peugeot was about pure performance, drivers being set up against each other, 'let's go get it'. Toyota is more balanced than that, and they did some things that made us sit up and think last year.
They will be strong, there's no question, the regulation change brought in at Spa [petrol-powered LMP1 cars are allowed an extra three litres of fuel tank capacity] will help them. Their fuel capacity allows one lap minimum extra over us. That means we have to be a minimum of half a second faster, every lap of the race, just to be equal.
I don't think we've seen the best of them yet. There's no question about it, they will push us close. This isn't just a race between us and our sister cars.
Do you relish more LMP1 competition when Porsche arrives next year?
Without doubt, the more the merrier. Porsche have put big banners up in the pit lane, and the one above mine is me winning it in 1998 in their car! It's another big manufacturer – and I think a couple more might appear – and you have to say with Porsche's heritage at Le Mans they are out to win. And that's what is exciting – a full on head to head.