Nissan Micra 160SR
Put your cynicism on hold for a second - this is a genuinely fun little car
Specifications
| | |
| --- | --- |
| Engine | In-line 4-cyl, 1598cc, 16v |
| Max power | 110bhp @ 6000rpm |
| Max torque | 112lb ft @ 4400rpm |
| 0-60 | 9.8sec (claimed) |
| Top speed | 114mph (claimed) |
| On sale | Now |
Visit/nissan/micra/22206/nissan-micra-n-sport-review-does-a-new-engine-turn-nissan-s-supermini-into-a-warm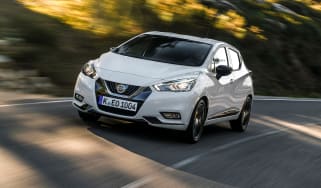 Nissan Micra N-Sport review
Visit/nissan/micra/22206/nissan-micra-n-sport-review-does-a-new-engine-turn-nissan-s-supermini-into-a-warm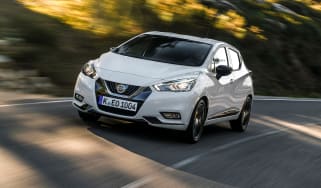 Nissan Micra N-Sport review - does a new engine turn Nissan's supermini into a 'warm' hatch?
Marginally more fun than the standard car, better drives available for the same money
Visit/nissan/micra/19614/nissan-micra-ig-t-90-review-lacklustre-engine-kills-fiesta-rivals-chances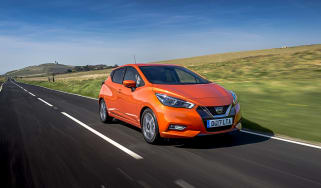 Nissan Micra IG-T 90 review - Lacklustre engine kills Fiesta rival's chances
The new Micra is dressed to impress, but an unfinished feel to the drivetrain kills its chances at class honours
Visit/nissan/micra/13329/nissan-march-nismo-revealed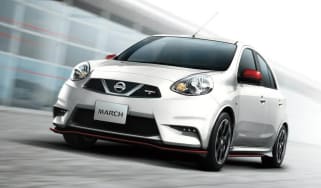 Nissan March Nismo revealed
The Nissan March Nismo hints at a potential Micra hot hatch, though the UK won't see it
Visit/nissan/micra/12546/le-mans-2012-nissan-deltawing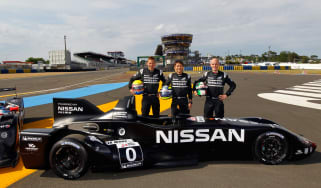 Le Mans 2012: Nissan Deltawing
Nissan's unusual racer won't be racing for position at the Le Mans 24 Hours, but Nissan hopes to keep pace with the front runners
Visit/nissan/micra/7026/driven-new-nissan-micra-dig-s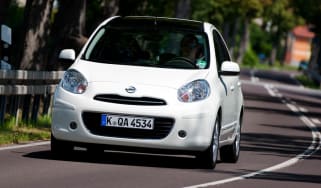 Driven: new Nissan Micra DIG-S
The new Nissan Micra has gained a supercharger - but does it bring any excitement to the rest of the driving experience?
Visit/nissan/micra/10842/nissan-micra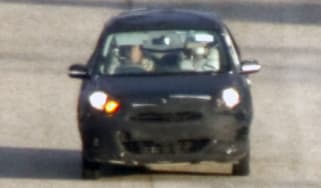 Nissan Micra
In the right place at the right time as we capture the forthcoming Nissan Micra
Visit/nissan/micra/8821/nissan-micra-350sr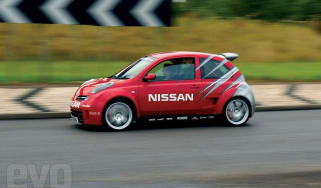 Nissan Micra 350SR
Our Micra's been recalled for a facelift and a winter rest
Visit/nissan/micra/8765/nissan-micra-350sr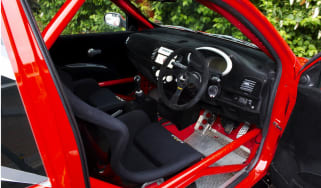 Nissan Micra 350SR
The Nissan won't win over neighbours with its noise in the morning, but the local toms love it...
Visit/nissan/micra/8723/nissan-micra-350sr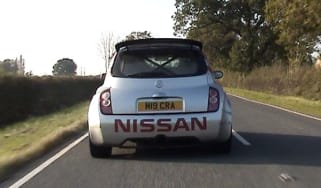 Nissan Micra 350SR
Jethro Bovingdon takes the Micra 350SR out for a spin
Visit/nissan/micra/8702/nissan-micra-350sr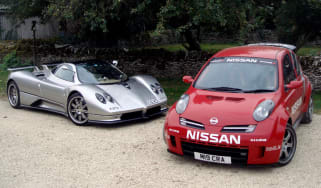 Nissan Micra 350SR
It's very loud, has 'interesting' handling and drinks fuel at a shocking rate. Welcome to the crazy world of the Nissan Micra 350SR
Visit/nissan/micra/8653/nissan-micra-350sr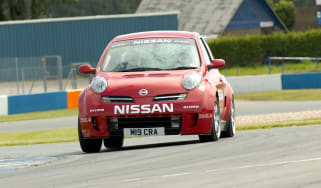 Nissan Micra 350SR
Demanding and addictive, Nissan's 350 SR has left its mark
Visit/nissan/micra/8596/nissan-micra-350sr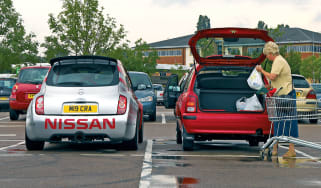 Nissan Micra 350SR
Nissan's heavily-worked 350SR is currently the most expensive vehicle on the evo fleet