Nissan Micra 160SR (2005) review
Put your cynicism on hold for a second – this is a genuinely fun little car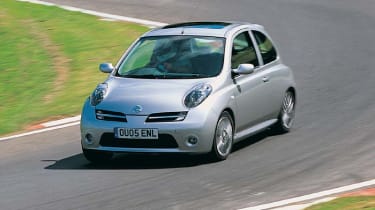 First, the bad news: Nissan hasn't quietly unleashed a 160bhp version of the minuscule Micra. The '160' refers to the SR's new 1.6-litre engine, rather than a potentially giant-slaying power output. Get over that mild disappointment, though, and the 160SR is all good. While you could never accuse this sportiest of Micras of being butch, the Sport bodykit does give the 160SR a squarer jaw and more muscular profile, while the 16in alloys set the SR apart from its school-run siblings.
At just over a ton, the Micra makes good use of its 110bhp, delivering a power-to-weight ratio better than rivals such as the Citroën C2 VTR, Ford Fiesta Zetec-S and Mini One. This, together with five well-chosen gear ratios, ensures the SR feels surprisingly spirited on the road. Keeping the eager, free-revving engine fizzing away is genuinely entertaining, as is the chassis, which has a rare lightness of touch that both soaks up the bumps and remains taut and responsive.
As you'd expect, grip levels are modest, but perfectly in tune with the pace and power of the car. Much like a Ford Ka, the pleasure is in maintaining your momentum, revelling in the malleable limits and natural poise to carry frankly surprising pace down the kind of nadgety B-roads that would leave many bigger and more potent cars feeling clumsy and over-blown. Much of this is thanks to the efforts of Nissan's Technical Centre in Cranfield. Also responsible for 'Europeanising' the 350Z, NTC has worked hard to give the 160SR a sporty character without compromising its refinement and everyday useability.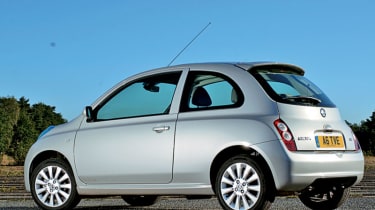 Unlikely as it may sound, the 160SR has spent development time at the Nürburgring, which perhaps accounts for why part of the launch drive included Lincolnshire's answer to the Nordschleife: Cadwell Park. It's just as thrilling/scary whether you're piloting a Micra or a Mustang, and the SR rises to the challenge. Reassuringly stable through the fast and daunting Gooseneck but playful and chuckable through the Mountain section, its poise and composure outweigh the inevitable lack of grip. Nissan boldly made Mini Coopers available for on-track comparison, and while the Mini's gearing, keener turn-in and lower driving position made it more suited to circuit work, the Micra proved to be the more progressive and better balanced. 
Prcies and rivals
At just under £10K it undercuts the Sportka, Mini One and C2 VTR. And with group 6E insurance, 42mpg economy, 12,000-mile service intervals and a 3-year/60,000-mile warranty, it's likely to cost buttons to run. Alright, so it's still a Micra, but if you can put machismo aside for a moment you'll discover that the 160SR is a genuinely able and infectiously enjoyable car.
Specifications
| | |
| --- | --- |
| Engine | In-line 4-cyl, 1598cc, 16v |
| Max power | 110bhp @ 6000rpm |
| Max torque | 112lb ft @ 4400rpm |
| 0-60 | 9.8sec (claimed) |
| Top speed | 114mph (claimed) |
| On sale | Now |