Nissan Micra 350SR
Demanding and addictive, Nissan's 350 SR has left its mark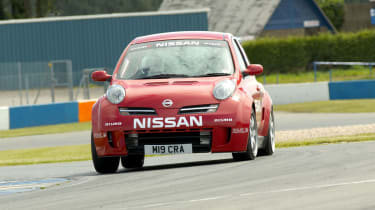 Trickling out of the Donington pitlane, I was terrified. On the road the Micra feels edgy and punishes mistakes with a wicked intolerance. I suspected these traits were about to be magnified ten-fold on track. Still, on the positive side the sun was shining…
This is a car you ease yourself into, feeling for front-end response and gently probing its limits of traction, so lap one was very much an 'installation' lap. I had two near-spins. The first when the rear rolled into sudden oversteer through the Old Hairpin, the second out of the chicane and in view of the spectators lining the pit wall. Fortunately the car suffered nothing more than a light sprinkling of dust and stayed pointing in the right direction. Just.
The Micra 350SR is a physical car to hustle, with an intolerably heavy clutch and hefty gearbox action. The steering is very light, however. There's actually lots and lots of feel, but you have to tune into the subtle textural changes that fizz back through your wrists. You need to dial-in quickly too, because with a rear end as mobile as the Micra's you need total faith in how the front tyres will react to steering inputs.
The balance is tricky to judge. Generally there's a bit of understeer and then lots of oversteer. But it's how you manage this balance that's the key. Adopt the slow-in, fast-out approach and you avoid the understeer but then get snappy breakaway at the rear under power on the exit of the corner. Go in hotter and momentum swings the tail wide well before the apex. Now you have to catch the slide but not kill it – meter out the power to keep the car sideways through the apex and right out onto the kerbs. The latter sounds much scarier, but in reality it's the best solution. Yes, you're forced to contain and manage a big slip angle, but it's much more fluid than trying to deal with snatchy, unpredictable and savagely quick power oversteer.
After two laps I'm sweating but starting to extract a decent turn of speed from the Micra. There's still the odd moment of clumsy correction, but it's starting to flow. Bloody hell it's noisy in here, though. And my left leg hurts from the clutch. And it's just a matter of time before I relax and the Micra spits me into the barriers. On lap four I'm black-flagged for noise. What a relief…
But whatever the Micra throws at you it's impossible not to enjoy every single mile that rolls under its wheels. It's unique, and not just in the sense that it's a one-off prototype – the way it drives is unique and uniquely challenging. It's demanding, occasionally too demanding, but it is utterly addictive. Photographer Andy Morgan drove the car up to Donington and described it as 'the best drive I've had since bringing an F50 back from Spa'. We've only had the 350SR a couple of months but already I know it's a car none of us will ever forget.
Running Costs
| | |
| --- | --- |
| Date acquired | July 2007 |
| Total mileage | 2300 (est) |
| Costs this month | £0 |
| Mileage this month | 1100 (est) |
| MPG this month | N/A |