'Who knew sticking a motor in the back was going to become hip again'
A rear-engined Up GTI could have been the "mini 911" we thought we were getting with the soggy Smart-based Twingo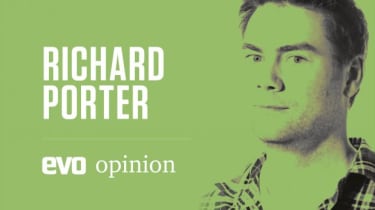 For the past week I've been hanging around London's fashionable Shoreditch district. It's one of those hipster epicentres full of artisanal falafel stands and men dressed like Victorian apothecaries. There might be such an area in your nearest city. Perhaps you've been there and tutted quietly at the needless complexity of the menu in one of the 700 independent coffee outlets, all of which serve their wares in jam jars or test tubes or old bowler hats.
This is an interesting thing about Shoreditch and, by extension, current trends and tastes among people who don't think an area is complete until it's got another hand-pressed juice pop-up. On the one hand, it's a high-tech world of smartphones and IoT and interactive white boards that you have installed in your new fifth creative think space. On the other hand, the young and the fashionable have spent the past decade embracing a cherry-picked selection of items from the past. The most desirable offices in the east of London are in old warehouses and factories, with their lofty ceilings and massive windows. The fixtures and fittings are often made of stout old materials such as brass and iron. Hipster restaurants frequently have lovely hand-painted signs and beautifully restored tile floors and battered tin lampshades and all manner of comforting things from a mythical period of early 20th century history, to the extent that eating in East London, Manchester's Northern Quarter and other such places can start to feel like spending time in a weird parallel universe where the iPhone was invented just before the Titanic sank. And of course, half the men of Shoreditch dress like escapees from the set of Peaky Blinders Goes Lumberjacking, with facial hair straight from one of David Lloyd George's cabinet.
> VW Up GTI review – VW's smallest GTI tested on UK roads
The cool people have decided that sometimes, alongside smart lightbulbs and iPads, old things and old ways are desirable. And this brings me, obviously, to the Porsche 911. A couple of years ago, when I got gripped by the mid-life crisis that makes me faintly resentful of young people, I decided to buy a sports car. And naturally, because I'm both middle-aged and a car journalist, that sports car was a 911. But that wasn't a given. I kept looking at how cheap Jag F-types were getting, for example. Or wondering if the thinking man's choice would be a Cayman.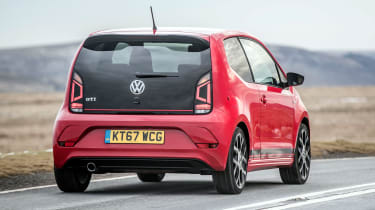 But there's a problem with both those cars, aside from values that fall while 911 prices float like kestrels. Both have just two seats. Of course they do; they're sports cars. However, the 997 I bought manages to be remarkably compact and yet also offers a couple of little rear seats for my young kids. And it can do this because the engine is at the back. Once, this layout was seen as an idiotic anachronism that flew in the face of sensible thinking and advances in the way cars are made, both of which rendered it daft to sling the engine out behind the back wheels. But actually, it's a brilliant idea, banishing the hot and heavy thing to the redundant gap between rear wheel and tail, liberating space in the interior for people and leaving a hole up front for their bags.
Now that tyres and stability control have tamed the worst excesses of rear-engined handling we're left with all the good bits, not only the packaging benefits but also the bonus of terrific traction and the easier time it gives safety engineers trying to create a front crumple zone without the battering ram of an engine block threatening to burst through the firewall and do unkind things to your legs.
It's amazing there haven't been more rear-engined cars in recent years, save the ongoing 911, and various Smarts, most of which, sadly, handled like mush. VW was going to make the Up an arse enginer and showed off a concept laid out that way, only to baulk at the cost of reworking its existing motors to run properly at the south end of the car. Shame. A rear-engined Up GTI could have been the 'mini 911' we thought we were getting with the soggy and disappointing Smart-based Twingo. Hey ho.
Happily, as electric cars become more prevalent we're going to start seeing the rear-motor resurgence. The BMW i3 is already rear-engined and more are sure to arrive, because sticking an electric motor under the boot floor and making it drive the rear wheels seems entirely sensible for all the reasons above, plus it frees the front wheels from having to handle all that electro-torque.
It's taken a while, but the rear-engined car, once seen as a foolishly old-fashioned dead end that should have died with the Renault Dauphine and the original Beetle, is getting some deserved due consideration again. And rightly so. Because sometimes the old ways actually have great merit. Just ask the chaps walking down Shoreditch High Street dressed as Edwardian accountants.