Car auction sites have rekindled Meaden's desire for the attainable
I'm going to wean myself off the glamour and glitz and reconnect with stuff that's good for the soul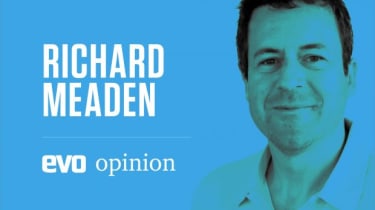 As I sit at my laptop trying – and largely failing – to get this column written, the annual Retromobile Show is in full swing. I know this because every time my fingers hover expectantly over the keyboard, instead of typing some pearls of wisdom for the urgent perusal of evo's saintly managing editor, Ian Eveleigh, instead I end up disappearing into an internet rabbit warren brimming with classic car awesomeness.
You see, Retromobile is an orgy of extraordinary classics and modern classics of all shapes, sizes and denominations. Understandably, it's also a magnet for the world's most prestigious car dealers and troops of well-heeled (and often red-trousered) car collectors. Frustratingly, it's one of the few proper auto events I've never attended. Which is odd, as from what I've read and seen on assorted websites, magazine articles and social media feeds it has obvious parallels with many of the great international motor shows. Except instead of subjecting yourself to a dirge of white goods hybrids and EVs you can pretty much guarantee unholy urges for every single one of the 1000-plus cars that pack the halls of the Paris Expo.
Whether, like me, you're taking remote and vicarious pleasure from it, or are walking slack-jawed around the actual show, it's truly mind-blowing to see how the rarest, most storied and covetable road, race and rally cars from the distant and more recent past have attained stratospheric values and superstar status. It's an intoxicating scene in very sense.
However, there's something about it that leaves me feeling a bit nauseous. I think some of this is simply due to the insidious way in which your social media feed can warp your sense of what's normal. So many shiny, precious cars is sure to bend your head out of shape. It's also the nature of a multi-billion-pound industry that has geared itself to serve the one per cent of the one per cent of people who have many millions to spend on cars. Not that there's anything wrong in that, but I do find it harder and harder to suppress a growing sense of alienation at the gulf between this Instagram-perfect world and the one most of us inhabit.
Having OD'd on Retromobile – and still not finished this column – it's ironic that my social media feeds should come to my rescue. Both in rebalancing my feelings towards my life-long love of cars and in offering enough inspiration for me to write another 400 words so Ev can finally go home. The source of this salvation? Online auction platform collectingcars.com. I have no vested interest in the enterprise, though being a small world I do know its founder, Edward Lovett. I also did a Collecting Cars podcast with me old mucker Monkey Harris last summer, on the promise of a free lunch that never materialised. My only other connection to the site is via Wi-Fi router and usually when I've got copy to write.
> Honda Integra Type-R DC2 – review, history, prices and specs
The thing I love about it is the sheer variety of metal it finds and sells. Yes, there's some bigger-ticket stuff, but these are the exception. In the last few weeks alone there's been some tempting stuff that look like very clean, honest cars. It's like that other internet rabbit hole, US auction site bringatrailer.com, but UK-based (with global reach) and with better use of Twitter and Instagram.
Doubtless, like many of you I'm terrible for browsing classifieds with no intention of buying. It's a fun way to while away half an hour, but an inherently empty pastime if you're a perennial window shopper. Why I find CC and indeed BaT so enjoyable (and highly dangerous) is not just the random nature of the cars that appear for sale, but the fact they frequently sell for affordable amounts. In just the last few months I've seen a lovely manual 4.3 V8 Vantage sell for £25,500, and a beautiful 22,000-mile Mk1 Vanquish for £50,500. Another tempting lot was a terrific DC2 Integra Type R. Unmodified and one of the last UK market cars to be registered, it went for £8100, to none other than Matthew Hayward of evo's sister title Octane. Rather glad I didn't nick it from him with a cheeky last-minute bid! Another I had to try hard not to blow the last of the offset mortgage on was a lovely green Alfa Spider that sold for £12,000. As for the 'no reserve' Interlagos Blue Z4 M Coupe that went for £10,600, suffice to say it still haunts me.
I know these kinds of cars have always been out there waiting to be bought, but in a day and age when you can very easily exist within your own little social media bubble I'm going to make a concerted effort to wean myself off the glamour and the glitz and instead reconnect with the stuff that's genuinely good for the soul.
Fantasy cars have their place, but there's something far more exciting about filling your head with cars that are attainable today or a realistic near-future aspiration. Now if you'll excuse me that's my 850 words written, so I'm off. There's a black 968 Club Sport I've got my eye on…