'So the Mini GP3 is a hardcore, track-spec hot hatch yet it has an automatic gearbox. Who gets fired for this decision?'
The pandemic gave Angry Jethro some things he needs to get off his chest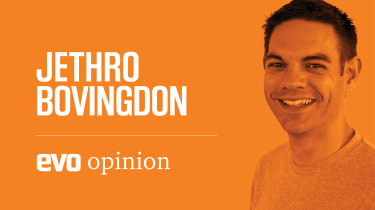 How was 2020 for you? Terrible? Financially ruinous? Actually pretty good as you've enjoyed a long paid holiday and time with the family? Mine was very, very odd. In fact, the oddness started in late 2019 when I got the gig to host Top Gear America. I was excited and filled with dread simultaneously. Intimidated and weirdly relaxed. What's the worst that could happen? 
Of course then it happened, during our first few weeks of filming. I was sent back to the UK for what, I assumed, would be a few weeks. Over four months later I boarded a plane to Jamaica via Canada for a two week 'quarantine' to allow me back into the US. The Caribbean was essentially the first part of the world to reopen for tourism and so, dear reader, I had no choice. Border control barely batted an eye when I eventually arrived in Charlotte, North Carolina with a deep, well-earned tan. 
Strange times indeed. A trip to Jamaica followed by a busy schedule mucking around in other people's cars sounds idyllic, but like anything in the real world it's not all rosy. I write this still in the US and soon to return home. I haven't seen my kids in over three months and it hurts like hell. Shooting almost exclusively in the high desert in July and August is also extremely gruelling. And on one particular day the make-up artist didn't show up! Can you believe it? 
I only tell you this to frame my mood. Oddly disconnected from the real world, disconnected from home and feeling a million miles away from the industry in which I'm usually so immersed. I haven't attended a launch, I've barely driven any new press cars and I feel like a spectator as the motoring world whizzes past at breakneck speed again now the worst of lockdown is (hopefully) over. I'm angry, too. Let's blame the 'unprecedented times'. So instead of a traditional column I want to just react to cars and events as a bemused onlooker. To scream the stuff I can't help thinking people have missed or can't bring themselves to say. So here is a stream of consciousness on cars I'm excited about, disappointed to read are a bit crappy or just can't get my head around. Remember (particularly PR people) this is my alter ego. Angry Jethro writes… 
McLaren 620R: 'A road going GT4 car,' I hear you say. Erm, who cares? Who has ever cared about GT4 racing? It's like Aston Martin saying that the Valkyrie will be quicker than an F4 car around Spa. Or Lockheed Martin boasting that their latest fighter jet is faster than an Airbus A380. And it's £70,000 more than a GT4 racecar or £65,000 more than a 600LT? Oh dear.
Ferrari Roma: Love the concept. Sounds great fun. But beautiful? Seriously? Did Derren Brown host the press conference?  
Mini GP3: So it's a hardcore track-spec hot hatch that focuses on lightweight engineering and agility and it has an eight-speed automatic gearbox? Why? How? Who gets fired for this decision? 
Motoring podcasts: Ah, a lifeline to the industry I love. But wait… they're nearly all so unbelievably earnest. Or weighed down by studied 'irreverence' that's painful to witness. Lighten up, guys. Or calm down a bit. Here's a tip. If you think you're hilarious or – worse – 'crazy' or 'wacky', there's a 98 per cent chance you're just a dick. Something to think about.
People on social media who are paid to drive lovely new cars but only care about really, really crappy old ones: Liking a beige Vauxhall Belmont does not make you more interesting. And if you really have 'so much want' for an old shitbox with a wheezy engine, no grip, awful brakes and lots of velour… go and buy one. They're usually about £2000.
BMW M2 CS: Yes please. That is all. 
Land Rover Defender: Nothing identifies this new SUV as a Defender. Mercedes got the new G so right and now Ford has shown how it's done at a lower price with the Bronco. What a missed opportunity! 
Honda e: Fantastically cool little product. That weighs 1500kg, costs £30,000 and has a usable range of 100 miles. Wait… what?! And yet oh how we laugh at those zany guys over at Tesla making cars in a tent… that have something approaching a useable infrastructure, superb performance, excellent range and sell in the tens of thousands. How are they still so, so far ahead of everyone else?  
And finally the Maserati MC20: I'm not sure I love how it looks but I like the understated approach. I'm certain it's too expensive and suspect it will mark another fresh start that's destined to fall short of the intended targets. But I love Maserati and hope it succeeds.
And breathe. Hmm, it seems Angry Jethro has checked out. Time to get home and drive some cars.