'2018 might see a road-legal production car hit 300mph. Pointless? In every practical sense, yes'
Dickie ponders the pointless, but seductive objective of road cars reaching the 300mph milestone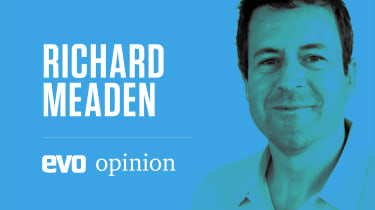 This year will, in all likelihood, see a road-legal production car (perhaps more than one) attempt to hit 300mph. Pointless? In every practical sense, yes, completely and utterly. Still, you have to admit that, however daft, it's a pretty remarkable target for cars that are road-legal and more than wild one-offs.
It wasn't so long ago – okay, it was 30+ years ago: make me feel old, why don't you? – that 200mph was the benchmark. Back then people like us talked in hushed, worshipful tones about the 200mph Club; a fraternity I seem to recall being founded by the Ferrari F40, even though there remains some doubt as to whether regular examples ever did more than 199mph. Other famous 200mph supercars of that era include the Porsche 959 and Jaguar XJ220.
> Click here for our review of the Bugatti Chiron
It took the McLaren F1 to move the game on – to 240.1mph, to be precise – then another decade for the Bugatti Veyron to bump the benchmark beyond 250mph. Since then a rash of challengers, including a succession of Koenigseggs and the hugely impressive Hennessey Venom GT, inexorably pushed the envelope beyond 270mph. Now the race is on for 300mph, with Bugatti working on a faster Chiron, Hennessey poised to unleash its Venom F5  and Koenigsegg throwing down a marker with its remarkable Agera RS, which nailed a 277.9mph average with a peak speed of 284.55mph. 
With 300 the new benchmark and so many series production cars now capable of 200, we could all be forgiven for thinking membership of the 200mph Club is as exclusive as Amazon Prime, yet the flippancy is misplaced – truth is, relatively few of us can claim to have driven at more than 3.333 miles per minute. Thanks to my job I've spent more than half my life in the fastest road cars on sale, yet not only did it take me years to finally do 200mph, it's something I've repeated a scant few times since.
Of those, repeatedly hitting 205mph in a Noble M600 within the confines of Bruntingthorpe Proving Ground's runway stands out, for it gave me a thumping adrenalin rush and boundless respect for the low-volume British-built supercar. Likewise the Hennessey Venom GT, the only car I've ever got in for the first time and immediately topped 200mph.
A record-breaking effort with Skoda at Bonneville Speed Week back in 2011 is one of the best things I've ever done. No, a Skoda Octavia vRS wasn't born for 200mph, but eventually setting a new class record (recently beaten) of 227.080mph on the sacred salt was a vivid reminder of just what a rarified realm 200mph and beyond really is. If driving at 100mph was a youthful rite of passage, driving at 200mph remains the Right Stuff.
At least, that's what I thought, until I drove the Bugatti Chiron. The absurd ease with which it ran to its Stage 1 limiter (236mph) graphically illustrated the staggering performance possessed by this new generation of hypercar. I've no doubt it would run to its Stage 2 (261mph) limiter just as readily, and then nudge beyond 280mph if de-limited. Turn up the wick and it might even do 300mph, but not before the tyres tore themselves to pieces with the strain of running so fast with the two-ton Bug weighing heavily on their overheating shoulders.
Who will be the first to top the triple ton with a road-legal hypercar? Given Koenigsegg's record-breaking run late last year, the super-fast Agera RS has to be favourite. But John Hennessey's Venom F5 won't be far behind: the Texan tuner's cars fly like rifle bullets.
Of course 2018 also sees an attempt at an altogether greater goal, when Bloodhound SSC runs on Hakskeen Pan for the very first time. The plan is for Andy Green to make test runs to 500mph – no big deal for a man who opposite-locked his way through the speed of sound, and barely a canter for a machine predicted to accelerate from 500 to its 1000mph top speed in just 17sec – but an epic stride towards what will hopefully be a successful attempt on the World Land Speed Record in 2019.            
Will our voracity for velocity ever be sated? Not likely and certainly not voluntarily, for the pursuit of speed is hardwired into humans and an impulse we've spent the last century or so enthusiastically exploring on four wheels. But for how much longer? In a world cowed by legislation and manipulated by technology giants, speed-crazed humans are being engineered out of the loop.
All of which means 2018 could be one of the last hurrahs for those of us hooked on the pointless, but enduringly glorious pleasure of punching a big hole in the horizon. If these truly are the end of days, a road car reaching 300mph and a rocket car breaching 1000mph seem a suitably spectacular way to sign-off.