'Old cars we don't strictly need reconnect us to what we've always loved about driving'
Stop the pace race! If you're listening, manufacturers, less can actually be more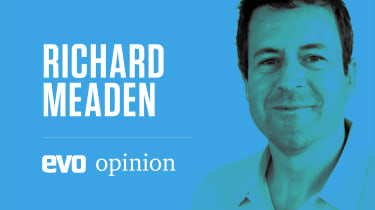 When is enough, enough? I've banged this particular drum a number of times in recent years, but during the course of conducting this month's 992 group test it was a question that punctuated conversations throughout the two-and-a-half days we spent driving. There's a degree of skill and judgement required to thread one of these cars along a fast A- or B-road, but what became increasingly clear as the test went on was that the only thing limiting the speed at which we drove was self-control. If we're honest, that has always been the case, but it wasn't so long ago that even if you wanted to drive with complete abandon (never advisable) you couldn't, because the car would throw in the towel before you did. Besides which, the challenge driving a manual car with little or no electronic driver aids kept you rather busier than today's point-and-squirt missiles.
Back in the early days of evo the cars that came closest to this apparently limitless capacity for blistering point-to-point pace were rally-bred Subarus and Mitsubishis. These were the machines that revelled in being flung down the road, impervious to bumps and crests and prone to making you drive like you were Colin McRae. What we forget is these were machines with around 280bhp, sitting on fixed-rate dampers and now seemingly modest 17- or 18-inch wheels, shod with tyres that weren't a patch on today's Pilot Cup 2s and with little in the way of electronics or aerodynamics to smooth your rough edges.
> New Porsche 911 2019 review - 992 generation strengthens its armoury against rivals
Back then we pitched an Impreza P1 against a Ferrari 550 Maranello on the evo Triangle, with the result being the P1 left the magnificent, but comparatively under-damped, 550 in its wake as the Ferrari scraped its belly and stressed its brakes. Fast-forward 20 years and the Imprezas and Evos are long gone, but the sports and supercars have now far exceeded their once fabled ability to cover the ground.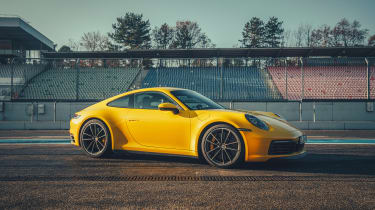 In the case of our 992 group test that's cars with a minimum of 410bhp and as much as 562bhp that can be driven flat-out across the most formidable roads. What's most shocking is that these aren't even the full-on nutter-spec road-racer models. It's a sign of remarkable progress, but spend time with these cars on the open road and you come to understand it's also madness.
It was as we were trying to arrive at a verdict for the test that we each made a telling confession; though we'd all been seduced by the adrenaline rush these latest cars provide, we reckoned we'd be happier with an early R8 V8 manual, a 997 Carrera with a manual 'box or a V12 Vantage S. Yep, you guessed it, with a manual 'box.
This is a problem. Both for us as a collective of drivers and for the wider auto industry. It simply doesn't feel sustainable to me, nor especially smart, to keep pumping out cars that are faster and faster and easier and easier to exploit, yet less and less engaging. Especially when in the wider world anyone who expresses a love for speed is viewed with the disdain once reserved for those who would sink six pints at their local boozer before driving home, via hedges, ditches and quite possibly the nearest A&E department.
The increasing popularity of classics and modern classics is no coincidence. It's a direct response from those of us who want more of the things that matter. That probably sounds a bit rich coming from someone who regularly gets to scratch their supercar itches on fabulous roads and race tracks in freely provided press cars, but if you look beyond what lucky so-and-so's like me drive in the line of duty you'll see a very different picture.
What do I mean by that? Well, to give you a prime example, most UK motoring journos I know own a French hot hatch of some sort or other. Antony Ingram and myself both own S2 Peugeot 106 Rallyes. Jethro Bovingdon owns a Renault Sport Clio Trophy. Adam Towler owns a 1.9 205 GTI. OK, so a lot of journos also own Porsche 911s, but I bought my 964 when it was relative buttons, while Adam and Jethro both have 996s – the cheapest of all 911s to buy.
Why do we spend our hard-earned on old cars we don't strictly need? Because they reconnect us to what we've always loved about driving, but feel increasingly isolated from in today's high-performance cars. I hadn't made the connection until now, but the reason I pushed everyone aside to bag my VW Up GTI long termer was because it does just the same, only with a side order of Bluetooth, airbags and 21st century reliability. And because I knew living with a small, 113bhp hot hatch would ultimately be more enjoyable and carefree than practicing monkish self-restraint in something with 500bhp that can hit 150 along a country lane.
I don't know what the answer is, but I do know whatever 'it' is won't be found in cars that continue to offer more performance. I'm calling it now; April 2019 is the moment enough really is enough.