Porsche 959 review - the 80s supercar with modern performance and tech
Group B racing rules paved the way for one of the most spectacular 1980s supercars, Porsche's 959
The extraordinary Porsche 959. Here, evo editor Nick Trott takes you through just how the most advanced car of the 80s was created, plus tells the story of Group B.
The car featured in this video is set to be auctioned at the RM Sotheby's Monaco sale on 14th May 2016. The full auction will be streamed live on evo.co.uk.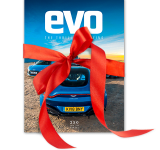 Subscribe to evo magazine
If you're passionate about the world's greatest performance cars, experience the thrill of driving with evo magazine. Try your first 5 issues for £5.
If you'd like to learn more about the 959, click the link below to read a full in-depth feature on the car.