Porsche 993 GT2 wheelarch extensions - Art of Speed
The 993 GT2 boasted performance like nothing else at the time of its launch, and it had looks to match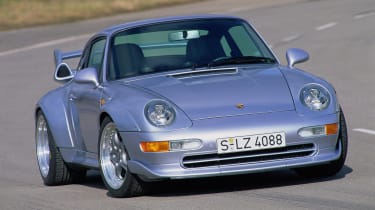 Gee-tee-too. The cheery phonetic of Porsche's mid-'90s homologation hot-rod is misleading in the extreme, because applying eugenics to a 993 Turbo by slamming it, injecting its hips with Botox and affixing competition aero yielded unmitigated visual brutality.
Four hundred and thirty horses may not sound too unnerving either, but consider that the GT2's talented but less potent donor car could already make a mockery of the Ferrari F355. Now ditch 205kg and the drive to the front wheels while increasing boost. Back seats, sound-proofing, interior door handles, airbags, electric windows, sunroof, central locking – all gone. Hello racing shells, magnesium wheel centres and a 959-crushing power-to-weight ratio of 339bhp per ton. Yours for £131,000.
It was overkill only warfare could foster, which in this case was the BPR Global GT Series set up by former Porsche factory driver Jürgen Barth. Until the start of GT2 manufacture in the winter of '94, in fact, Porsche's judicious philosophy had been to engineer four-wheel drive into any road-destined car producing 400bhp-plus. Oh, how things changed…
> New 992 Porsche 911 GT3 revealed – a McLaren 600LT killer
With the order books full to bursting, 193 street-legal examples of the ultimate evolution of the air-cooled 911 left the factory. They were barely sanitised, dispiritingly scarce, relentlessly fast and wide. Unfathomably wide.
The prognathic air dam inherited from the RS 3.8 and the rear wing with integrated scoops that blasted air down to the intercooler were both deeply impressive, but what volleyed home the GT2's real intention with unremitting force were the wheelarch extensions.
Grotesque, glassfibre and violently pop-riveted to each corner – seven stamps at the front, eight at the rear – they were a function-over-form detail of the highest calibre. Glassfibre was the material of choice, not thin-gauge aluminium as for the doors and bonnet, because it was easier and cheaper to replace when things got a bit physical. Enough said.
The romance is patent. Racing is so very seductive, and a road car from within which a competition killer is visibly clawing to escape? Off the scale.
So how wide is the pioneering GT2? More so than the traction-control-devoid widowmaker that formed the apex of the next-gen 911 troop? Please. It's actually more sprawlsome than both the standard 997 GT2 and the deranged GT2 RS, the most potent street-legal factory 911 in history. It's also by a decent margin the most likely of the quartet to squeeze under toll road barriers. That's known as 'stance'.