Porsche 911 Carrera to be turbo only, as manuals stay
Porsche confirms the 911 Carrera won't be available with a naturally aspirated engine again, but manuals stay. For now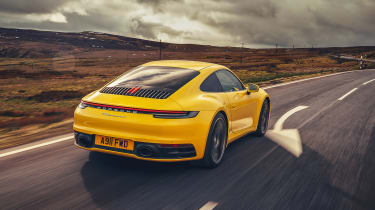 Dr Frank-Steffen Walliser, the man responsible for Porsche's sports cars, has confirmed that there will be no return to naturally aspirated flat-six engines for the 911 Carrera range. Although the GT cars will continue with their NA motors for as long as it is feasibly possible to do so.
Speaking at the reveal of the new 911 Targa, Walliser explained that despite the return of a naturally aspirated flat-six engine in the 718 Boxster and Cayman GTS models, which use a detuned version of the 4-litre GT4/Spyder engine, there was no possibility of this engine being offered in a 911 Carrera.
'The 4-litre engine in the GTS can't be rotated through 180 degrees to fit in the 911. We will not see them again (naturally aspirated engines in the Carrera models). I'm sorry about that.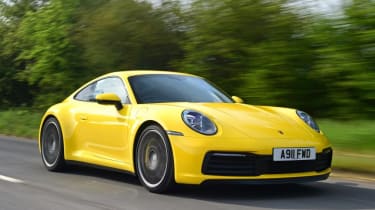 'The R&D costs are too high to develop such an engine for the Carrera. And producing individual engines for different markets such as China, the US and Europe isn't viable. The Carrera will always be turbocharged for the future.'
There was, however, some good news for those who enjoy changing gear themselves when driving their 911, as Walliser confirmed that as long as there remains demand for a manual 911 it will provide one.
'A manual gearbox offers feedback that our customers enjoy when they drive their cars. It's important for the experience,' explained Walliser. 'We had to go to the board I think seven times to explain why we need to offer a manual gearbox.
'We will offer one [a manual gearbox] as long as possible, but one day it will not be possible to do so. But I hope that day is a long way away.'
On why only the Carrera S models are available with the seven-speed manual in place of the standard eight-speed PDK, Walliser explained that customers who buy a Carrera S model are more likely to order a manual transmission, compared to Carrera owners who prefer a PDK transmission.