Three seconds. That's how much quicker the new 997 GT3 RS is around the Nürburgring Nordschleife than its narrow-hipped sibling, the plain and simple GT3. Doesn't sound much, does it? Especially when you consider that the circuit in question is 12.95 miles in length. That equates to a saving of barely a fifth of a second for every mile of maximum-commitment driving.
Well, that's how much it saves Walter Röhrl, and he admitted last month that all of that time is found in 'high speed corners'. If you know the Nordschleife, you know that 'high speed' there means 'terrifyingly high speed'. He also suggested you need balls the size of melons to match his time of 7min 42sec, and I'd suggest an unjust level of God-given talent to go with them.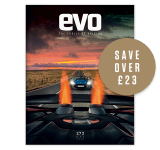 Subscribe to evo magazine
Subscribe today to have every issue of evo delivered straight to you. You'll SAVE 39% on the shop price, and get evo for its original cover price for a whole year!
In contrast to the tiny time savings, the GT3 RS costs £94,280, a substantial £14,740 more than the GT3 – a car with exactly the same engine and as near as dammit the same performance, remember. So to put it another way, each second you could conceivably save at the Ring costs £4913.
Looking at the bare figures, the inevitable conclusion is that the RS costs an awful lot and gives you very little extra over the GT3 in return. It's that simple, that black-and-white. But try remembering all of this when you're handed the keys to a gleaming, Viper Green GT3 RS. You can't. I tried, but the nonchalance, and the mock-horror at the price, just dissolve away. The car looks stunning. Even static it looks like a ball of focused energy and exudes a menace that the GT3 simply can't summon. How do you put a price on that?
Porsche being Porsche, it doesn't. You pay for the obsessive weight-saving and for all the hidden stuff that will make the new GT3 RSR racer such a devastating device (the GT3 RS is a true homologation special). Stuff like the C4/S bodyshell, which is 44mm wider across the rear axle, and the smaller offset for the rear wheels, which increases the rear track by 34mm, ultimately reducing roll.
Then there's the wheelbase that's been extended by 5mm for improved stability; the featherweight carbon wing that pushes the massive 305/30 ZR19 Michelin Pilot Cup tyres hard into the road, creating 40kg of downforce at Vmax even in its low downforce setting; the special ABS programming to take advantage of the stiffer suspension; the single-mass flywheel that helps the 3.6-litre flat-six rev even more freely, improving performance and saving 8kg; the extra-thin plastic rear window that saves another 3kg… the list goes on.
Even though the RS is just 20kg lighter than the GT3, the rest of its vital statistics still make for tantalising reading. The dry-sumped 3.6-litre flat-six revs to 8400rpm, producing a searing 409bhp – enough to hurl the 1375kg RS from 0-62mph in 4.2sec (a tenth quicker than the GT3) and punch it through the air at 193mph should conditions allow. That kerbweight is with 90 litres of petrol, 28 litres of cooling fluid and 13 litres of oil – the dry weight is 1250kg, pretty impressive when you consider the GT3 Cup racers are 1185kg dry.
So, 7min 42sec, £94,280, 20kg, 193mph… the GT3 RS seems to be defined by numbers. But what we really want to know is whether mere mortals can exploit the extra grip and composure it offers over the GT3. And even if we can, is it really that important? Surely 911s are about feedback and involvement as much as raw speed, and a wider track and a big wing aren't going to do much for the subtleties of steering feel and throttle adjustability, are they? Maybe not, but RSs have a habit of being more than the sum of their parts…
OK, let's get the disappointments over with first. Click a button on the key and the front lid pops open. As you lean down to unlatch it you'll notice that the Porsche shield is where it should be, but rather than a 996 GT3 RS-style sticker, it's a proper enamel badge. A tiny detail, but the old RS's sticker was a powerful, ice-cool symbol of its lightweight creed.
Pop the lid and you'll notice that rather than the weave of bare carbonfibre on its underside, there's plain old aluminium. I can hear 996 GT3 RS owners scoffing into their pint glasses…
It feels no-nonsense special inside, though. The brilliant carbon seats are tight but grip in all the right places, the substantial body-coloured cage (which has more bracing than a Clubsport-equipped GT3 and can be extended to a full cage including door bars) a constant reminder that this is a very serious motor car. The driving position is perfect, the unfashionably upright screen affords brilliant visibility, and when your eyes scan the mirror you're greeted with criss-crossing metal, framing a smooth plank of carbonfibre. Mmm.
The flat six sounds gruff, tappety, a bit sulky when cold. It chunters away for some time before the oil heats through and then settles to a barrel-chested, slightly uneven idle. The noise reeks of motorsport, not quite as spiky or high-pitched as the modern 911s at Le Mans, but obviously closely related. Click the tough, mechanical 'box into first, let up the clutch and you can sense that there's not even a micron of slack in the drivetrain.
On the move it feels GT3-like, only somehow different. You can feel that wider rear-end, sense that there's even more grip to lean on. The ride seems even flatter, more controlled, particularly at the rear. It's odd that such a subtle difference can so quickly drill into your subconscious, but it does. I'm sure that at very high speeds there will be tangible stability benefits.
The RS, like the GT3, comes equipped with Porsche's PASM adjustable dampers, and despite being retuned so that it's even more track-focused than the standard GT3, the ride isn't especially jarring. The front tyres occasionally lock on to cambers and try to follow them, but on the whole it feels remarkably civilised. Hit the button marked with the outline of a suspension strut and the car tenses, while on bad surfaces it comes over all old-school RS, thumping and crashing into the worst ruts. Best left for Silverstone, I think.
Another button you should become friends with is the 'Sport' button. It leaves the PASM alone (regardless of whether you're in 'Standard' or 'Sport' mode) but slackens the traction control's rein, boosts torque and opens a valve in the exhaust so you can hear the flat-six better. You soon get in the habit of pressing 'Sport' as soon as the engine fires…
Start to up the pace and you're in familiar GT3 territory: a stunning rev-hungry engine that seems to just pull and pull, wonderfully delicate and feelsome steering, immense grip, eye-popping brakes (in this case Porsche's optional, £5800 ceramic composite set-up), unshakable poise. In other words, 911 turned up to 12.
There are still perceptible differences, though. The nose bites with more conviction, understeer is resisted until your neck aches under the strain of lateral g, and should you switch off the PSM (although, to be honest, you rarely will) the RS seems just a bit keener to indulge. Maybe it's the increase in front grip, but the way you can loosen the tail and then get into the throttle to provoke very mild oversteer seems both easier (although you're going even faster) and more natural.
In more realistic quick road driving, the RS feels just a shade sharper, and it builds on the GT3's already mesmerising body control and dizzying pace. And all the time you're bombarded with information, encouraged and cajoled into immersing yourself in the act of getting the very best from the car. It's ruthlessly focused and seems to unearth hidden commitment that you never knew you had.
On these smooth, flowing roads around Stuttgart, and without a GT3 to run back-to-back comparisons, the RS certainly feels much closer to the car on which it's based than the 996 GT3 RS did. That car felt instantly more hardcore, more fidgety, less understeery and more intimidating. God it was good when you melded with it, though. Maybe in the UK, and with longer exposure, the new GT3 RS will reveal a unique character more forcefully.
Until that time I'll remember it as GT3, purified a little here, pumped up a little there. It is a fantastic car, blurring the line between hard-as-nails racer and composed, fluid road car with incredible aplomb. You could drive it to the Ring and step out as fresh as a daisy, then do a few laps and go to bed frazzled and wired with adrenalin. And when you're in that packed paddock and everyone is swarming around your loud and proud GT3 RS, you'll think it's £14,740 well spent.
Specifications
| | |
| --- | --- |
| Engine | Flat-six, 3600cc, 24v |
| Max power | 409bhp @ 7600rpm |
| Max torque | 298lb ft @ 5500rpm |
| 0-60 | 4.2sec (claimed) |
| Top speed | 193mph (claimed) |
| On sale | Now |