What is it?
Huge, basically. Even for an SUV the Audi SQ7 is big and is longer than a Range Rover Sport, wider than a BMW X5 and taller than a Porsche Cayenne. It's heavier, too.
But even so, Audi has managed to make the SQ7 a fast and competent SUV mainly because of a vast amount of innovative engineering that has gone into it, from the use of aluminium in the body to reduce weight and electric turbos for its V8, twin-turbo engine.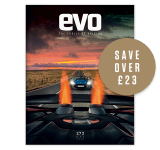 Subscribe to evo magazine
Subscribe today to have every issue of evo delivered straight to you. You'll SAVE 39% on the shop price, and get evo for its original cover price for a whole year!
Engine, transmission and 0-60mph time
The SQ7 is powered by a 4-litre, twin turbo V8 diesel and it is the first series production car to incorporate electric turbos driven by a 48-volt subsytem. For it to be able to propel the leviathan that is the SQ7, the engine needs to produce some equally enormous figures. Thankfully it does.
Peak power is rated at 429bhp available from 3750 through to 5000rpm, 664lb ft of torque ready to use from a ludicrously low 1000rpm all the way up to 3250rpm. Which means that despite weighing 2330kg the SQ7 will hit 62mph 4.9 seconds – that's over half a second quicker than an F Type convertible.
Drive is via a ZF 8-speed automatic gearbox that, as it does in every application, shifts through gears smoothly and quickly. And it's, generally, far better than any torque convertor automatic should be. Redeveloped for the SQ7 it now features a coasting mode, too.
Technical highlights
Where to start with the technology Audi has packed into the SQ7? The new V8 is as good a place as any.
The two traditional turbos in the SQ7 work sequentially, with one working alongside the electric compressor at low revs, the other kicking in at higher engine speed to help make more power.
Both turbos are nestled within the two banks of cylinders to make it a hot-vee, and it's essential to be able to feed both turbos with individual exhaust ports. This hot-vee configuration also means that the entire engine is more compact and neater, allowing it to be used in multiple different chassis.
The SQ7 is also available with Audi's sport rear differential, rear wheel steering and electromechanically supplemented anti-roll bars. The sport differential works in the same way as the ones we're familiar with in some other performance Audis, but it's the first time it has appeared in a Q7. The rear wheel steering, meanwhile, adds to this nimbleness by steering as much as 5 degrees either in line with the front wheels at high speed, or in the opposite direction at low speed.
Electromechanical active roll stabilisation can also be fitted. An electric motor and gear set is embedded in the centre of each of the anti-roll bars allowing the motor to deploy up to 885lb ft of torque to stiffen the ARB further and reduce body roll. With the motor relaxed, it creates a more comfortable ride.
All of this technology to aid the chassis and enhance the engine has meant that Audi has had to fit an extra 48-volt electrical subsystem. The anti-roll bars and electric engine compressor require so much power that to supply them with just an ordinary 120-volt system would involve thick, heavy cables. Instead an entirely separate 48-volt circuit has been added, including a lithium ion battery in the boot. There is, of course, an ordinary 12-volt system that the lights and infotainment work.
What's it like to drive?
Remarkably impressive from how it sounds, to how it delivers its power and that colossal wave of torque. But yes, ultimately it's a two-tonne diesel SUV so there are compromises.
The electric compressor's effect on the engine can be immediately felt. At low revs throttle response is instant, almost unnervingly so as it takes a little while to get used to, simply because it's so unexpected.
When you're making swifter progress with the engine above 1500rpm, it's very smooth indeed, with the engine's natural torque taking over. The transition from electric compressor to the engine's turbos at low revs is incredibly smooth and seamless.
The lack of turbo lag and smooth power band disguises the fact it's a diesel very well. This is obviously a good thing, but it does mean that when it reaches its 5000rpm limit progress comes to a rather abrupt halt. Keep the revs in the sweet spot, however, and the SQ7 can be made to travel at an indecent pace.
The engine's lack of drama, but brutal effectiveness really is indicative of the rest of the car. With the optional chassis aids fitted, the SQ7 can feel amazingly agile for its size. Set in Dynamic driving mode (but with the dampers wound back to auto mode) it responds immediately and cleanly to steering inputs, which while not dripping with feel, does allow for precise placement on the road.
There's an incredible amount of grip too, so the SQ7 will maintain its line even after an over zealous turn-in. It's not what you would describe as an engaging drive, rather one that gets on with it. With the Drive modes left in normal you'll want for little else, although the majority will select the dynamic engine note to disguise any diesel clatter.
Once you realise that the SQ7 will be cajoled briskly down a road without any nasty dramas, your confidence grows. The electronically adjusted ARBs can change their stiffness in relation to one another too, which changes the balance of the car. A different driving style seems to actually change how the SQ7 reacts. Start to trail brake slightly, treat it more like a grown-up hot hatch, and its dexterity seems to increase even more.
The car tested had the optional carbon ceramic brakes fitted, too. They were mightily impressive, but the pedal travel did increase after a quick downhill run. Even so, if you intend to use your SQ7's full performance the ceramics are a must unless you enjoy watching spoke bellow up through the wheel when you come to halt at a set of traffic lights after a spirited drive.
At nearly £10,000 the ceramic brakes aren't cheap, but their 10-piston calipers and 420mm front and 370mm rear discs are needed to haul the big Audi in when you've been generous with the throttle.
The chassis feels taught, and copes with undulating roads like no two-tonne car should do. And even with the chassis in dynamic mode, the ride is good, although Comfort or Auto offer the best ride options. In Eco mode there's slightly less engine vibration transmitted into the cabin.
As good, and as competent as the SQ7 feels, you never feel very involved when driving it. You can marvel in its abilities, but it never feels like you have contributed to that agility. When pushed beyond its grip, it doesn't feel like you had any participation in correcting it. The car simply copes with everything, and ultimately that's not very fun.
The SQ7 is undoubtedly impressive: it goes well, it's remarkably agile, it's got bags of grip and its engine is incredibly effective for the role it's designed to do – if you're after an SUV to tow your race car around Europe, visit your Audi dealer; but it lacks joy and, even at its very best, it isn't exciting. Then again, it's a two-tonne SUV and excitement isn't what this or any of its rivals are about.
Price and rivals
If you must have a diesel SUV, then the SQ7 outclasses its rivals in almost every respect. It's more powerful, has more torque and its faster than the Range Rover Sport, Porsche Cayenne and BMW X5. It is however, more expensive at £70,970. Although, both the Porsche and BMW are due significant updates in the not too distant future the SQ7's lead will be hard to hold on to.
With the SQ7 out performing its rivals by a considerable margin (the Cayenne S diesel and X50Md come closest at 385bhp and a 381bhp respectively), its weight penalty over the two is quicker negated.
If you don't need an SUV, then the SQ7 is less dominant. For similar money you could have an Alpina B5 Biturbo, which is more powerful, lighter and far more gratifying to drive. A used Audi RS6 isn't much more money, either.