Use a gamepad to play Project Cars 2, Slightly Mad Studios' upcoming racing game for PC, PS4 and XBox One, and you'll be thankful for the developers' new focus on tyre models and driving aids.
Because play without those driving aids and even with more natural, progressive slides, you'll spin. A lot. You'll also lock up wheels and understeer off, or overcorrect and find yourself heading rapidly towards a tree, or an armco, or a pit wall, or some other solid object.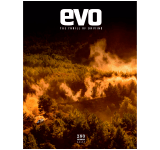 Subscribe to evo magazine
Subscribe today to have every issue of evo delivered straight to you. You'll SAVE 39% on the shop price, and get evo for its original cover price for a whole year!
Amusingly, I'd just been told that the Project Cars team doesn't believe a realistic racing game should be punishingly difficult, and to the team's credit the various driving aids - stability control, ABS, traction control - do turn even the wildest virtual beasts into something you can tame and then use to win the vast variety of different races available to you.
> The future of racing games? Virtual reality and motion rigs
But I'll qualify this hands-on preview by saying that Project Cars, just like many other recent simulation-biased racing games, will probably require you to invest extra in a wheel and pedals setup (at the least) in order to enjoy it to its full.
Even if Project Cars 2 doesn't quite match the same levels of geeky simulation offered by titles like iRacing, rFactor (and those using the rFactor engine) or Assetto Corsa, the gameplay here is realistic enough that for maximum control, finesse and enjoyment, you need to be able to make the fine inputs that only a wheel and pedals can offer.
But we're getting ahead of ourselves...
Project Cars 2 cars, tracks and options
If you're a sucker for a comprehensive car and track list, Project Cars 2 is unlikely to disappoint. The first game had a fairly wide selection and that's been expanded for the latest title, with every category gaining extra vehicles for a total of more than 180 cars. Among them is a wide selection of recently-announced Ferrari vehicles, including the LaFerrari, 330 P4, a NART Daytona and 488 GT3.
> Best driving games to buy now 
Whether your thing is modern supercars, classic sports cars, vintage F1, IndyCar or NASCAR, there's something here - the team says there are nine individual disciplines and 29 series altogether.
Equally, the track selection is enormous, with 60 locations and more than 130 layouts, with a mix of real-world venues and original circuits from across the world. Those include ovals, rallycross circuits and ice venues, including a few unique options such as a California highway road route and one along the Azure coast.
Project Cars 2 graphics
Best of all, they're rendered beautifully. However Project Cars 2's physics compares to more hardcore sims, none of those sims can match the rich, immersive detail of this game, from its trackside ambience or weather and time of day effects to the intricately detailed cars, gritty realism of the circuits or far-flung points of interest on the horizon. Are those factors important in a racing game? Of course they are, particularly if your enjoyment comes from more than just by-the-numbers handling models.
Neat touches include time and weather changes that can be synced to the length of whatever race you're running - so you can have a full day/night cycle in three laps, if you want - and the sheer detail in each car. Following a Lotus 49, for instance, you can see its driveshafts spinning around either side of the gearbox - all from the confines of your own windy Lotus 49 cockpit.
I did notice a little slowdown in particularly hectic situations, but this was the only real fault. It'll be most intriguing to try the game in VR - given the original Project Cars game in VR still ranks as my best-ever gaming experience.
Project Cars 2 gameplay
As mentioned at the top, this game can be fiendishly difficult, should you be using a gamepad rather than a wheel and be ballsy enough to turn of all the assistance options. After experimenting without with a couple of cars, I chickened out and settled on ABS off, traction control on low and stability control on - a mix that gives you some control while using a 'pad, but without the risk of minutely excessive control inputs pitching you into a spin.
It would, undoubtedly, be better with a wheel - and more conducive to turning everything off and driving with more concession to the realism of the vehicle in hand. It would also avoid some of the side-effects of the assists in fringe scenarios - a bumpy Knockhill and a Formula Renault 3.5 confused the functions enough that the car would virtually stop in corners, the game unable to figure out how much traction I had and dole out power accordingly. And that's not just an excuse for losing that race...
> The best racing games of all time
Get into a flow though (as you would with a wheel) and it's very satisfying. The weight of the cars, the grip, each car's individual characteristics - all seem well replicated. There were a few moments of weirdness - excessively enormous accidents, the occasional car-launching bump off-track - but these may be ironed out by the time is available to the public.
Likewise, there's still time for the AI to improve a little - at the moment, they offer competitive racing and will even give you room if you line up to overtake them, but they'll slow up unrealistically at the first turn of almost every course and don't seem to make much effort to avoid you if you make a mistake, which can compound problems somewhat if you spin out.
Project Cars 2 verdict
Combined with the excellent graphics though, and the thundering, all-encompassing sounds of every vehicle, the sensation of racing for position in a pack of other cars, particularly at night or in bad weather, is both engrossing and entertaining.
Those looking for ultimate realism will still be better served by some of the hardcore sims available on the market, but the balance here is good -  and I'll certainly look forward to spending more time (ideally with a VR headset and a wheel and pedals) with the game when it's officially launched on September 22nd.
> Read more racing game news, previews and reviews here