It's an intense experience extracting a lap time from a car such as the McLaren 720S, especially at a circuit such as Anglesey, which can be frighteningly rapid in a couple of places but is also extremely tight and twisty in others. Which basically means there is nowhere to relax and think for even half a second about what the car is doing and why.
In a 720S, the moment you leave the pitlane the world goes into hyperspace, and unless you're right on top of it mentally right from the word go, it could easily get away from you. And yet, if you do manage to switch your brain on properly, and the circuit is dry, and the ambient temperature is warm but not too warm – so conditions pretty much perfect, in other words – the 720S can be utterly magnificent, as its best time will show.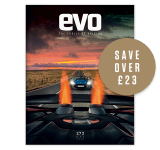 Subscribe to evo magazine
Subscribe today to have every issue of evo delivered straight to you. You'll SAVE 39% on the shop price, and get evo for its original cover price for a whole year!
But there are several key things that need to be in place before the magic starts to happen, only one of which is the state of your noggin. The tyres and specifically the tyre pressures also play a big part in 'getting it right' at Anglesey. You also need to put the car in the perfect configuration within the adjustable drive programs, and the ones initially recommended by McLaren aren't necessarily the best ones to go with in this instance.
To begin with, the small army of technicians sent with the 720S to Anglesey reckon the car will be quickest with everything dialled up to max – so Track for the drivetrain and suspension, manual for the transmission, and all the aero fully active – but with the traction control still partially switched on. This puts the car in what McLaren describes as Dynamic Mode, which still gives you a small amount of assistance from the TC system, and a touch of help from the ESP as well in extreme circumstances.
What Dynamic Mode allows you to do, in theory, is nail the throttle as early as possible mid-corner, leaving the systems to sort everything out. This means you won't get great gobs of unwanted oversteer, or wheelspin, even if you try.
As for the tyre pressures, these need to be dropped right down (well outside Pirelli's official guidelines at some circuits, and especially at the front) to give the car as much bite as possible, not just on turn-in but, more vitally, mid-corner and at the exit as well. McLaren has learnt this trick a million times over now at its various customer trackdays, but still stresses that the car is better on the road at the recommended pressures.
So with all this information fizzing around my head, and my heart thumping pretty hard with a mix of mild anxiety and major excitement, I go out for the first time in the 720S – to try to learn both car and circuit. And straight away, from the moment I open it up down towards turn two in third gear, the 720S feels like a complete madman.
The acceleration it produces is actually quite shocking, even when you're braced for it, and the way it subsequently stops for and then turns into the corner that follows seems thoroughly ridiculous for a car that wears a set of number plates. You need to be ready for the 720S – not because it will bite you as such, but because you might very well find yourself entering a corner 40mph too fast...
I do four quick-ish but fairly calm laps and note a number of things. One, that there is still a bit too much understeer, which is killing the car's speed through at least four corners. Two, that Dynamic Mode might not be the way to go because it is taking the throttle away in too many of the acceleration zones, so I'll need to take a brave pill and switch the whole lot off next time out. And three, that it is otherwise absolutely chuffing sensational around this circuit, not least the way it stops but arguably even more so the way it goes, which is to say like a perfectly aimed bullet whenever there is so much as a hint of a straight line to fire it down.
I come back in, tell the techies about the understeer and they call Pirelli and get permission to drop the fronts even further. They also fit a brand spanking new set of P Zero Corsas all round and simply say 'best of luck' when it comes to trying it with everything switched off. They also suggest I do two slow laps to bring the tyres in and then, well... see how she goes.
Back out again and after the two slow laps I get that lovely feeling from the 720S, that rare one where the car feels almost perfectly dialled in to the circuit. All the crazy stuff is still there (mental acceleration, fantastic stability under braking, incredible speed and response from the gearbox, up or down the ratios) but there is now much more bite at the front end, which means it can carry much more speed into and through the corners. And although the wheelspin needs managing via your right foot on the way out of them, there is now instant and massive acceleration as well, which simply wasn't there in Dynamic Mode because the electronics wouldn't allow it to happen.
The 720S does a lap time of 1:11.5 and hits a top speed of 143mph in the process. To give that some context, the P1 did a 1:12.6 on the exact same specification tyres in near-identical conditions (evo 200), while a more direct rival, the Ferrari 488 GTB could manage 'only' a 1:12.8 (issue 228). And remember, the 720S is a standard production model that McLaren will make 1400 of each year. Insane. Absolutely, brilliantly insane.