Subaru Forester 2.5 XT
Picture the scene. You've been part of the evo team for a few months, the familiar names from reading the magazine are rapidly becoming the familiar faces of work colleagues, and every day you're surrounded by a mouth-watering selection of metal. Then, suddenly, in the middle of a Fast Fleet meeting, while you're day-dreaming about being offered a Lamborghini for a year, the keys to the Forester are pushed across the table towards you, and Barker says, 'fancy running that for a bit?' Now, I know what you're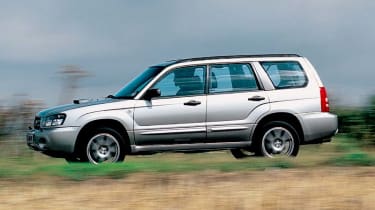 Picture the scene. You've been part of the evo team for a few months, the familiar names from reading the magazine are rapidly becoming the familiar faces of work colleagues, and every day you're surrounded by a mouth-watering selection of metal. Then, suddenly, in the middle of a Fast Fleet meeting, while you're day-dreaming about being offered a Lamborghini for a year, the keys to the Forester are pushed across the table towards you, and Barker says, 'fancy running that for a bit?' Now, I know what you're thinking. That walk across the car park, past the 550, Exige, Caterham, etc, to end up at the ugly estate car on stilts. You'd be a bit gutted, right? Well, I was (a bit) right up until half-way through my drive home on the first night, at which point I realised why the Forester was on the fleet. It's impossible not to have a good time driving this car.
To look at, you might question its evo credentials. Tall, bulky, a mere 207bhp and surely too practical to be fun. But fling it into a corner or three and you soon realise that the Forester's combination of steering feel, gutsy power delivery and permanent four-wheel drive adds up to one addictive driving experience. Best of all, the XT offers genuine cross-country pace, while the somewhat uninspiring looks make it a bit of a wolf in sheep's clothing. Certainly it was a lot of fun to go BMW-baiting in the Forester.
Along with all this dynamic excellence, there's a pain-free ownership proposition. In our ten months with this Forester it proved reliable, practical (though the boot's not huge), comfortable on a long trip, relatively cheap to service (you pay just £40 for oil and filter at the initial 1000-mile service, then the service intervals are 12,000 miles) and very well equipped. It even managed to win over the father-in-law to-be, and that's saying something when he's only ever impressed by a machine if it says Massey-Ferguson or Land Rover on the back. A particular hit with drivers and passengers was the massive sliding glass sunroof; it was easy to overlook some slightly cheap looking plastic (or over-exuberant driving) when the sun was shining in on you.
We decided early on to swap the standard Yokohama Geolanders for something a little sportier and opted for the Prodrive 'WR Sport wheel package', which came with 225/50 Pirelli P6000s. The drive back from IM Group in West Bromwich revealed the Forester's new colours.
Unfortunately, the comedy handling had gone with the Yokohamas, but in its place were new levels of sharpness and grip. The XT now carried the corner speed to worry unsuspecting sports car drivers (not to mention unprepared passengers), and exiting the corners with the tail squatting and a whiff of opposite lock thrown in became seriously addictive. So much so that even when you'd discovered how much fuel you'd used, you still did the same thing the next day, and the next. (Though you could coax 25mpg from it on a run, a heavy right foot could see that plummet to closer to 20mpg.)
So the XT entertained in a way no Forester-shaped lump should, and managed to do all the boring stuff really well too. If only it didn't have a bit of a drink problem it would be the perfect family fun-bus.
Running Costs
| | |
| --- | --- |
| Date acquired | November 2004 |
| Total mileage | 11,423 |
| Duration of test | 10 months |
| Average MPG | 23.8mpg |
| Servicing costs | £40 |
| Consumables | £0 |
| Extra costs | £1191.48 (wheels & tyres) |
| Price new | £25,000 |
| Trade in value | £18,500 |
| Depreciation | £6500 |