The steering wheel isn't just unusually small. Depending on your stature and seating position it might completely obscure the digital speedometer, too, forcing you to crane your neck high or dip your head low to catch a glimpse of it, or otherwise observe the passing trees and lampposts like Christopher Columbus charting the stars just to vaguely approximate your velocity. 
For some people, and perhaps not unfairly, that obscured speedo is reason enough to dismiss the Peugeot 308 GTi for good. I can see the speedo, as it happens. Perhaps I'm tall enough, or just short enough, or maybe I sit upright enough. Whatever, the fact that I'm not forced to use a knotted rope and an egg timer to calculate my speed means I can approach the 308 GTi with patience and an open mind, rather than huffily write it off within three or four miles.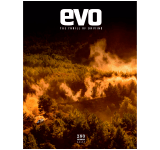 Subscribe to evo magazine
Subscribe today to have every issue of evo delivered straight to you. You'll SAVE 39% on the shop price, and get evo for its original cover price for a whole year!
It's important that we give this latest generation of sporting Peugeots a fair chance, because under the Peugeot Sport banner they're being developed with care and attention to detail by people who take this stuff personally. People who really know how to make a hot hatchback swing, in fact, as evidenced by the fun and feisty little 208 GTi by Peugeot Sport.
The newer, bigger 308 GTi is available in 250 or 270 guise. This is the more powerful version, equipped with the 266bhp 1.6-litre turbo engine. In fact, it's the very car that photographer Dean Smith runs on evo's Fast Fleet. As standard it has a Torsen differential, Michelin Pilot Super Sport tyres and, on the front axle, a tasty-looking set of Alcon brakes. 
In fact, it's the brakes that really hint at the scale of the 308 GTi's ambition. Tucked behind slightly fussy 19-inch wheels, the discs, mounted on aluminium bells, are 380mm in diameter, clamped by bright red four-piston calipers. In comparison, the VW Golf GTI looks woefully under-braked with its little 312mm discs and puny sliding calipers. 
This GTI is almost as basic as performance Golfs get. It lists at £28,515 with five doors – £375 cheaper than the five-door-only Peugeot – and makes do with 217bhp. It runs an open differential, but this test car does boast £830's worth of Dynamic Chassis Control, or switchable dampers to you and me. For an extra £995 you can spec the GTI Performance Pack, which lifts power by 10bhp and adds a limited-slip differential and, to spare the VW some degree of humiliation, higher specification brakes that include 340mm front discs. 
There is another problem with the 308 GTi's tiny steering wheel beyond the fact that, for some, it blocks the speedometer. It also makes the car feel unnaturally hyperactive and difficult to place with confidence and precision, because its reduced diameter has the effect of gearing up your steering inputs. 
With time you do learn to measure your efforts so the small wheel isn't so much of a nuisance, but the 308 GTi never feels like a better car for having a tiny helm. In fact, it's a worse car for it. This is a particularly irritating example of the engineering team buckling to the will of the marketing department. In other areas, however, the engineers have done some exceptionally good work. 
The drivetrain, for instance, is the most effective and enjoyable of any car in this sub-£30,000 hot hatch category. Unlike most, Peugeot has realised that a truly vibrant top end is so much more important in a turbocharged performance engine than immediate response from just above idle. What good is it to have peak torque available from 1500rpm if the engine runs out of breath at 5500rpm? Much better to bring the turbo in at 2500rpm and keep it on song all the way to the limiter. (Peugeot quotes peak torque of 243lb ft from 1900rpm, but in truth the engine doesn't really get going until a little later.) 
Meanwhile, the manual gearshift is one of Peugeot's better efforts in recent years, and the differential hauls the car through corners with real positivity. On the bumpiest roads, though, the kind that resemble a bombed runway more than a section of public highway, the aggressive diff, agitated steering response and resolute spring rate can make the 308 GTi feel like a real handful. It skips and hops along, differential drawing the front end across the road under power and tiny steering wheel exaggerating your inputs. It's a wild ride. 
But the Peugeot doesn't necessarily need a marble-smooth surface to come into its own because it has enough damping quality to deal with the odd bump and pothole. On a less demanding road the body roll is kept tautly in check and the basic chassis balance is actually quite lively, front end kept pinned to its line by a usefully agile and playful rear axle. 
The Michelin tyres, meanwhile, bite so hard that you soon dare yourself to carry more and more speed into each apex. The brakes are strong and easy to modulate, too, and in heavy compressions the dampers take just one stroke to bring the body back under control. 
On reasonably well surfaced roads the 308 GTi is a thrilling and engaging drive, and a very different sort of experience to that served up by the Volkswagen. The Golf GTI hits so many of the right notes in the first few seconds – restrained but purposeful styling, the draw of the VW badge, the premium cabin quality – that for many buyers it'll be a non-contest before a key has been turned. The Golf strengthens its case over the first few miles, too, with immediately intuitive steering and a more settled and compliant ride than the 308.
The Golf's 2-litre turbo engine delivers its peak torque from just above tickover –258lb ft at 1500rpm – but it's one of the few that manages to marry that low-down response to a reasonably lively top end. The 308's engine is even more rewarding still in the final dash to the red line, though, the first area in which the Peugeot begins to claw back lost ground. 
Almost regardless of the quality of the road surface, the Golf GTI is pliant, tightly controlled and endlessly stable. On the type of road that threatens to bounce the 308 over a hedgerow the Golf is much more composed, its springs and dampers better equipped to flatten bumps and smother ruts. And it's almost impossible to wrong-foot. But with such a safe and steady balance where the 308 GTi is agile and alert, the VW just isn't quite as engaging. And so the Peugeot closes the gap further still. 
In a high-performance front-wheel-drive car some level of adjustability is just as crucial to the overall driving experience as good traction or a grippy front end. We want to be able to back such a car into a corner on a very gentle turn of corrective lock because, well, it's fun. And we want to be able to adjust our line mid-corner by lifting off the throttle because that means we still have options even after we've committed. And in such matters the playful Peugeot is wholly more satisfying than the passive VW. The 308 gets another step closer…
So, Volkswagen or Peugeot? The VW has the wider operational bandwidth, spanning all road conditions and types of driving. It also has the advantage in terms of image and quality; it's the more rounded hot hatch. The Peugeot, on the other hand, can deliver higher highs than the Golf, but it's only at its best when the road conditions and your mood align (and if you're lucky enough to be able to see the speedo). My personal preference is for the accomplished VW, but many others at evo save their cheers for the Peugeot as being the car more in tune with our Thrill of Driving ethos.