Volkswagen Golf R32
VW's R32 has a love-hate relationship with Neil Carey...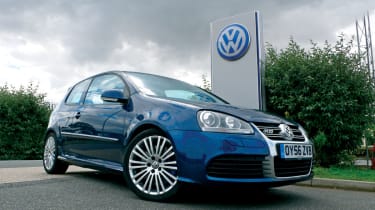 After a hard few months, the R32 was due a bit of love. The time had arrived for its first service, and with the iPod connection still being occasionally unco-operative it would be the perfect opportunity to kill two birds with one stone. So I made the call to the ever-helpful Autohaus of Northampton to get ZVB booked in for a once-over and an iPod check.
The poor Golf has taken a bit of stick during its time on the fleet so far, mostly for the less-than-smooth operation of its DSG gearbox, but it says a lot for what the car can do that, every time I'm away from it, I miss it. Leaving it behind at the dealer, I couldn't help feeling we'd been a bit unfair. After all, the jerky urban experience is soon forgotten when you're attacking a good road, and now the Continental tyres are getting past their best, the vice-like all-drive grip has started to give way to a more playful side. If you're prepared to carry enough speed into a corner, oversteer is plentiful enough to make you glad DSG allows you to keep both hands on the wheel at all times. You need to react quickly, mind, as once some lateral movement enters the equation, the R32 suddenly reveals its mass.
The best bits about this Golf, though, are those most easily overlooked. Things like the quality of the interior, the low seating position and the weighting of the controls make it a great car to live with.
So absence does make the heart grow fonder, and as I arrived back at Autohaus the freshly cleaned R32 had never looked more appealing. I couldn't wait to get the keys back, and as soon as I'd been relieved of £194.99 they were all mine.
The bad news was that the iPod dock had once again refused to replicate its fault, and my enthusiastically used tyres had been singled out as being in need of replacement, but it was still good to get back into the R32. Firing-up the big V6 and rolling towards the exit, it felt like a fresh start. Maybe I could really enjoy running this car.
But ZVB obviously sensed my positivity, and decided to bring me crashing back to earth by hooking first as I left the forecourt, making me lunge down the road like a learner wearing lead boots. Normal service had been resumed.
Running Costs
| | |
| --- | --- |
| Date acquired | Nov 2006 |
| Total mileage | 11,324 |
| Costs this month | £194.99 (service) |
| Mileage this month | 808 |
| MPG this month | 24.9 |