Litchfield Type-25 v Caterham CSR 260 v Lotus Exige S v Radical SR3 1300 v Ariel Atom v Porsche Carrera GT v Ford GT v Ferrari Enzo v McLaren F1 - Ariel Atom
The supercharged superlight Atom will be at the pointy end of things come the final reckoning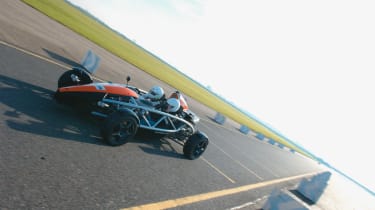 Next up is the Ariel Atom. Still as barmy-looking as ever, in supercharged form the Atom is a unique and uniquely rapid machine. We've long been fans of the concept, but only recently has the chassis become a match for the banzai powertrain. This, then, is a chance to fulfil its ample promise.
For the first lap or two, the intensity of the experience is almost overwhelming. The demented shriek from the engine, the gearing that feels like Ariel has fitted a 'box full of second gears, the neck-straining slipstream and the tremendous fast-twitch response from steering and throttle combine to explosive effect.
Where this Atom differs from previous examples I've tested is that it has a level of progression and precision earlier cars simply didn't have.
Consequently, where you'd fight and ultimately fail to tame the spiky stabs of oversteer, you can now drive through them. Likewise the brakes, which, though still more willing to lock than a Caterham's, can now be modulated to better effect.
From the driver's seat you'd swear it was by far the quickest yet. In fact an identical time to the CSR is impressive, though the fact that it looks, sounds and feels so spectacular means we're expecting more. However, a look at our lap time archive reveals it's gone 1.8sec quicker than it did in the summer. It's a great result for the innovative and committed Somerset concern.
Specifications
| | |
| --- | --- |
| Layout | Mid engine, rear-wheel drive |
| Engine | In-line 4-cyl, 1998cc, s/c |
| Max power | 300bhp @ 8200rpm |
| Max torque | 162lb ft @ 7200rpm |
| Weight | 550kg |
| Power/weight | 554bhp/ton |
| 0-60mph | 3.3sec |
| Max speed | 155mph (claimed) |
| Price as tested | £37,500 |