Litchfield Type-25 v Caterham CSR 260 v Lotus Exige S v Radical SR3 1300 v Ariel Atom v Porsche Carrera GT v Ford GT v Ferrari Enzo v McLaren F1 - Ford GT
The GT may have been our Car of the Year in 2005, but is it too soft for seriously quick laps?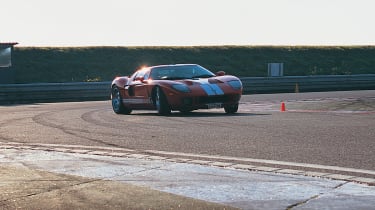 With all the lightweights done, it's time to try the supercars for size. It's the stage I've been looking forward to and dreading in equal measure, for while huge power always equates to big fun at Bedford, the prospect of binning one of these babies has magazine-closing consequences, thanks to an insurance excess that would make your eyes water.
I climb into the Ford GT first. It feels vast after the skeletal flyweights. Soft too, and quiet, while the power-assisted steering feels all too light for the task ahead. It does its best to reassure me, though, with a slick gearshift, strong brakes and so much grunt I could probably do the whole lap in fourth.
What it lacks is ultimate grip, for while it turns-in keenly it soon begins to wash wide of the apex. It's also a bit lively on the entry to the chicanes, requiring some correction to keep the tail in line. Through direction changes you can feel the delayed weight transfer, which manifests itself as oversteer once you get back on the throttle, and although it can be balanced relatively easily, you can feel the time slipping away like sand through your fingers. If that's the penalty for the sublime on-road set-up that seduced us at last year's eCoty, then so be it. Here and now, though, the Ford GT is fighting with one hand tied, as a 1.22.75 testifies.
Specifications
| | |
| --- | --- |
| Layout | Mid engine, rear-wheel drive |
| Engine | V8, 5409cc, s/c |
| Max power | 550bhp @ 6500rpm |
| Max torque | 500lb ft @ 3750rpm |
| Weight | 1583kg |
| Power/weight | 353bhp/ton |
| 0-60mph | 3.7sec (claimed) |
| Max speed | 205mph (claimed) |
| Price as tested | £125,000 |