Litchfield Type-25 v Caterham CSR 260 v Lotus Exige S v Radical SR3 1300 v Ariel Atom v Porsche Carrera GT v Ford GT v Ferrari Enzo v McLaren F1 - Dax Rush MC
A mixture of engineering ingenuity and visceral performance from the Caterham-sized curiousity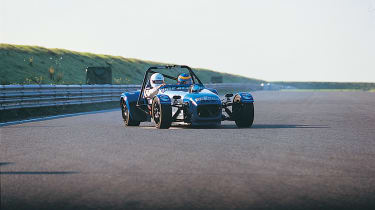 From the sublime to the downright ballistic. Rather like the fire-snorting, petrol-spraying madness that was the original Westfield SEight, the Dax Rush MC is one of those fringe cars with such compelling performance even the most dyed-in-the-wool car snob can't ignore it. Yes, it's easy to have preconceived ideas about cars like the Dax, especially when you've got a McLaren F1 parked down the pitlane. However, ten minutes chatting to its owner, Duncan Cowper, and you see beyond the Rush MC's ugly Seven-clone looks and appreciate its intriguing engineering.
Beneath, or rather poking through the bonnet is a turbocharged Suzuki Hayabusa engine, good for 350bhp+ on its day. A pair of curved metal levers behind the steering wheel reveals a paddle-shift gear system, while the front-end features Dax's extraordinary camber-compensation front suspension, which maintains the front tyres' contact patch by keeping the wheels upright even under the highest cornering load.
The car's only here thanks to Cowper putting in a week's worth of all-nighters to re-assemble the car; when Henry Catchpole had phoned him, the motor was in pieces on his kitchen table. Consequently it's not running full boost but should still be good for 300bhp. Enough in a car that weighs just 520kg.
Sticking to our tight quota of laps is hard in a car like the Rush, for it takes some getting used to. Cowper says upshifts are clutchless, and the paddles work well, but as paddle-shift normally means no clutch pedal at all, it's tricky synchronising your left leg with each pull of the left-hand paddle for downshifts.
The engine is explosively powerful at high revs, but it also thumps out plenty of torque, which makes it more tractable than you'd think through the tighter corners. However, all of this pales into insignificance compared with getting used to the camber compensation front-end. Though it allows the body to roll, the suspension loading remains even, so you don't have the same tactile reference points to judge when you're at or over the limit. It's clever and effective, but a bit spooky to try and master in a few flat-out laps, as the front remains nailed while the tail can be snappier than a Jack Russell puppy and just as hard to catch.
Partnership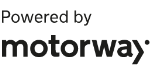 Need to sell your car?
Find your best offer from over 5,000+ dealers. It's that easy.
Almost inevitably we end the session on the grass at the exit of Tower, a stab of turn-in oversteer and two attempts at correcting it taking us off the tarmac. It's a suitably hairy end to a visceral few laps, the best of which yielded a 1.19.70, just a tenth behind the CSR and Atom.
Specifications
| | |
| --- | --- |
| Layout | Front engine, rear wheel drive |
| Engine | In-line 4, 1299cc, turbo |
| Max power | 300bhp @ 9400rpm |
| Max torque | 220lb ft @ 7200rpm |
| Weight | 520kg |
| Power/weight | 586bhp/ton |
| 0-60mph | 3.2sec (claimed) |
| Max speed | 150mph+ (claimed) |
| Price as tested | £24,500 |