Litchfield Type-25 v Caterham CSR 260 v Lotus Exige S v Radical SR3 1300 v Ariel Atom v Porsche Carrera GT v Ford GT v Ferrari Enzo v McLaren F1 - Caterham R500 Evo
The reigning champ tries to reassert its position at the top of the tree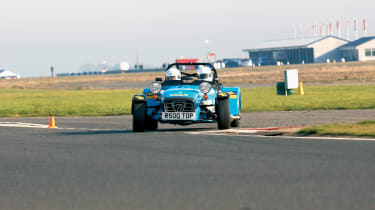 And now it's the turn of our reigning West Circuit champ, the Caterham R500 Evo, still resplendent in its dazzling Rizla livery.
As ever, sliding down behind the sideplate-sized steering wheel is the perfect way to focus your mind on the job in hand. You don't so much get in a Caterham as put it on, and it's this snug, tailored fit that breeds such intimacy between you and the car, and what gives you such confidence to drive out of your skin.
In deference to the owner, Caterham asks us to use 8000rpm or so as a maximum; with the 2-litre K-series motor literally £15K a pop, it's a perfectly reasonable request, and as its maximum 250bhp arrives at 8000rpm we're not sacrificing any power. All the slightly restricted rev-limit means is a few extra gearshifts during the lap.
A glance at the rims reveals Caterham may have missed a trick by fitting the R500 Evo with the same type of Avon CR500 tyres it was shod with for 'Fast Club 2004'. Stickier ACB10 tyres would surely steal a second or so from the lap time. We'll know whether it needs the help in just over ten minutes from now.
There's something extraordinary about driving this Caterham in anger. It fizzes, sparks and jolts like a raw nerve, your hands, feet and butt cheeks wired to the chassis, sensing the limit, twitching inputs through the steering wheel and pedals almost without conscious effort. Better still, it's one of those cars that thrive on aggression. You don't stroke a time out of it like the Lotus, you get stuck right in, catching slides, j-u-s-t locking a wheel here and there, driving on instinct and adrenalin.
A massive buzz, then, but is it quick? You betcha. A best of 1.19 dead, over half a second inside its old record. Aside from the Radical, it's the quickest yet. But will anything go faster?
Specifications
| | |
| --- | --- |
| Layout | Front engine, rear-wheel drive |
| Engine | In-line 4-cyl, 1998cc |
| Max power | 250bhp @ 8000rpm |
| Max torque | 190lb ft @ 4000rpm |
| Weight | 460kg |
| Power/weight | 552bhp/ton |
| 0-60mph | 3.9sec |
| Max speed | 150mph |
| Price when new | £42,000 |