Litchfield Type-25 v Caterham CSR 260 v Lotus Exige S v Radical SR3 1300 v Ariel Atom v Porsche Carrera GT v Ford GT v Ferrari Enzo v McLaren F1
On one unforgettable day, we gathered everything from an Ariel Atom to a McLaren F1 for the ultimate circuit shootout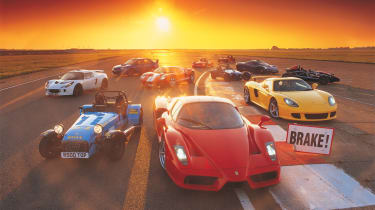 Wouldn't it be great,' said associate editor Tomalin, 'if for the 100th issue we could get the fastest group of road cars we could possibly muster, together, on the same day, and see which is quickest around the West Circuit.'
It was during our 'Science of Speed' cover story back in issue 094 that the seed of this compelling idea was sown. As ever, the West Circuit was an element of the test, and, to our genuine surprise, the Carrera GT came within 8/100ths of a second of our fastest ever recorded lap, 1.19.62, set by the rabid Caterham R500 Evo in issue 069.
Having compiled a wish-list of staggering optimism, we set about making the shootout happen, embarking on a charm offensive of unprecedented, er, charm. Ford was happy to stump-up a GT, the habitually generous Paul Bailey was positively bursting to see his Enzo and Carrera GT slug it out, while Iain Litchfield was only too pleased to see his ballistic Type-25 Impreza have a pop at some exotica. Caterham would bring a CSR 260 and the R500 Evo (kindly provided by its owner, Steve Moffat), while Ariel, Radical, Lotus and Dax would also be coming to the party, the latter with the positively scary Rush MC. Oh, and we'd also have a late-20th-century BMW-engined supercar called the McLaren F1. Some of you may know it.
The scale of what we're doing hits home when I arrive at the Autodrome. There are cars everywhere. Some emerging from transporters, some buzzing impatiently on fast idle, struggling to warm their vital fluids on this chilly morning. Others sit in menacing silence: an unmistakable wedge of scarlet and a fizzing slice of acid yellow marking Paul Bailey's spectacular brace of supercars, while brooding at the far end of the pitlane is a magnificent blue McLaren F1. Gulp.
Lap Times
| | | |
| --- | --- | --- |
| 1 | Radical SR3 1300 | 1.17.10 |
| 2 | Caterham R500 Evo | 1:19.00 |
| 3= | Ariel Atom | 1:19.60 |
| 3= | Caterham CSR 260 | 1:19.60 |
| 5 | Dax Rush MC | 1:19.70 |
| 6 | Porsche Carrera GT | 1:20.20 |
| 7 | McLaren F1 | 1:21.20 |
| 8 | Ferrari Enzo | 1:21.30 |
| 9 | Litchfield Type-25 | 1:22.25 |
| 10 | Lotus Exige S | 1:22.40 |