Litchfield Type-25 v Caterham CSR 260 v Lotus Exige S v Radical SR3 1300 v Ariel Atom v Porsche Carrera GT v Ford GT v Ferrari Enzo v McLaren F1 - Caterham CSR 260
The latest generation Caterham is more powerful and refined, but carries more weight. Can it keep up with its R500 ancestor?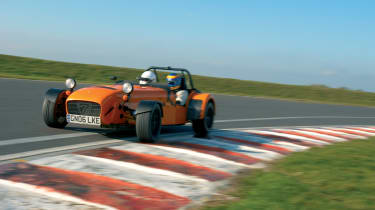 Bigger and heavier than the record-holding 'old-school' R500 but more sophisticated and more powerful, the new-generation Caterham posted a 1.21.85 earlier this year, so we're not expecting it to threaten the R500 Evo, but it certainly has the means to mount a challenge.
Subjectively the CSR isn't a patch on the old-school screamer. Neater, grippier and torquier, it lacks the sheer excitement and fighting spirit. It doesn't feel as instinctive either, nor as fierce down the straights, but when we check the times there's a 1.19.60 staring us in the face! Two-hundredths quicker than the R500's current record. Blimey.
Specifications
| | |
| --- | --- |
| Layout | Front engine, rear-wheel drive |
| Engine | In-line 4-cyl, 2261cc |
| Max power | 256bhp @ 7500rpm |
| Max torque | 200lb ft @ 6200rpm |
| Weight | 565kg |
| Power/weight | 460bhp/ton |
| 0-60mph | 3.8sec |
| Max speed | 155mph (claimed) |
| Price as tested | £41,500 |