Litchfield Type-25 v Caterham CSR 260 v Lotus Exige S v Radical SR3 1300 v Ariel Atom v Porsche Carrera GT v Ford GT v Ferrari Enzo v McLaren F1 - Subaru Impreza: Litchfield Type-25
Probably the least scary drive here, the Litchfield still dwarfs the performance of a showroom Impreza STi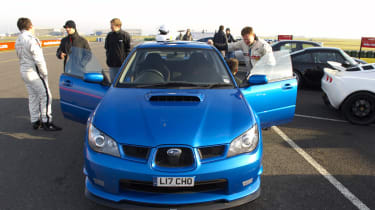 With eleven cars to lap in just over half a day, it seems sensible to start with the most familiar and, to be brutally honest, least scary cars first. Kicking off with Iain Litchfield's all-wheel-drive Type-25 Impreza, it's my intention to then get stuck into the lightweights, gradually ramping-up the power, and fear, until we reach the supercars, ending with The Big One: the daunting, £1million McLaren.
With Cosworth engine internals, AST suspension, Porsche 'Big Red' brakes and Dunlop Direzza rubber, it's no wonder the 415bhp Type-25 feels little like the UK-spec STi you'll find in your local Subaru showroom. We've said it before, but the statement bears repeating: this is as close to a four-door, four-seat 911 RS as you're ever likely to drive.
After a lap, the tyres are 'in' like a set of fresh, hot slicks, and the turbocharged 2.5-litre engine is hungrily gulping in the damp, cold air. Time to start the first attacking laps of the day. It's a violent, exciting process, all scrabbling tyres, tumescent rushes of torque and brickwall braking. It keeps you busy, not because it's a handful, but because you always need to be ready to throw another gear at the acceleration and to play with the balance to bring the tail into play. It's a fabulous, frenzied machine.
Time constraints mean we have a total of only six or seven laps in each car. With cold track temperatures, that means three flying laps, perhaps four at a push, plus warm-up and cool-down laps. Not long, in other words. Nevertheless, when we return to the pitlane and interrogate the V-Box data, the flying Impreza has laid down an impressive 1.22.25 marker, some 5/100ths quicker than a Koenigsegg CCX. Game on.
Specifications
| | |
| --- | --- |
| Layout | Front engine, four-wheel drive |
| Engine | Flat 4-cyl, 2457cc, turbo |
| Max power | 415bhp @ 6500rpm |
| Max torque | 420lb ft @ 3800rpm |
| Weight | 1385kg |
| Power/weight | 304bhp/ton |
| 0-60mph | 3.7sec (est) |
| Max speed | 175mph (claimed) |
| Price as tested | £39,995 |