Litchfield Type-25 v Caterham CSR 260 v Lotus Exige S v Radical SR3 1300 v Ariel Atom v Porsche Carrera GT v Ford GT v Ferrari Enzo v McLaren F1 - Radical SR3: Radical SR3 1300
The closest thing a road car can get to track performance, the SR3 makes mincemeat of Bedford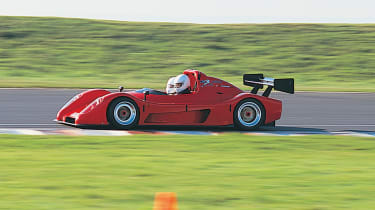 Calling the Radical SR3 a road car is stretching the description to the limit. Even Radical admits as much. Still, with a number-plate, tax disc and SVA certificate, it qualifies. Just.
While you could be forgiven for thinking the others needn't have bothered turning up, this SR3 is powered by a 1300cc Powertec motor, rather than the full-on 1500cc we've sampled previously.
Reclined in the cockpit with sack-of-spuds Catchpole crammed in next to me, it feels every inch the racer it is. The bike-derived motor and sequential six-speed transmission gnash and chunter like a sleeping John Hayman after four pints of Stella, and the sheer cornering ability generated by the Dunlop Direzza tyres and generous aerodynamic addenda completely change the complexion of the West Circuit.
The Palmer Curves are now a seamless head-lolling sequence of flat-shifts through second-third-fourth-fifth, while the normally tricky Pif-Paf chicane is a dab-and-downshift jink at almost 70mph. And as for the mighty Tower, you don't even so much as lift.
With a few more laps to fully recalibrate my driving style, it might have gone even quicker. Even so, the Radical posts a quite sensational 1.17.10. Two and a half seconds inside our current record. It may stretch the definition of road car to breaking point, but it's still awe-inspiring.
Specifications
| | |
| --- | --- |
| Layout | Mid engine, rear-wheel drive |
| Engine | In-line 4-cyl, 1300cc |
| Max power | 205bhp @ 9500rpm |
| Max torque | 120lb ft @ 6500rpm |
| Weight | 490kg |
| Power/weight | 366bhp/ton |
| 0-60mph | 3.5sec (claimed) |
| Max speed | 145mph (claimed) |
| Price as tested | £40,000 |