Project Horizon - CEO Tobias Moers maps Aston Martin's future
A wider portfolio, V8 mid-engined supercars and every new Aston beyond 2025 to be electric. CEO Tobias Moers reveals his plans for Aston Martin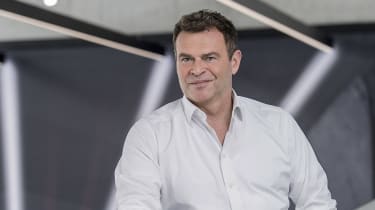 Tobias Moers isn't one for small talk. Answers to any given question are predominantly on the short side, often little more than a shrug, a smile, and occasionally a grimace. Having a career that spanned more than two decades at AMG allows you to point to the product you've created to do the talking for you. But the boardroom at Aston Martin's Gaydon HQ is a far cry from Affalterbach, Aston not so much at the opposite end of AMG's global success as in another galaxy. And there are quite a few people asking the 55-year-old German questions and expecting very detailed answers. 
Including us, as we sit down with the Vantage-driving CEO for the first time since he took charge of the company, soon after billionaire Lawrence Stroll took a majority stake and became executive chairman. The opening couple of minutes is a checklist of what's been achieved in ten months: 'Transformation. Turnaround. Shutting one assembly line down. Building on one line. No more 70 (work) stations to build sports cars; 23 is enough. Can build more cars with better quality. Lots of efficiencies. Paint shop…'
Plenty to be getting stuck into, then, but first what did he find when he arrived? After all, it's no secret the company had gone through a painful IPO. 'We were in trouble, but I expected that,' he says. 'It was worse than I thought – as bad as it could be, maybe. The cash the company was spending day by day by day... But there was also a great team and we had the DBX. I wouldn't have come here if we didn't have the DBX.'
The importance of Aston's luxury SUV can't be overstated; the future of the company has been bet against it and it needs to deliver. And while reviews have been favourable, sales have been steady rather than explosive. AML's most recent accounts showed just under 2000 had been delivered (to customers and dealers) and AM has re-forecast its target to circa 3000 sales in 2021, some way short of the 5000-6000 a year predicted, although that was pre-2020. The introduction of two new engine derivatives should go some way to boost those sales. 
One such derivative will be a V6 model, but not Aston's own V6, which had been in development. 'When I arrived it was only a concept engine. It didn't exist. Our partner [Mercedes] has a hybrid engine [the 3-litre fitted to the impressive E53] that is Euro 7 ready; why wouldn't we use this instead of spending more money redeveloping our engine to make it Euro 7?' Mercedes' stake, which will climb to 20 per cent in due course, and Moers' CV give him access to hardware his predecessor could only dream of.
Aston Martin has always been about sports cars, which is where the conversation heads next. Moers has shut one of the two production lines at Gaydon to reduce supply and build cars to order rather than for stock. 'We didn't need to build the number of cars we were. It's not about the number you build every day – 15, 20, 25 – it's about building what you need. Now we do that.' The sports and GT cars are now also painted in St Athan's paint shop for the simple reason that it's newer and therefore more efficient for series production cars in terms of reducing the need for remedial work. The Specials, such as the V12 Speedster, will still be painted at Gaydon as they are by their nature hand-built and finished cars. And the Specials will continue. 'These are such important cars. To us and our customers,' says Moers. But don't expect any new Continuation cars any time soon on Stroll's watch. 
What you can expect is a series of comprehensive upgrades to the Vantage, DB11 and DBS, Moers' plan to broaden each model's portfolio with multiple derivatives already under way, although if you want a Vantage with a manual gearbox, be quick because it's going. There will be redesigns, too (Moers is diplomatic with his response when asked about the current design language, but his pause before answering speaks volumes) and a rethink for the mid-engined cars. 'They will have a V8. Valhalla will launch in 2023, Vanquish '24. But every new Aston Martin platform will be EV only after this. Electric is the only option.'
Under Andy Palmer this meant reintroducing the Lagonda name, but Moers isn't interested. 'Aston Martin is the brand. All our cars should – they will – be Aston Martins. Maybe we can use Lagonda elsewhere.'
As the interview progresses the answers gain a little more detail but the Moers poker face rarely slips and he remains a tough nut to crack. As does Aston Martin, as I'm sure he's discovering…
Project Horizon – what's the plan?
DBX
Two new powertrains: mild-hybrid V6 and 800bhp V8 plug-in hybrid on their way. Looking at utilising the platform for other models. 
Sports & GT cars 
Facelifts focus on new interiors and infotainment systems; more power options for both V8 and V12 engines. Vantage and DB11 ranges expand, the latter with a more performance-focused model.
Mid-engined sports cars
Valhalla and Vanquish get AMG V8s built to Aston's own spec and fitted with AM's hybrid system on the front axle. 
Valkyrie
Deliveries 2021 Q4, 'further opportunities' being considered. 
The Specials 
Will continue, at the cost of the Continuation cars. 
Beyond 2025
Every new platform to be electric-only, but no current plans for new Lagonda models.