Audi A3 Cabriolet review - price, specs and 0-60 time
Audi's smallest cabrio is a comfy little cruiser, but thrill seekers best look elsewhere.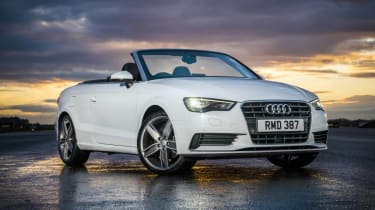 1/10
The Audi A3 Cabriolet. It's the second iteration of the littlest drop-top Audi, and compared to its slightly humpbacked predecessor, it's a more elegant-looking proposition. 
Engine and performance
Prices start at £25,790; we've driven the 1.4 TFSI Sport with a six-speed manual gearbox. The roof is the obvious highlight compared to the regular A3 hatchback. Fabric rather than metal (to the aid of weight and centre of gravity, as well as aesthetics), it folds up and down electronically by holding one button, and takes around 18 seconds. There are numerous rivals with quicker mechanisms, and you're conscious of how long it's taking if you have an audience, but it can be operated while driving (at speeds below 31mph), so you can always close the car on your way to finding a parking space to save time. That's also a security blanket should you drive open-roofed when there's a dark cloud on the horizon…
> Click here for our review of the Audi A5 Cabriolet
Otherwise, it's business as usual, with the usual array of petrol and diesel engines and manual and S-tronic paddle-shift gearboxes, depending on which boxes of the options list you tick. There are also three different suspension options – Standard, 15mm-lower Sport and 25mm-lower S line – with our test car exhibiting the middle setting.
The 1.4-litre turbocharged petrol engine of our test car also boasts 'CoD'; 'cylinder on demand' sees two of the four cylinders deactivated under low throttle loads. The electronic display between the speedometer and rev-counter alerts you when this is taking place, and with the roof down you might just be able to tell the soundtrack isn't at full strength. The upside is a claimed 56.5mpg and 114g/km of CO2 emissions, the latter figure remarkably close to that of the 2.0 TDI diesel.
What's it like to drive?
It's a perfectly acceptable little car, as you'd expect from one spun off the sharp MQB chassis architecture that underpins nearly all of the VW Group's smaller products. Thrills aren't abundant or immediately accessible, but it turns, stops and goes with levels of smoothness and precision that will offend no one.
It will excite few, though. The steering is nigh on devoid of feel and the engine needs working to get the A3 moving; despite its turbocharged nature this is a car that needs some hustling if you're to travel briskly. Its 140bhp and 184lb ft of torque are adequate, but while the 1.4 TFSI allows the A3 hatchback to feel quite lively, the convertible's extra 170kg noticeably blunts the performance, and a quoted 9.1sec 0-60 time is nearly a second slower than the three-door's claimed 8.3sec.
The Cabriolet seems to struggle more for front-end grip too, and will surrender to understeer sooner than its hard-top equivalent, though with the stability control in its most lenient 'ESC Sport' mode you can usefully counter this with a sharp throttle lift.
The ride quality exhibits the usual firm edge of Audi (and most fast VW) products, but there's impressive body control, and engineers' claims that the new A3 would focus on comfort appear to ring true. The only slight bugbear in this area is the small price paid for the folding roof and the resulting loss of structural strength: the age-old problem of scuttle shake (vibrations through the steering wheel that give a wobbly feeling, one exacerbated when the roof is down). It appears kept to a minimum here and anyone used to convertibles of a generation or two ago won't grumble too much, but it's evident nonetheless.
Rivals
There is a host of convertible cars available from Renault, Peugeot, Vauxhall and more, but very few with drivers' car credentials. The four-seaters that come closest in this price bracket are the £20,795, 181bhp Mini Cooper S Convertible and the £30,060, 207bhp VW Golf GTI Cabriolet, though both are relatively old designs due for replacement in the not too distant future. If you don't need back seats, roadster options are the £27,735, 154bhp BMW Z4 sDrive 18i and the £23,095 Mazda MX-5 2.0i Sport Tech, while Audi's own TT Roadster can be bought in 158bhp 1.8 TFSI form for £26,645.
The A3 Cabriolet range possesses two more powerful petrol variants we've yet to try; there's a 178bhp 1.8 TFSI which comes with an S-tronic auto as its only gearbox option, while a 296bhp S3 Cabriolet joins the range later in 2014. Also due later this year will be the A3 Cabrio's closest foe: the new BMW 2-series Convertible.
Anything else I need to know?
The same issue that blights a number of four-seat convertibles is present and correct here – with the roof folded away, the A3's cabin can be a cold and blustery place to be, even on a warm day and at relatively low speeds. Better tick the £300 'comfort package' option, then, which adds a flat-pack wind deflector (as well as rear parking sensors and cruise control). The only issue is it cordons off the back seats when erect, turning the A3 into a two-seater…
Otherwise, we could only get the trip computer to read a 39mpg average in mixed driving. Not bad for a petrol manual convertible perhaps, but it is around 30 per cent down on the official claims.