It's easy to reach a quick, quantifiable verdict for cars like the Audi RSQ3 Sportback. Taller, heavier, more expensive, less well-made and uglier than the RS3 Sportback from which it's derived, this type of small high-riding performance SUV with an even higher price tag is an easy victim of the general motoring journalism class.  
Amongst its peers though, the RSQ3 Sportback at least does appeal by the connection, vague though it is, to Audi's storied heritage. One that is resolutely stronger than other performance SUVs that continue to proliferate around the motoring landscape of 2020.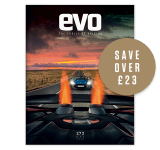 Subscribe to evo magazine
Subscribe today to have every issue of evo delivered straight to you. You'll SAVE 39% on the shop price, and get evo for its original cover price for a whole year!
Dominated by a charismatic five-cylinder powertrain that channels Audi's back catalogue of performance models like the Quattro and original RS2, the RSQ3's combination of powertrain, dynamic focus and compact footprint make for an interesting package. But is it one better than its diverse set of rivals, or indeed its over £50,000 price tag?
Engine, transmission and 0-60 time
We've seen Audi's 2.5-litre turbocharged five-cylinder petrol engine many times before; it's a bespoke Audi Sport unit developed in homage to the unit that echoed across the world rally stages in the 80s. Initially found in the first-generation Audi RS3 and TT RS, the 'R5' inline-five has been slowly refined with lighter construction, bigger turbos and Audi's latest injection system to reach its current state found in both this RSQ3 and the RS3.
Peak power is rated at 394bhp right up at 5800rpm, but maximum torque, 354lb ft, is spread out between 1850 and 5850rpm, sent through a seven-speed dual-clutch transmission. Being transversely-mounted, the all-wheel drive system is of the simpler front-biased Haldex type, rather than Audi's bread-and-butter full-time all-wheel drive system found in its larger transversely-engined models.
Despite the big power figure, acceleration to 62mph is a rather blunt 4.5sec – blame this on the rather shocking 1775kg kerb weight, while the top speed is predictably limited to 155mph. 
Technical highlights
Underpinning the RSQ3 is the same modular transverse platform found across the wider Volkswagen group, so the suspension hardware is the usual combination of Macpherson strut front suspension and a multi-link rear axle with passive dampers (active dampers are optional). Also absent are any clever differentials, active body stabilisation or all-wheel steering systems.
An optional valved sports exhaust system raises the volume on the five-cylinder engine, but still integrates sound-sapping particulate filters, conforming to modern emissions regulations. Audi has attempted to make up for this with some augmented engine noise emanating from the excellent (also optional) Bang & Olufsen stereo, and although it's never quite as sonorous as the rich, warm and variable warble of its forebears, when on song, and in the right driver mode, it still sounds great. 
Less clever is the clumsy and cheap feeling interior, which regardless of the nicely trimmed leather and alcantara seat and dash elements, wreaks havoc with Audi's reputation for high quality and intelligent interior design. The digital interfaces are crisp and modern, but the materials across the dash, doors and console are painfully cheap-feeling. It might seem like semantics, but hard plastic door cards detract from the experience in a car costing more than £50,000.
What's it like to drive?
Our test car, fitted with passive dampers and a somewhat preposterous 21-inch wheel and tyre combination, rides extremely firmly, but doesn't crash into intrusions or lose composure in the way you might suspect. The steering is firm and somewhat syrupy, but also trustworthy and transparent.
Aside from these two initial responses, the RSQ3 isn't immediately distinctive from lesser Q3s. The engine is subdued almost to the point of obscurity in normal driving modes, with long, forceful prods of the throttle needed to wake up the turbocharger. The transmission doesn't help at first either, with yawning chasms of time spent as it slips the vulnerable clutches between gears for the sake of their lifespan.
Select one of the RSQ3's RS driver modes though (there are two now, both configurable), and something quite dramatic happens. An overwhelmingly aggressive side reveals itself, the RSQ3 using its driver modes to reveal a Mr Hyde character to the comfort mode's Dr Jekyll.
Now the engine makes all the right noises, with the high bass of the augmented engine noise pulsing through the cabin and into your eardrums like a bongo drum is being played in the passenger seat next to you. The sound is not particularly authentic, but it's certainly effective. The transmission is also now happy to smash through gears, helping you to build speed to the point that allows you to really load up the chassis, and find grip where you'd expect it to skate wide.
Push harder and a nose-led handling balance does reveal itself, but by this stage the engine's hissing, whistling and bassy warbles encourage you to almost overdrive the RSQ3, pretending to be Walter Röhrl driving the wheels off a period Audi Quattro rally car. Play with the car's momentum and it'll unsettle at the rear, but with faith it'll come back to you with a preemptive prod of the slightly laggy throttle
It adds up to an experience that feels authentic to what's actually underneath the turbo blue bodywork. Rather than engineer its way out of these dynamic flaws with complicated tech like all-wheel steering or active differentials, the RSQ3 keeps a few rough edges that the driver can work around or exploit, giving it more depth and satisfaction than you'd expect.
This is upheld by a robust chassis that underpins the RSQ3 with a feeling of solidity and toughness. What about the weight? Well that's always there, but whereas we'd usually lament an extra 200-odd kgs over its RS3 cousin, this again contributes to its character, less sterile than the hatch it's based upon – albeit one that's ultimately less competent and, with a stiff ride and a so-so cabin, not as well rounded.
Prices, specs and rivals
The RSQ3 Sportback (alongside its non-Sportback sibling) is split into three distinct specifications, as found on other RS models in the UK. Prices open at £51,605, and include 20-inch wheels, LED lighting front and rear, Nappa leather seats, the single-screen MMI touch infotainment system, a virtual cockpit and the usual overly aggressive RS exterior styling.
The second-tier RSQ3 Audi Sport Edition costs an extra £4350, which at £55,955 adds larger 21-inch wheels and tyres, a black exterior styling package, Panoramic sunroof and an active sports exhaust system. Topping the range is the Vorsprung Edition at £59,505, finishing off the package with a different 21-inch wheel design, Matrix LED headlights, top-level Bang & Olufsen stereo and adaptive dampers. 
Rivals are varied, with the more family oriented, less powerful Mercedes-AMG GLB35 starting a few grand less at £47,015, but despite being surprisingly able on the road, it's less entertaining to drive and lacks the RSQ3's expressive powertrain. AMG's incoming GLA45 will more closely match the RSQ3 for power, but is slightly smaller inside and will pack a bigger 407bhp punch.
Think bigger and the £55,370 X3 M40i is a more complete package that hits nearly as hard, but is a less performance-orientated situation. The same could be said of the £48,275 Mercedes-AMG GLC43. Making the RSQ3 look a little silly is the Porsche Macan S, which at £49,300 is a comparative bargain, despite giving up 40bhp to the Audi. These three admittedly larger and less diverse SUVs are better everyday cars without doubt, but then none thrill like the Audi RSQ3 does when you're working that engine to its fullest.
| | |
| --- | --- |
| Engine: | 2.5-litre five-cylinder single turbo petrol |
| Power: | 394bhp @ 5800rpm |
| Torque: | 354lb ft @ 1850 - 5850rpm |
| Transmission: | Seven-speed dual-clutch, Haldex four-wheel drive |
| 0-62mph: | 4.5 seconds |
| Top speed: | 155mph (limited) |